The premier growth community for all things content, inbound, and SEO.
A free Slack Community featuring actionable tips, strategies, and opportunities by world-class content marketers. You'll always be confident in your content marketing efforts when you have the latest and greatest techniques and experts at your fingertips.
Meet Market Leaders & Content Experts From Top Organizations
"The Top of the Funnel community has to be the most-sharingest-of-great-information-and-advice folks I've ever come across. Sign up – what are you waiting for?!"
Katherine H.
Content Marketing Specialist
Content marketing is always evolving. It's tough to keep up.
It can feel like you're living on a treadmill trying to stay on top of the content marketing strategies and tactics that actually work today. What worked last year might be worthless now.
You already know that reading newsletters and resources from experts is a great first step, but finding the time to actually dig in and test theories can feel nearly impossible.
We believe no one should have to put the world of content marketing on their shoulders. Everyone is more successful when they can collaborate in real-time and get advice, ideas, or help.
So, we created Top of the Funnel: a free, premier growth community for the world's best content marketers.
Giving you confidence in all things content marketing.
Top of the Funnel is our growth community focused on helping each other with all things content marketing. We've brought together the best of the best so we can continue to learn, grow, and succeed as a worldwide team.
Top of the Funnel is the place to find exclusive and actionable information around content marketing, SEO, execution, and more.
THE PREMIER CONTENT MARKETING COMMUNITY
OPEN NETWORKING
Meet new, interesting people who will help you further excel in your career. Success stories are multiplying every day as members meet new business partners and support each other.
JOB OPPORTUNITIES
Find your next perfect project or long term role. Top of the Funnel members actively share dozens of great work opportunities each week.
TOP-TIER TALENT POOL
Get personal recommendations and connect with expert content marketing talent. Feel confident in your search knowing Top of the Funnel is full of the brightest content minds.
EXPERT INTERVIEWS
Learn from live and recorded Q&As with content marketing industry experts and thought leaders. Uncover exclusive strategies shared by the most successful content leaders.
DIGITAL WORKSHOPS
Expand your knowledge by participating in digital workshops covering strategies, best practices, day-to-day activities, and more. Grow your business and your mind.
PEER Q&A
Receive answers to questions big and small. Whether you need suggestions for tools & technology, or advice on approach & pricing – the community has you covered.
EXCLUSIVE VIDEOS & GUIDES
Get exclusive access to our advanced articles and guides, put together by content marketing experts. 100% actionable tips, insights, and strategies.
IDEAS & INSPIRATION
Share ideas with other content marketing experts, and get inspired by others in the Top of the Funnel community. Your very own sounding board and muse.
Less trial & error, more content-driven growth.
We all know what it's like to try and piece together a content marketing strategy, hoping all the hard work will pay off.
You read the articles, watch some videos, and after some time, you feel like you've absorbed enough to try some tactics on your own. You put together the first few pieces of your content marketing puzzle, only to realize you're not quite sure what you should be doing next.
So, back to scouring the internet for more tips and tricks to get you a little further along. But now, no one seems to have the exact answers to your questions and you feel almost more lost than when you started.
You decide to wing it and pray for the best. Then you repeat this process a few more times.
After a few weeks or months of hard work, you check the analytics and you realize that 4 of the 5 strategies you put in place didn't do much at all.
You know what that means. It's on to the next content marketing trend.
This scenario then continues on repeat…
You're not alone in this experience, and we believe you shouldn't be alone in fixing it either. With Top of the Funnel, you'll have experts at your fingertips every step of the way – whether you need questions answered or need to hire some help.
Round-the-clock access to an elite content clubhouse.
If you're a content marketing lover, you likely just found your new favorite community. You'll be able to learn the latest and greatest tactics, collaborate with top-notch content experts, and share meaningful work opportunities.
Looking for a new, free tool for SEO pros? Top of the Funnel knows what you need.
Wondering how to start your own content marketing agency? Top of the Funnel has the most helpful do's and don'ts to get you started.
Need a new ghostwriter to help your company out? Top of the Funnel will help you find the perfect fit for your content marketing needs.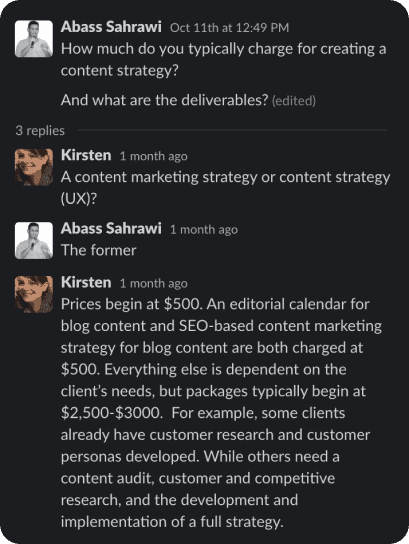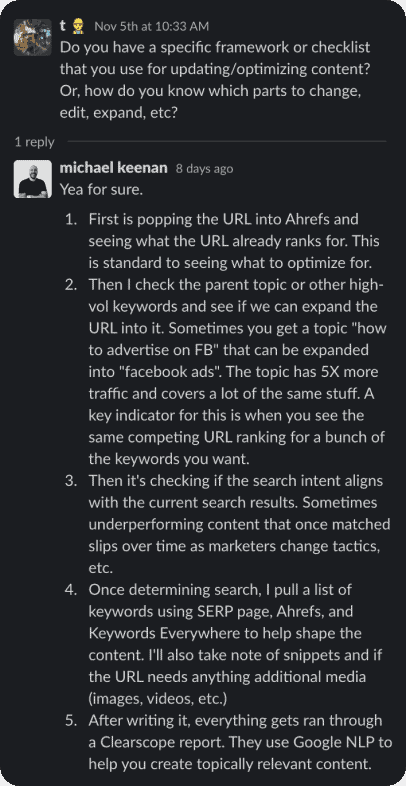 Up close and personal with expert content practitioners.
The Optimist team is full of some of the top content professionals from around the world. Each of us has years of experience, and we've worked hard to create a space where we can all learn from each other.
Together, along with our extended networks, we've done some pretty cool things with content marketing:
We helped an ed-tech startup scale from 0 traffic to over 100,000 organic visits per month—in about 1 year!
Applying our own inbound marketing framework, our Optimist team built a $1.5MM inbound pipeline in our first year.
We helped HelloSign massively scale inbound traffic and leads with a 1,308% increase in organic growth in just 17 months.
Working with Plytix, we drove a 757% increase in their blog traffic in just 20 months. Content marketing and SEO is now their #1 channel for growth.
We've always wanted to find a way to share our knowledge and help connect those in our expanded universe with opportunities for growth. Top of the Funnel was born for exactly that reason, and now we're here to answer your questions and help you grow.
Your personal magic 8-ball for content marketing.
Wouldn't it be great if you could get all of your questions about content, inbound, and SEO answered, simply by asking?
Well, good news – now you can. And you don't even need to shake the magic 8-ball to get your answers. (Physical movement is hard work sometimes, we understand.)
Here are some questions our members have asked, and the answers our Top of the Funnel community was able to give them:
Question:
What's the best SEO research tool (look for long-tailed keywords, search volume, difficulty, etc.) for under $50 a month?
Answer:
 I love Keywords Everywhere! It's an awesome little hack, especially for the price.
Question:
When you have repeat content marketing clients with fixed price projects, do you have them sign a new contract with every new task/project?
Answer:
You should have a standard contract in place, then have them sign off on individual project scope/price docs.
Question:
I'm doing a piece on email marketing influencers to follow. Who are some people you follow in this space?
Answer:
Val Geisler. She's really sharp. Sofi Dagnon and Nikki Elbaz are rock stars, for sure. Eman Zabi is a launch expert, so she has good emails, too.
Question:
Are any of you freelance ghost bloggers who can write authoritatively about growth hacking, product management, fintech, etc.? I'm looking to onboard a few people.
Answer:
*After dozens of replies within 24 hours.* Thanks for the emails, everyone who wrote to me! Working on following-up now.
"Imagine a global, digital community of content marketers where people share ideas, learn from each other, and have fun. One where there is no snark. Imagine a global, digital community of experts who enjoy discussing industry news, strategies, technology, and more. No need to imagine – Top of the Funnel on Slack is real! And it has a real fun, growing, and engaged community."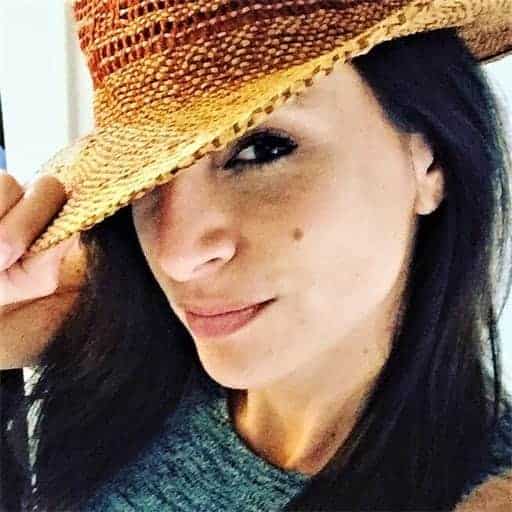 Mary L.

VP of Content Marketing
Words From Our Members
"I appreciate being a part of the Top of the Funnel community. I have found myself in several direct messages and on phone calls with people who have been really open to sharing and doing what they can to help. I've also used some of the advice and articles to help solve problems my company was seeking to solve! I have been around many different iterations of Facebook Groups, LinkedIn Groups and now Slack channels over the years, and this group genuinely has a different vibe that doesn't seem to be sell, sell, sell but rather one of camaraderie and support."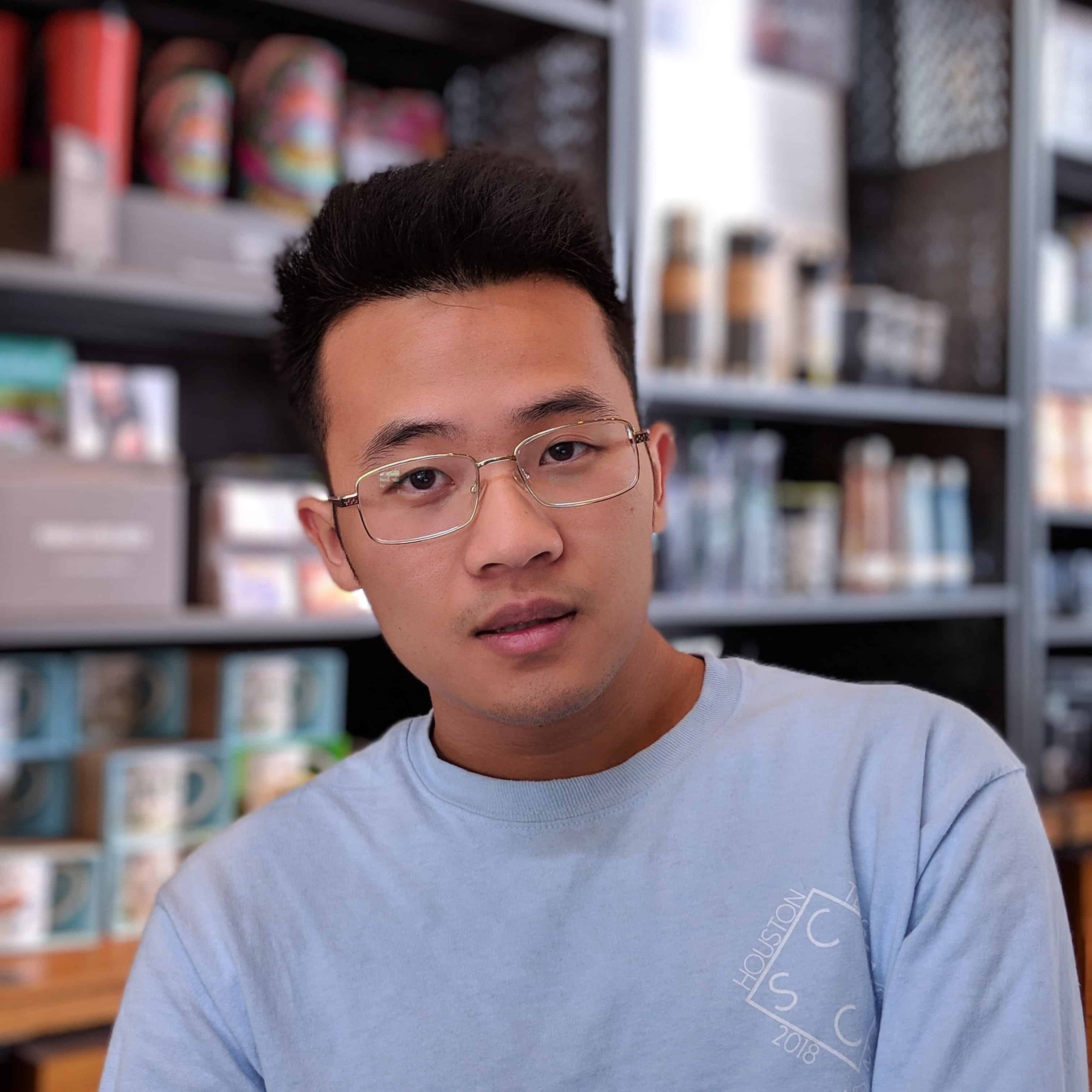 Nick J.

Marketing Director
Words From Our Members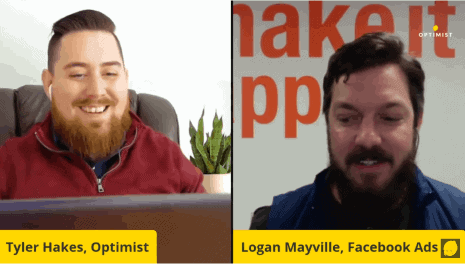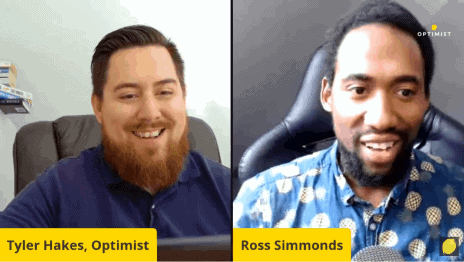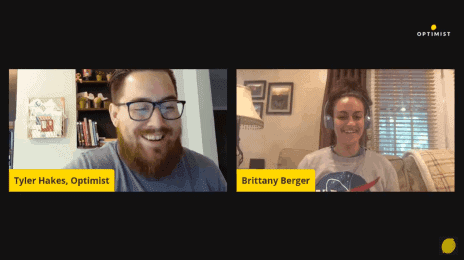 We're uniting the world's smartest content marketing minds.
Top of the Funnel is a place for connection. It's a gathering place and training grounds for top-tier content marketing talent.
We're on a mission to create a community that becomes the go-to source for content marketing job listings and opportunities, client referrals, speaking opportunities, and more. (In fact, Optimist will be sourcing talent directly from this community to join our core team for future client engagements!)
We're bringing together the world's greatest writers, designers, strategists, analysts, managers, directors, and everyone else who considers themselves a content marketer.
Whether you're already a leader in the space, or you're working on getting there, we'd love for you to join us.
Learn From The Best & Be The Best
Stay informed about top content marketing strategies, connect with experts, and discover new opportunities in our free Slack community.
We'd love for you to join us.