Case studies are a key component for helping most companies generate business.
The truth is, though, that most case studies out there fail to deliver those leads.
The reason for this?
Many of them are just a short synopsis with a few screenshots, some data, and the term "case study" attached to the title.
Instead of digging deep and revealing the actions they took to accomplish results for their client or customer, many companies withhold these golden nuggets of advice for one reason or another.
If you really want your case study to generate tangible income for your business, you can't afford to make this mistake.
The best B2B case studies are long, in-depth, actionable guides that often "give away the goods," as it were.
But here at Optimist, we like to put our money where our mouth is.
To show you just how powerful a case study like this can be, we are going to breakdown how we constructed a case study that has helped us build a $1 million ARR agency in just two years.
How a 5,500-word Case Study Built a $1MM Agency
As a company, Optimist is still very young.
As of this post, we are just past the two year mark from our start. However, that hasn't held us back from generating over a million dollars in run rate as a lean startup.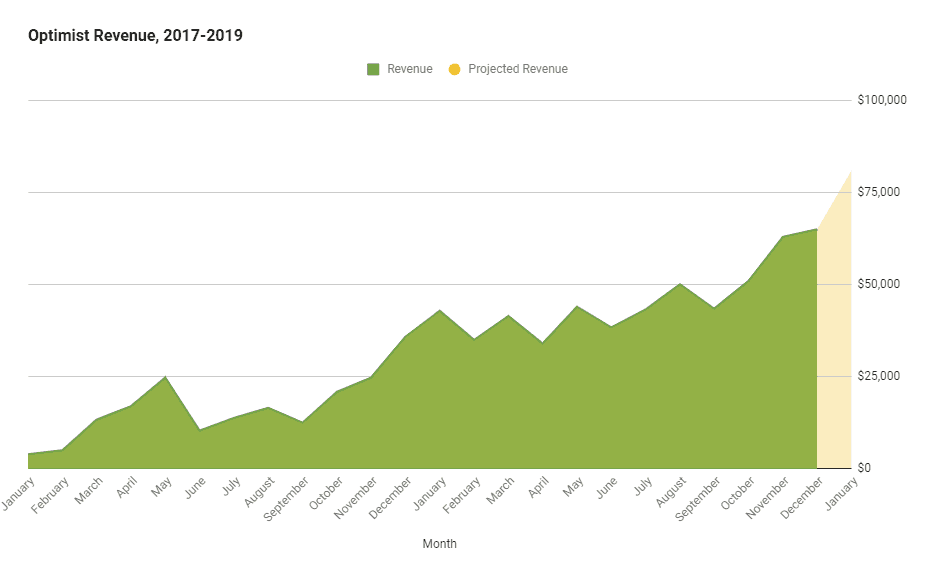 We owe most of that success and income to our content marketing strategy. More specifically, it's thanks in large part to a single case study.
That's right.
2 years + 1 case study = $1 million ARR.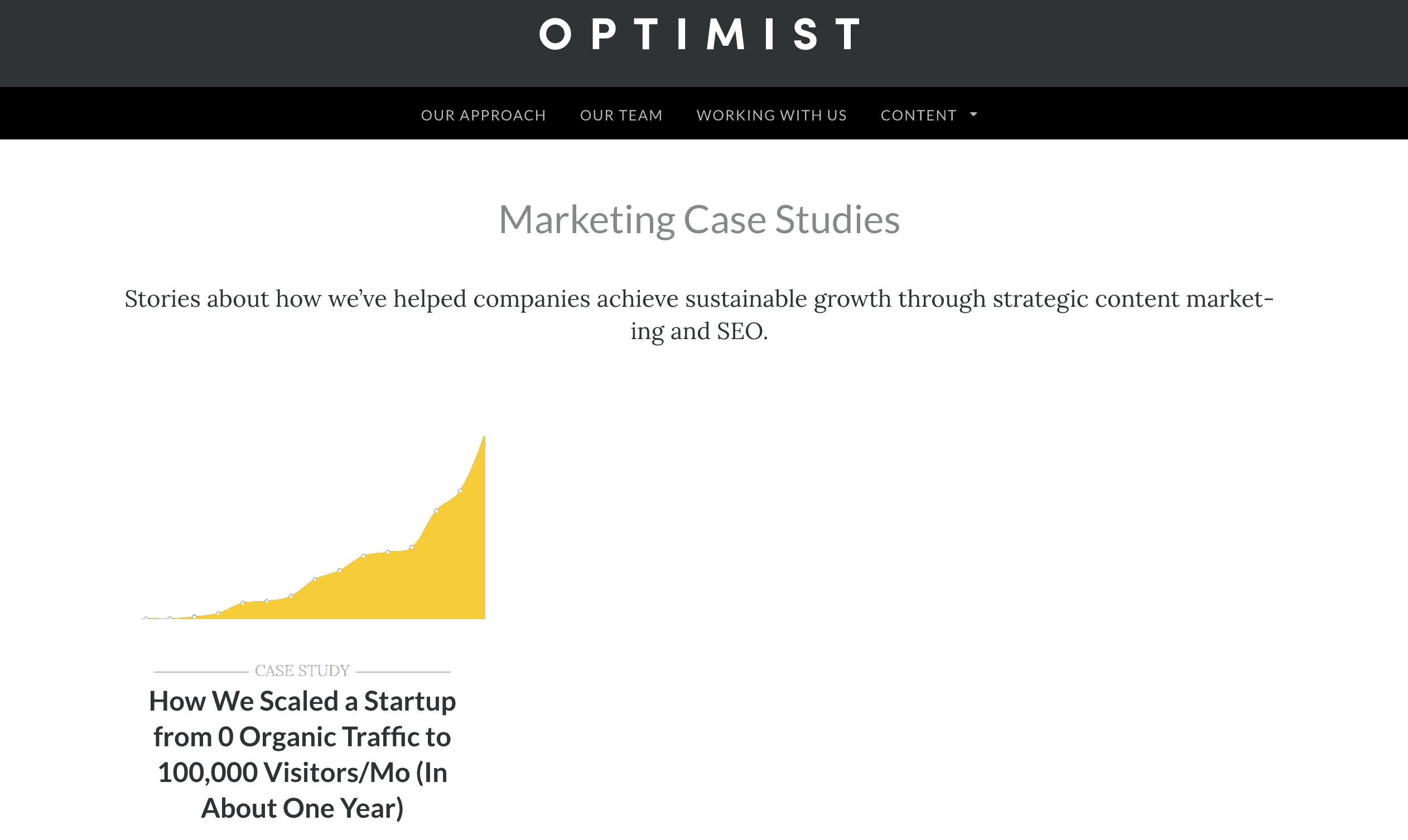 (Just to clarify: We have published a steady stream of other content that has helped us generate traffic to the site. But this case study is our "money maker"–it's the piece that prompts most of our clients to reach out about working together.)
Agency Growth Blueprint
Want the entire blueprint we're using to generate inbound leads and sales?
Learn all of the tactics we use and how they work together to drive traffic, generate sales, and grow our agency.
That is the power of creating the right content for the right audience and promoting it well.
So how did we do it?
Our Case Study Framework
Our case study was so successful because it wasn't a sales pitch. It was a story-driven article. It was human. And it was structured in a way that made it accessible, practical, and tactical.
When we pull the pieces together, here's how the case study looks: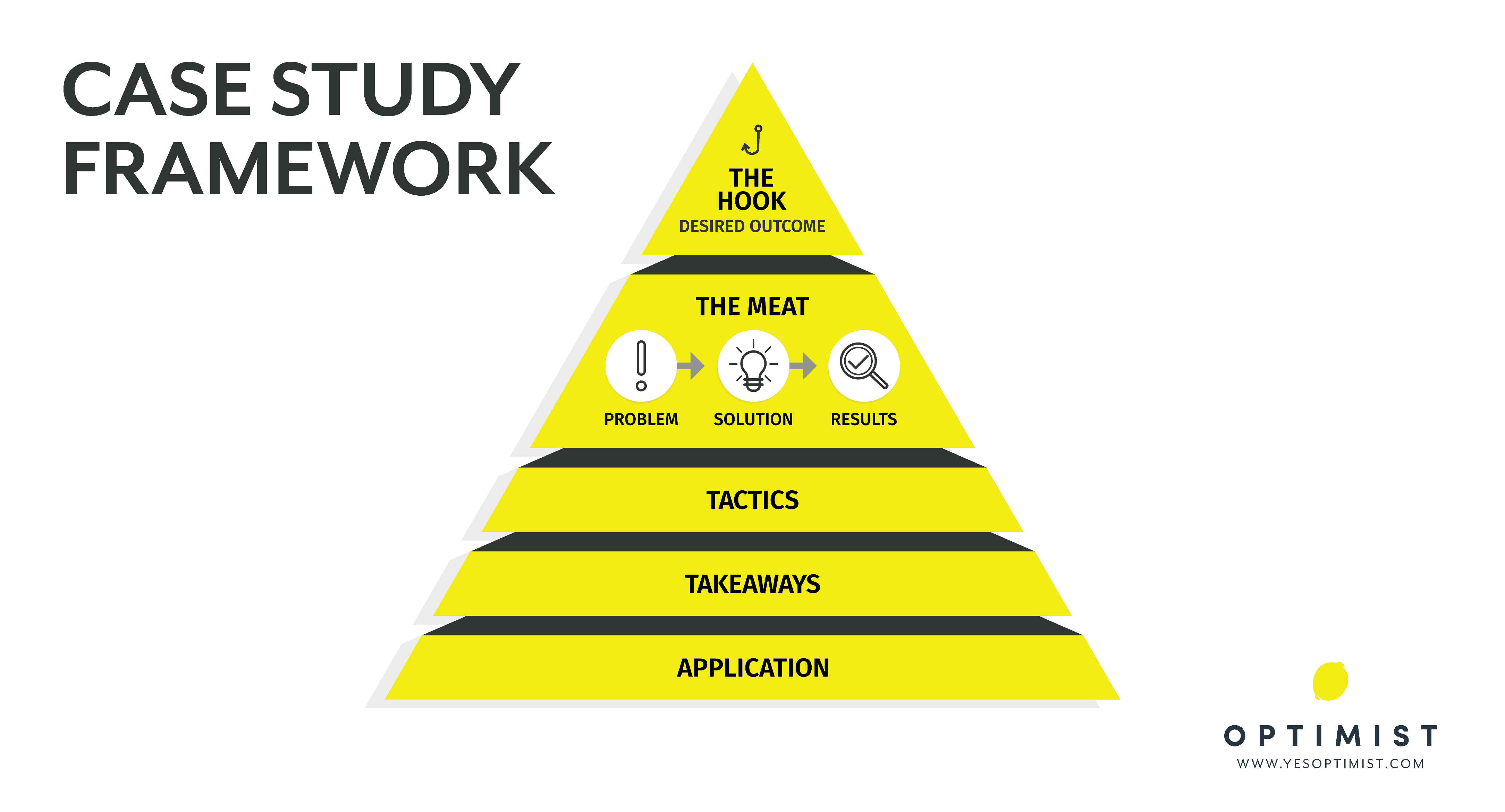 This is how you construct a narrative.
You do it by taking something basic and making it compelling. Then you dig into the details, you get specific, and you pull out all the nuggets of wisdom from the experience that people want to hear.
In this guide, we're going to break down this framework on how to write kick-ass case studies that will have customers beating down your door.
Our 7-Step, Million-Dollar B2B Case Study Breakdown
To begin, this is our case study in question: How We Scaled a Startup from 0 Organic Traffic to 100,000 Visitors/Mo (In About One Year)
On its face, it's a pretty impressive story. Most startups–or even established companies–dream of achieving this kind of rapid growth. But simply broadcasting the results to the world would not have been as effective at generating business.
Instead, we took a deep dive on the full story behind the success.
Not only did we share what we were able to achieve, but how we did it. This gives prospective clients a full view of how we operate and our process for generating results.
Now, let's dive into the 7-step system that turned our words into a lead generation engine.
Step 1: Lead With An Outcome
People love seeing results.
In just about every case, the bigger the result, the better.
Why?
Because they whet the appetite and they have a way of grabbing attention instantly. Other people who hope to achieve similar results are instantly drawn to stories about how to accomplish it.
Ultimately, if a customer is going to hire your business, it is ostensibly to generate a specific outcome. Our clients don't hire us because they want to pay us to write pretty words. They pay us because they want to achieve an outcome–they want to scale their traffic and grow their business.
So, with our case study, we immediately identified the desired outcome and offered readers a glimpse at how it's accomplished. Businesses looking to achieve organic growth are drawn in to learn about how we did it.
This kind of outcomes-focused case study should be a strong sales tool. Potential customers don't want to just see the work that you do, they want to see the results that the work generates.
For our article, we turned the outcome of our project into the title of the post.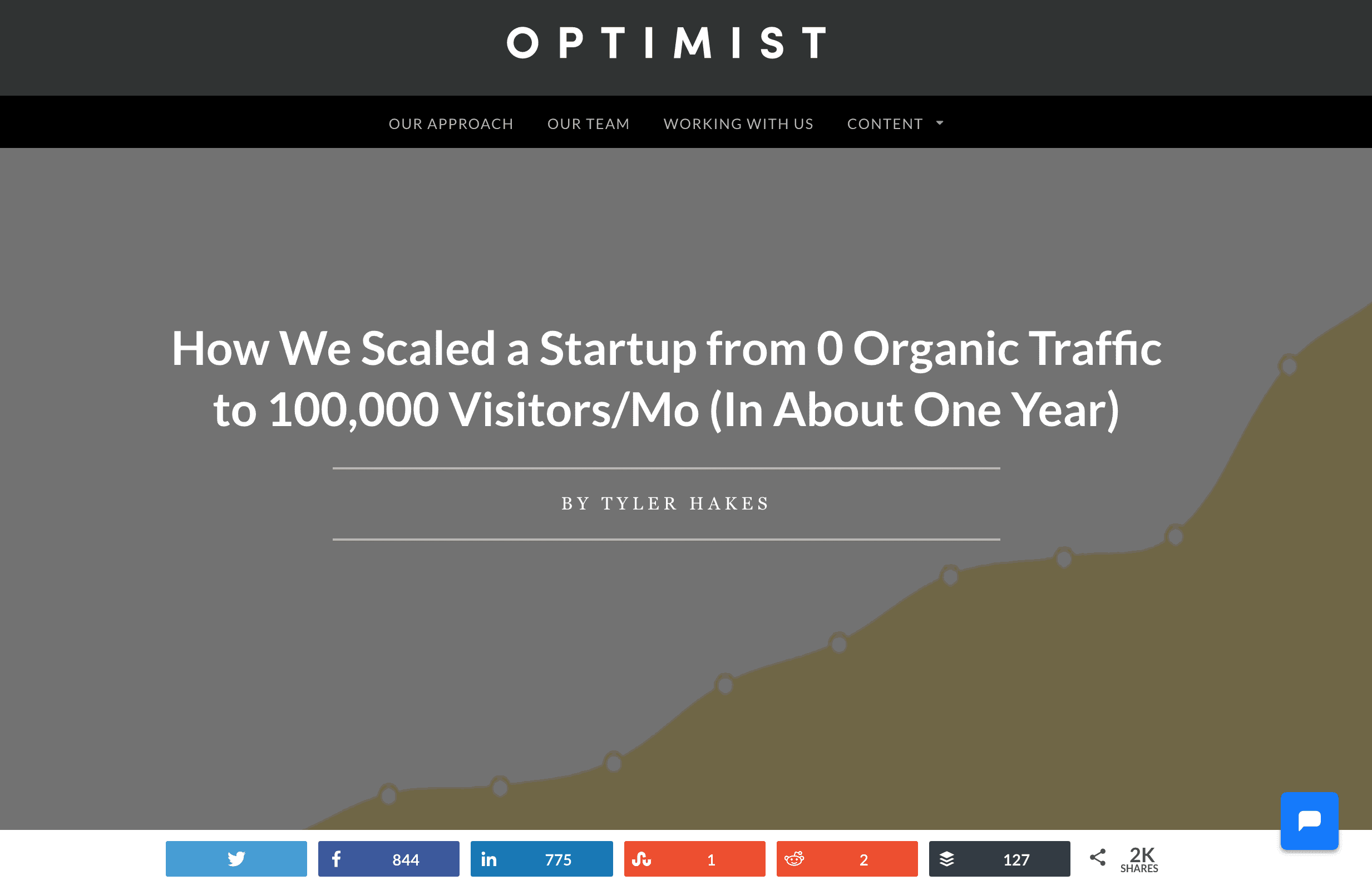 Doing this was the right move for us for a couple of reasons:
It's great copy. It's captivating, clickable, and makes you want to read more.
It works amazingly well on social. When you have great copy working on your side, many aspects for successful social promotions—generating shares, likes, and upvotes—take care of themselves.
You can do something similar with your own case study, or you can put the outcome in the first few sentences of the article, too.
We did both.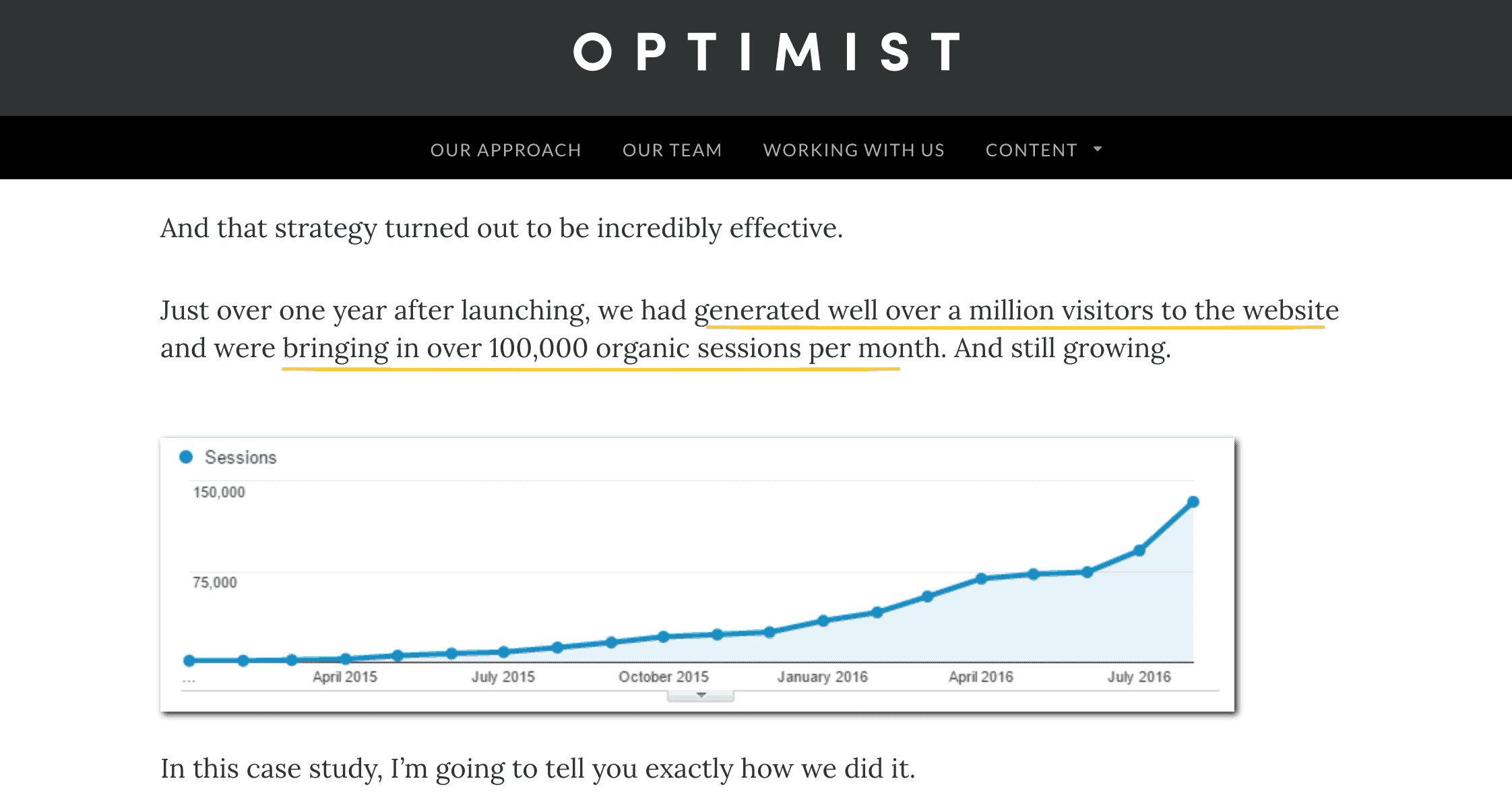 Either way, doing so can help grab attention that compels a reader to keep reading.
Step 2: Tell A Compelling Story
If you have a choice between leading a case study with cold data versus leading with a compelling story applicable to your article, always go with the story.
Don't get me wrong, using data in a case study is great if you use it properly. However, having a storyline woven throughout your article keeps a reader engaged.
"I was pumped.

I was ready.

Actually, I was terrified.

I had never done this before."
Many company case studies fail to tell a story that's genuinely interesting, which is often part of the reason they don't generate leads.
For our case study, it's being told in a first-person narrative. But more than that, it's personable and honest. Within the first few lines of the article, Tyler explains how the opportunity to work with College Raptor came up and how he felt about it: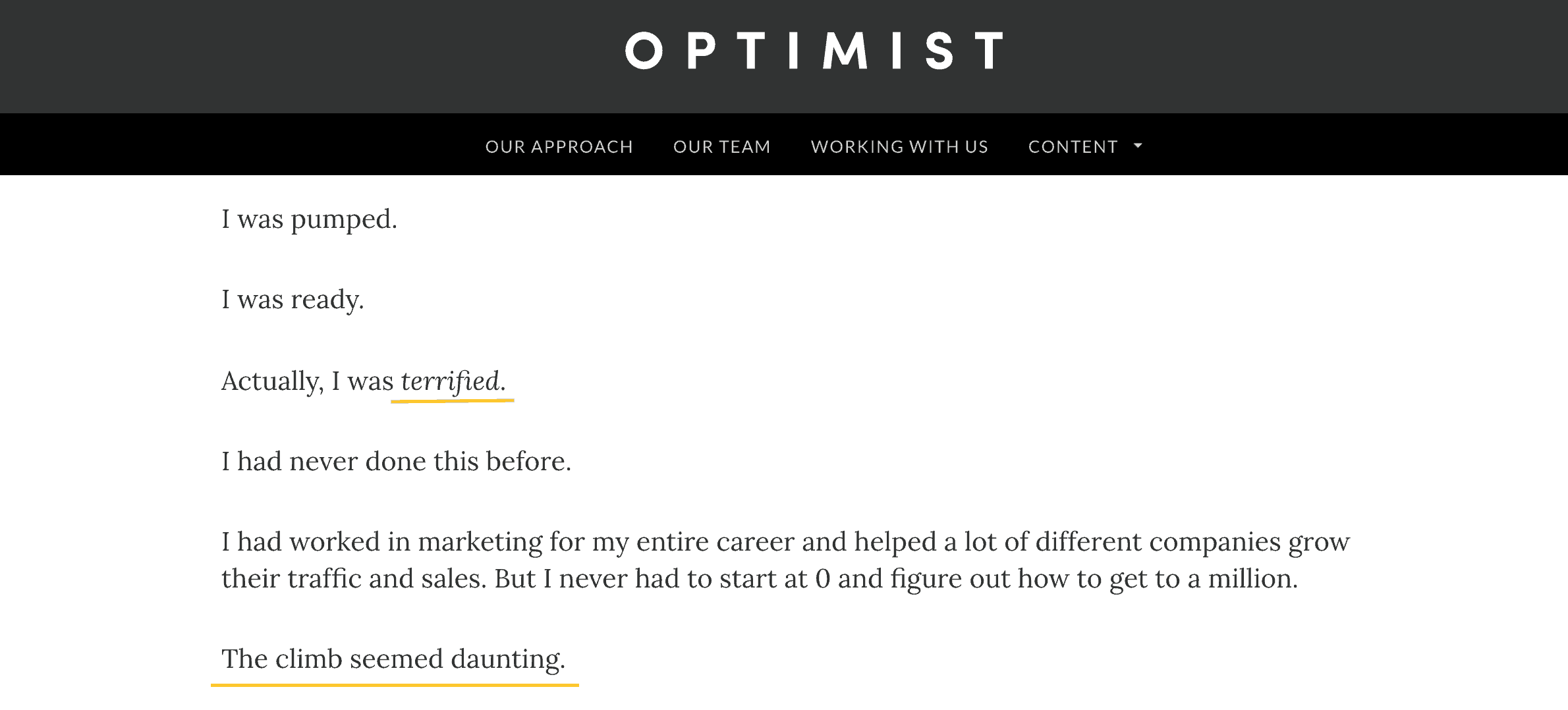 There's a lot of emotion happening in these sentences, and since it's written from a first-person viewpoint, it will be read as if the reader is experiencing that emotion personally.
This honesty helps make the story compelling.
Step 3: Be Transparent About Challenges And How You Solved Them
As humans, we tend to hide our faults and craft a better version of something rather than reveal the truth if the truth is not the best.
Be that as it may, shedding the ego and leading your content with transparency helps build trust in the reader. And since you're hoping to convert the readers of your case studies into sales leads, you can't discount the importance of building that trust.
In the section, "What I Would Have Done Differently," Tyler is transparent about some of the imperfections with their approach.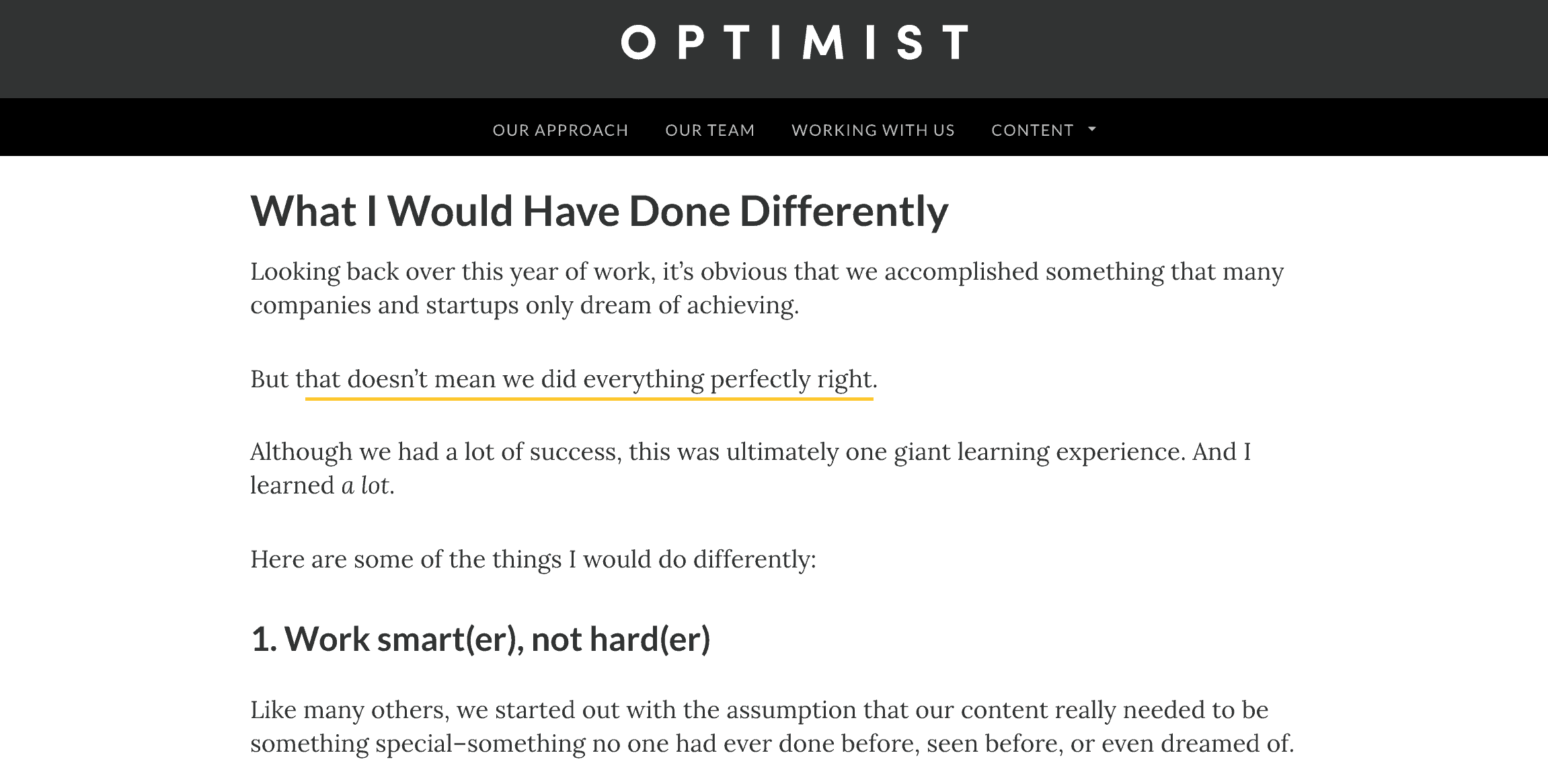 Here, Tyler confesses that while the results from the content marketing strategy were great, the execution wasn't perfect. Then he lists what he would change if he could do it all over again:
Work smart(er), not hard(er)
Repurpose more
Curate content where it works
Focus more on design and presentation
This is sort of like saying, "Hey, we're not perfect but still got amazing results. These are some of the mistakes we made and how we continue to learn and grow."
In this day and age, people want transparency from the companies they buy from. Integrating that level of openness in your content or case study can help you win the hearts of potential customers and build stronger relationships with existing clients.
Step 4: Walk Through The Steps Of How You Solved Your Problems
There are a lot of challenges and obstacles that present themselves when you're executing marketing strategies. Talking about them is a great way to add more depth to a case study.
However, there is a bit of strategy to doing this too.
The best way to frame these challenges is to call them out and then offer the solution or strategy that helped you solve the problem.
The best way we've found to do this right is to follow this process:
Present the problem
Offer a solution
Share the results
Show your work [bonus points for this]
In our case study, Tyler follows this formula almost exactly.
Here's a breakdown of exactly how he did it:
1. The Problem
College Raptor wanted to create an infographic based on the best colleges in America. However, they knew they couldn't compete head-to-head on a list of Best Colleges from more established and reputable publishers.
2. Offer A Solution
Instead of going up against the "best colleges" with their infographic, they came up with the idea to create a ranking of Hidden Gems–colleges that were being overlooked by students when compared to other colleges of similar quality.
They went ahead and created this infographic and an article to go along with it.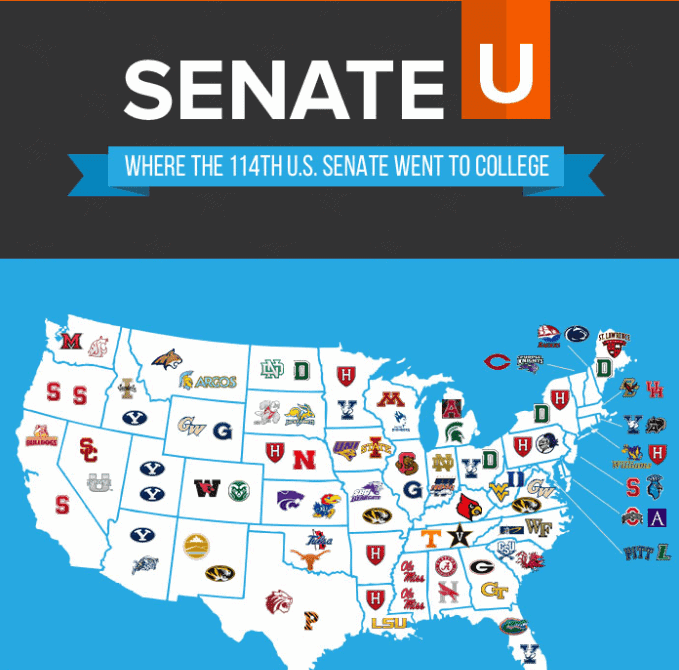 3. Share The Results
Next, it's time to show the cards and talk about what resulted from their solution. And what came from the experiment?
About 250K visitors to the site in a single week and a TON of high-quality backlinks from news and EDU websites.
4. Show Your Work
Remember in math class where the teacher insisted that you show how you arrived at the answer? Well, to really make your case study shine, you should take a similar approach.
Explain why this solution worked or explain how someone else can do the same thing. It's sort of like handing over the recipe to success, and people just gobble that stuff up!
Step 5: Dig Into The Tactics
Because many companies don't want to "give away the goods," they often stick to just covering the high-level strategy instead of giving real insights into how they achieved their results.
However, we took a different approach and dug into more of the tactics of our strategy. Really, the entire article speaks to this.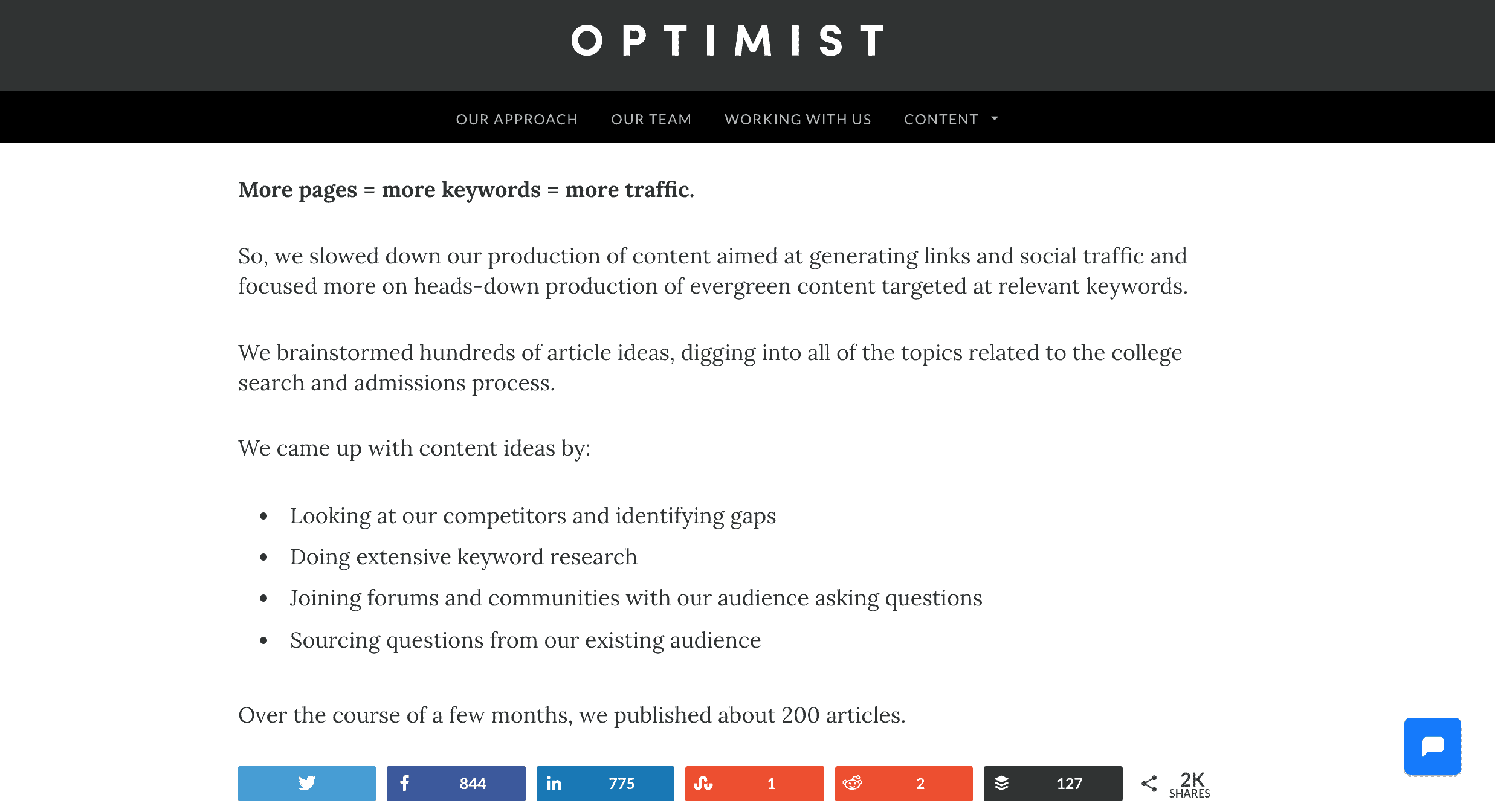 In "Hitting Explosive Growth", we dig more into the tactics. The entire success of the content marketing plan was due in large part to the "Trifecta Strategy" which was expanded upon earlier in the article.
Although creating certain types of content was what helped College Raptor excel when first starting out, continuing on that same path was now holding their growth back. Therefore, a shift in the original plans was required.
The Complete Content & SEO Growth Collection
Get the full list of strategies, tactics, and tools you need to plan and execute a content marketing strategy that will help you achieve explosive growth.
No tricks, gimmicks, or bullshit.
Why was there a need for a change, and what got adjusted?
Those questions tie into the tactics used to execute the strategy, and they needed tweaking to achieve higher growth.

And while we didn't give away every tactic from A to Z in this part, we talked about enough to make it actionable and show additional results from changes in the strategy.
Step 6: Demonstrate How Someone Else Can Apply Your Process
At the outset of the article, we gave an overview of our 3-part content strategy, which explained the types of content needed to achieve similar growth.
However, we took it a step further in the section "Using the 'Trifecta Strategy'" by going beyond the surface and talking a bit more about how the reader could use the same strategy for their own company.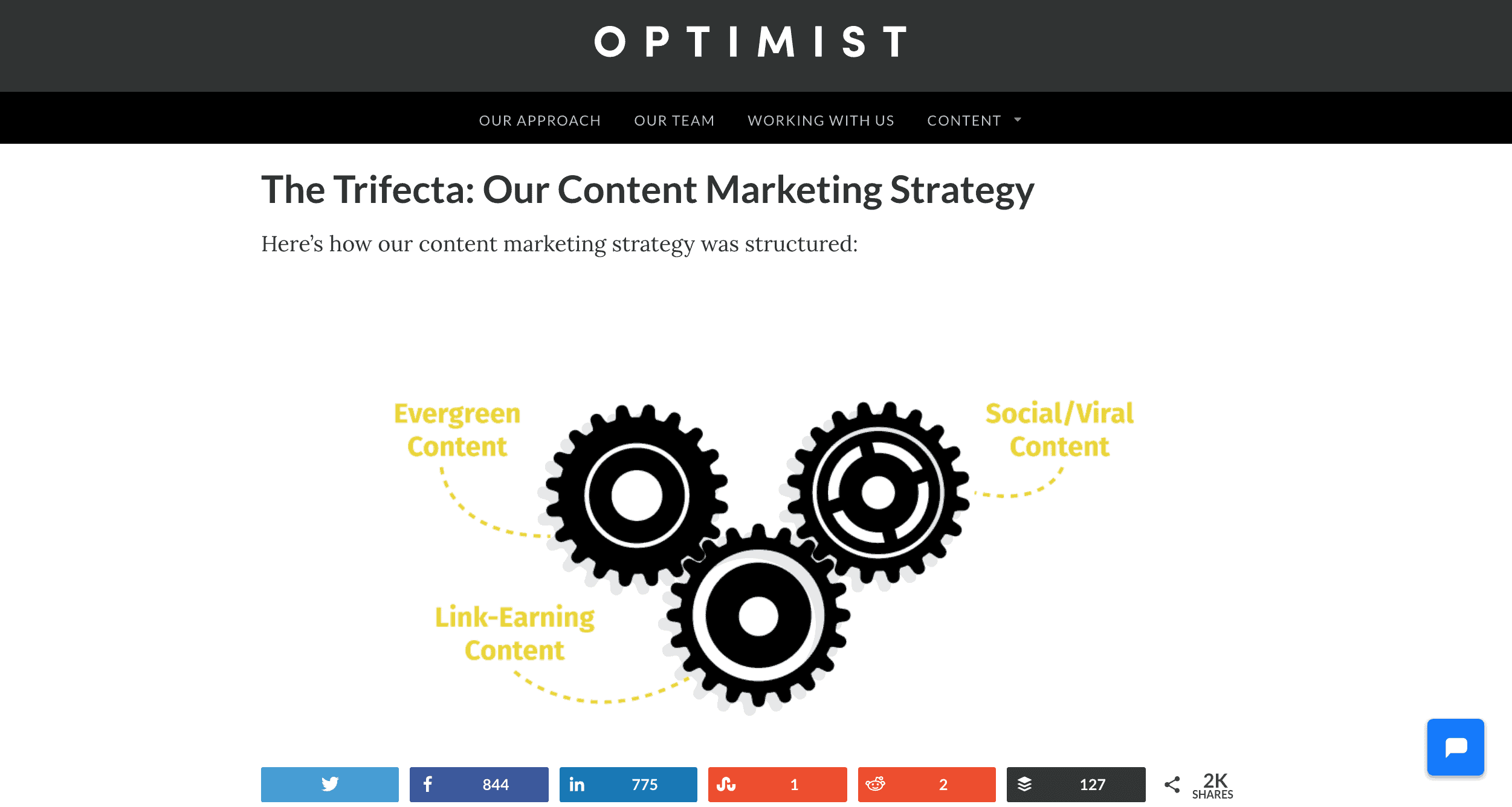 It may seem odd that as content marketing firm we would tell our possible leads how they can do this work without our help–but it serves an important role.
Once again, our transparency matched with an honest desire to help our readers builds trust in the minds of possible prospects. And while some people who read our case study may walk away with something new to try on their own, a portion of those readers will recognize the knowledge and expertise that it takes to execute this kind of strategy.
And we will be the obvious choice for them to hire.
These people usually have a company that is ready to invest in content marketing but don't have the knowledge or resources to hire a full in-house team.
That's where we come in.
Since we've been able to show that we know what we're doing in the content marketing world, they are more likely to turn into a lead.
In fact, many of our leads have commented on this part of the article as something that stood out to them.
Moreover, the folks who do read the case study and decide to execute it themselves were unlikely to ever become our customers in the first place. This means that they likely have an internal content team and/or limited resources that stop them from hiring a firm like us. So "giving away the secret sauce" isn't really a concern for us here.
Step 7: Have A Promotion Plan In Place, Then Execute
Here at Optimist, we preach promoting your content. Why?
Because it doesn't matter how great your content is. If no one comes to read it, it's useless.
That's why you need to have a plan in place for promoting your content. And we're not just talking about pushing content out to your social channels.
No, you're going to have to do a bit better than that.
You should have a list of Facebook groups and LinkedIn groups, and plan outreach to influencers and journalists so you're ready to promote your content after you hit publish.
You'll notice that we talk about outreach in the case study, which played a significant role in the success of the content marketing plan at College Raptor. We applied the same tactics to our article and garnered more than 2,000 social shares on this case study.
Creating your content is half the work. The other half is promotion. Yes, it's can be time-consuming and cumbersome, but you have to do it if you want your case study to succeed.
This is another place where the structure and the message of your case study plays a big role. If it's a typical, "look what we can do" kind of story, then it will be difficult to gain traction through promotion. But if your case study is also a valuable resource with actionable takeaways, then it can become a tool that brings in traffic, generates demand, and drives sales.
The key to a successful case study isn't the part where you brag about what you did.
It's the story and the value that the content creates for the reader–and for potential customers.
When you sit down to write your next case study, keep them in mind. Think about the details that they want to hear. Tell the story behind the numbers.
That's how you write a case study that does the selling for you.