I'm going to pretend that I found myself running a SaaS company when I woke up this morning. Our goal in 2021 is to grow, hit slightly-ambitious targets, and put the wrecking ball that was 2020 far behind me.

My constraints are that I have:
A small budget. 
Maybe 1-2 content creators (in-house, agency, or freelance)
Who knows what's coming around the corner, but I have a good understanding of my target audience, and my goal is to focus on content that will help us grow long term.

This post is not a prediction post. No one could have predicted the global toilet paper-snatching shitstorm that was 2020. This post is about content that will benefit you for years to come. Stuff you should do in the next year that will continue to serve you five years from now.

We'll take a look at the seven most immediate content strategies you can implement quickly to get a maximum return on your investment. But how do you decide which ones to go after, first? It's all about context, so we'll also dive into the five top content trends that will shape the year ahead. 
Your 2021 Content Marketing Low-Hanging Fruit 
How can you prioritize your 2021 content creation efforts and work smarter?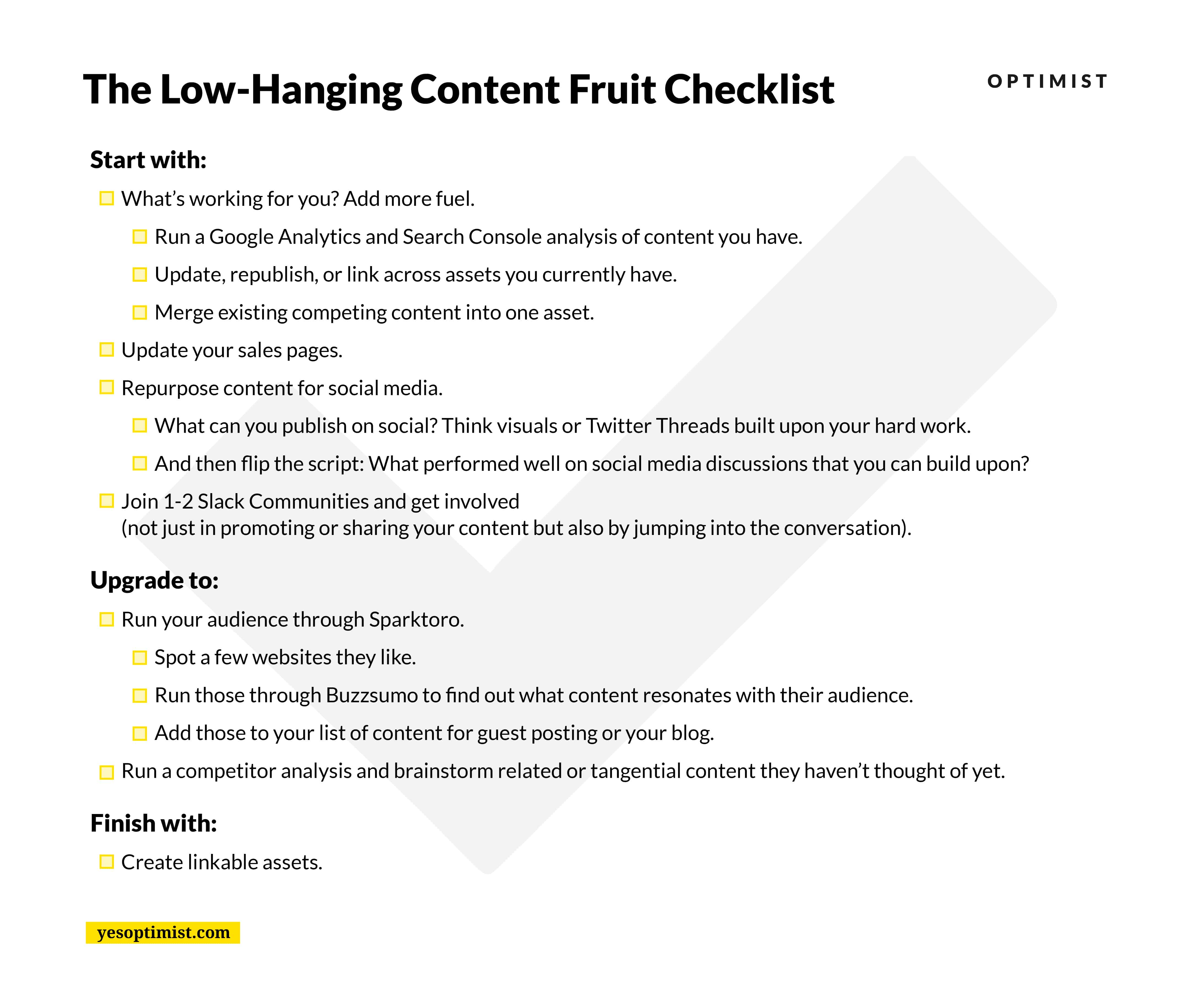 Let's dive into each of these tactics and see how they might work for you.
1. What's already working for you?
Run a content audit to figure out what's working, what you can retire, and what you can repurpose.

Spend time in your Analytics and Search Console reporting to review what worked well for you in the last 1-2 years. Brainstorm ways to recreate or repurpose those hard-working posts. 

If there is a blog post that gets many links, is there a way to make it even more linkable by building an infographic? Is there content you can repurpose? Are you interlinking your old blog post that continues to get search engine love to newer posts?

Update, re-publish or optimize existing content to boost what's already working.

2. Optimize your sales pages.
The goal of content isn't always sales-driven, but without sales, you won't survive. Sales pages need love too.

How do your pages rank? What's your conversion rate? Do you have:
Case studies
Testimonials
Reviews
Videos of how to use your product?
Make it a goal to capture and update user stories on your website, demonstrating the power of your product.

3. Think of social distribution while creating your content, not after.
Think beyond the perfectly researched and edited blog post. How does your content serve your audience on the channels they use?

Social media is a powerful publishing platform. It's a channel that a lot of people use daily. Yet (and I'm guilty of this too), social media is often an afterthought. I'd like to challenge you to think differently and actively include social as part of your process. This fascinating interview with Harry Dry on Everybody Hates Marketers blew my mind.

Harry Dry is a young internet marketer that grew his newsletter from 0 to 38,000 subscribers in a year by distributing his content through social channels and online discussion groups. He incorporates social media into his promotion efforts by organically selecting parts of the article to share as he is creating the piece. His audience loves quick tips, so he starts by teasing out a tip or quote on social without a link. 

"I'm thinking before we even get to publishing the article, can I pull out any quick tips from this article just to share on the social media platforms. What I've realized quickly is that let's say I share an article on Twitter, and it does okay, that's good. But if I pull out a quick tip and isolate that by itself and then share that on LinkedIn, Twitter, Facebook groups… It's literally like two for one." –Harry Dry

Harry Dry's Social-First Content Process
Start with the title and takeaways / "tips" — they should be actionable and relevant, add value to people's lives, and give them the joy of discovery.
Draft article
Create Twitter thread
Post on website
Post Twitter thread
Post tip in online groups, link image to website or Twitter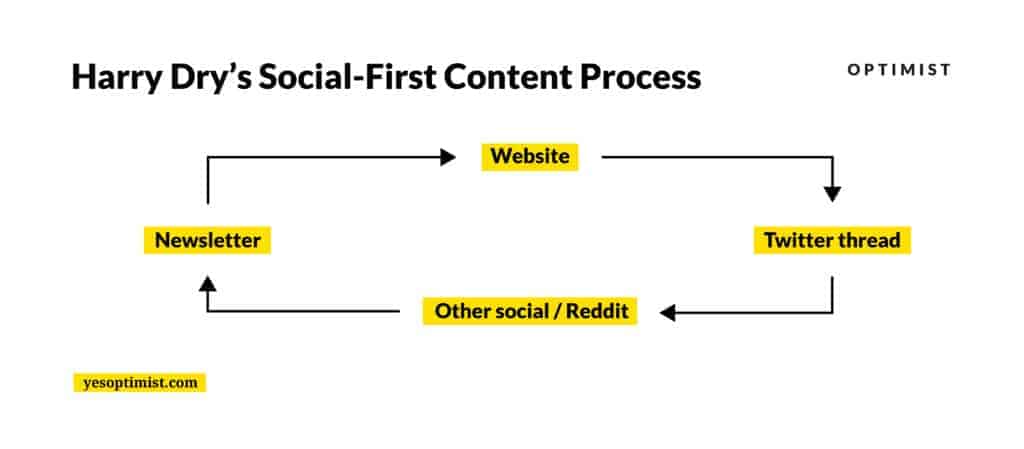 Ahrefs, an SEO SaaS company, also uses the same tactic in promoting their content.
"The quick tips in themselves are like a huge deal because it's the easiest, it's so consumable… Everyone loves a quick tip. If you've got a quick tip, we're all in."  
While you may not aspire to be a social influencer, you can't ignore social. Think beyond the standard tweet announcing your blog post, to Instagram stories with visuals that tell a complete story or offer a concise takeaway.
4. Participate in communities.
Maybe in 2021, we'll all be able to squeeze into a crowded bar, grab brunch in a busy restaurant, or dive into a mosh pit. Until then, online communities are here to save the day.

Join and participate in a few Slack or Discord communities to connect with people safely. Optimist's Slack group is a great place to start.

Think of this as a long-term play — not just a temporary solution or pandemic interlude to your career. Join a few communities where your target audience hangs out, and watch for topic ideas or ways to help.

A few resources to help you find communities: Foundation Inc has a list for marketing and sales pros, and this Airtable list covers all Slack communities.
5. What is your audience looking for?
Four words: figure out your audience. This is fundamental. Then, keep learning about them. Set up an ongoing process for:
Researching your audience
Incorporating your insights into your work
Using these insights to guide your content efforts.
Your audience should be guiding your content efforts. The other way around just isn't going to cut it. How do you figure out who they are and what they're all about?
Quick Customer Research Tip:

Use Sparktoro to stalk your target audience. Plugin your audience type (say, "digital marketing managers") and get data on everything from who they follow, to what websites they visit and amplify, down to which podcasts they listen to.
Take that information and use a tool like Buzzsumo to get an idea for which topics perform well on the sites they visit and apply that to your guest posting or blog strategy.
6. What strategies are your competitors not using that you can take advantage of?
You can find a lot of information on just about any website on the internet, including what keywords they rank for, bid on, and what drives the bulk of their traffic.

Look at a few of your competitor websites through the lens of search traffic and then brainstorm areas they may not be paying attention to. Unless your website has a higher Domain Authority, going head-to-head on those topics might be challenging, but building upon what they have and creating content in areas they haven't tapped can be a great opportunity.

7. Create linkable assets.
What are writers and bloggers looking for in their content creation? Trends, benchmarks, stats, and data that can attract backlinks for your site.

Creating linkable assets is like buying a downtown apartment in a growing city. If you can choose the right topic and get some momentum early on, your assets can help you rise in search ranking by building a very competitive backlink profile. And the more domain authority, the more likely the search gods will favor you.
Shortlist: Top Content Marketing Trends of 2021
Strategies don't live in caves; they need to thrive in the real world. We have to keep in mind how people engage with content right now. The best way is to create your strategy through a mix of what's working and add a dash of the growing trends. 
Content trends in 2021:
Current trends dictate how your content will survive in the next year. Without venturing too deep into AI or the bots taking over the world, here are some of the key trends that SaaS startups should pay particular attention to:

Current events impact everyone
Online communities skyrocket
Concise content wins hearts and SERPs
Interactive content get sexier
Content distribution grows up
#1 Current events impact everyone
Current events of 2020 had a significant global impact on business and people. Audiences are increasingly apathetic to brands that don't prioritize their needs. 

Your content needs to thrive in your ecosystem, but things like content promotion and timing need to fit within the context of what's going on. Take the pressure off making posts that regurgitate what's already published. Focus instead on what your audience needs and what only you can provide.

Tip: Read the room before publishing content to make sure it won't just resonate on your screen but IRL.

#2 Online communities skyrocket
Pop quiz: How often do you check Facebook? Me, hardly ever. How about Slack? About 30 minutes ago.

2020 saw a meteoric rise in online communities. They've become not just a place for anonymous internet users (à la Reddit) but also a platform where real conversations occur, and folks help each other out. Where relevant, they also host content channels. 

The rise of niche communities will continue in 2021, especially as people get frustrated with apathetic social networks.

Starting a new community is tons of work. There's recruitment, promotion, building conversation, and so forth. But it can yield lots of potential for teams with bandwidth and resources. If that's not you, participate in a few communities and view it as an investment that may get you some of the benefits without the heavy lifting.
#3 Concise content wins hearts and SERPs
Google rewards first page results that can answer a user's question quickly. The search engine caters to its users, and users want concise and quick answers.

While this might be heartbreaking news for the aspiring novelist in me, the fact is attention spans are shorter.

Now is the time to create content that accounts for users' short attention spans while still feeding search engines the content they need. With increasingly competitive search results, concise, straightforward answers will help users, bots, and you.
#4 Interactive content gets sexier
When we all had to transition to working from home, some people started getting nostalgic for the sounds of the office. In March of this year, the Berlin-based Kids Creative Agency created a comforting replacement: "I miss the office." The interactive experience of background office sounds attracted over 9K backlinks in a few short months (an SEO's dream).

Think about simple ways to create interactive content that doesn't require tons of resources. Your feature won't compete with New York Times coverage of whales, but can you create short videos promoting your content or sharing insights from a recent study?

#5 Content distribution grows up
Tacking on content promotion and distribution to an already full plate of researching, creating, and optimizing is tough. But it's an essential piece of your content workflow.

With increasingly diverse communities and social channels, content distribution helps your work get in front of more people. The more people that see your work, the higher the likelihood it will gain traffic and visitors.
Some people are naturals at social media (and I'm jealous), while the rest of us have to work at it. Whether it's you or someone on your team, assign an owner, and make it a part of your content process.

Get An Actionable and Concise SEO Strategy for 2021
This past year has been a real doozy, no matter how you look at it. More than ever, our lives have become dependent on the information highway (i.e., the internet). 

Content marketing is a long-term strategic play that can cement your growth, just like getting 8 hours of sleep every night. As long as you focus on the right content marketing framework and execute consistently, you will see a return.

If you're not sure where to start, focus on the fundamentals: 
How is your website performing currently? 
What are the terms you rank for right now? 
How do you stack up against your competitors? 
What content should you prioritize this quarter? 
How can you leverage existing content to help you rise in search?
By reviewing your Google Analytics, Search Console, and competitor research, an SEO content audit can get you answers to all these questions. Reach out for a custom low-hanging fruit checklist that you or your team can implement.