This post is about how to build a growth-focused SaaS SEO strategy.
But first, a little story…
Six weeks ago, I was struggling.
I was trying to art direct some updates to our website. (Cue 🙄)
But, I'm not a designer.
So I went to Google.
"How to do web design for non-designers," I searched.
I slowly scanned the search results page. Well, not the whole page—probably just the first three or four results—until I spotted a link that looked promising.
"Web design without a web designer?" it read.
Click.
Reading through the article, I discovered that the problem I'm facing is a common one. As it turns out, many growing agencies don't have all the specialized skills and tools they need for all their projects.
In my case, it seemed like prototyping software might be just what I was looking for. I basically wanted to visualize my design ideas and communicate them to the team.
Oh, and—imagine that—the blog I clicked on, was published by Figma. A company that just happens to sell this exact software. I clicked from the blog post to the homepage to learn more.
As I scanned the page, reading about Figma's features and benefits, a realization slowly dawned.
I had just entered the top of their funnel.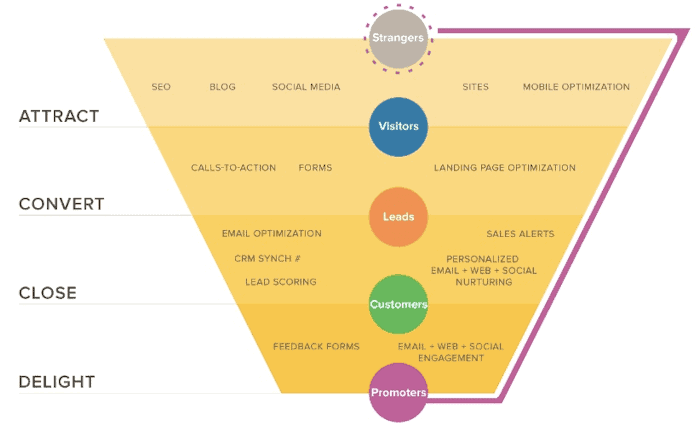 I spend a big part of my life researching and mapping out this process from the perspective of our clients and their businesses. And yet, my own buyer journey happened so naturally, stepping into it didn't even feel like a conscious act.
I was just looking for information about a problem.
But this initial search led me to a solution—Figma. From there, I dug into the space further,
comparing their tool to competitors, and
learning how the software actually works (could I really use it with no design experience?)
And, ultimately, I decided to pull the trigger. I'm now a happy Figma user; our site got a small design refresh, and I'm already planning the next update.
This exact story happens millions of times a day, every single day.
And, just like in my story, the SaaS companies with strong SEO strategies appear higher up in the Google search results.
This means they get more traffic. But more importantly, they get more targeted traffic, from internet users who are in an active buying cycle—even if they don't realize it. These qualified site visitors are much easier to convert into leads and paying customers.
The software companies I found in my search didn't show up on Google's first page by accident.
They invested in a smart SEO strategy.
They built reader-focused content that introduced me to a solution to my problem.
They optimized their website to rank for the search terms most relevant to their product and their ideal customers.
They earned backlinks that helped them outrank their competitors.
All of these factors helped put them front-and-center in my buying journey. And these same factors will help them remain a natural destination in the buying journey for other buyers who turn to Google every day to find information and solutions to their problems.
That's the power of SEO for SaaS businesses.
The right SEO strategy is critical to building a successful inbound customer acquisition model that:
a) compounds over time, and
b) reliably generates high-quality traffic and leads.
What Is SaaS SEO and What Makes it Different from SEO for Other Types of Companies?
In short, SaaS SEO is a marketing strategy focused on attracting potential customers to the SaaS website and converting these visitors into users or customers. It does this by getting the site to rank in search engines (mainly Google search) for specific keywords.
With the right SEO strategy, software companies can attract a steady stream of inbound traffic and user sign-ups—powering organic growth.
Compared to other digital marketing channels like paid advertising or offline channels like outbound sales, the cost of SEO-driven content marketing can be much lower. This, plus the long-term lead generation value of SEO makes it a smart investment for B2B SaaS companies.
The backbone of SaaS SEO is the same as SEO for any other business. However, there are some aspects of optimizing a SaaS website that are quite different from SEO for other types of businesses.
This guide specifically focuses on the B2B SaaS business model.
I'd recommend a somewhat different strategy for an eCommerce business or a small business that targets local customers—and local SEO is a whole different can of worms!
The Basics of SaaS SEO and Content Marketing
Before we get too far into the weeds, let's do a quick introduction to the relationship between SEO and content marketing. Throughout this article, I'll refer to both—almost interchangeably.
These terms don't really mean the same thing, but they go hand-in-hand.

SEO stands for "search engine optimization." In a nutshell, this is the process of fine-tuning your site to show up higher on the search engine results page (SERP) for someone's Google search or "search query".
Let's Talk About Your SaaS SEO Strategy

Book a strategy call with our team to discuss how we can help you hit your growth goals.
A successful SEO strategy involves tweaking both on-page and off-page factors to help your website rank better.
On the other hand, content marketing is like the soil that you need to grow a healthy SEO strategy. Content marketing fuels SEO by providing the targeted content, keywords, and links that you need to drive growth through search.
Now, getting more specific, SaaS SEO is a strategy for optimizing your SaaS website and creating content. The goal is to attract prospective buyers, drive traffic and conversions, and help educate and retain your current users.
Effective SaaS SEO almost always involves two tactics:
The on-page optimization of your marketing website—home page, feature pages, use case pages, etc., and
Investing in content marketing that helps improve your visibility to target customers.
So, when you invest in an SEO strategy for your SaaS company, here's how it should work:
Identify the pain points or "job(s) to be done" (JTBD) your product solves
Build a top-of-the-funnel keyword strategy based on the searches (or "queries") your target buyers use at the beginning of their purchase journey
Research product keywords that map to your home, feature(s), solution(s), and integrations pages
Build comparison content that helps you stand out from your competitors (both direct and indirect) based on the target buyer's initial JTBD
Create a content map and content plan
Fine-tune your on-page and technical SEO
Invest in linkbuilding to help improve your rankings versus competitors
Yes, it's a lot of steps—because SEO is a big investment.
But is it worth it? Absolutely.
Let's look at why I think SEO is such an important focus point for SaaS companies in particular.
Why SEO for SaaS Companies Is a Worthwhile Investment
Look, there are a lot of channels and strategies out there for driving SaaS growth.
Facebook, Reddit, podcasts, email, chatbots—they all want a piece of your marketing spend.
So what makes SEO for SaaS special?
Why should you invest in this huge initiative that won't pay off for months (or years!) when you could sling out 20 new Facebook ads and see immediate traffic and users today?
The short answer is simple: Content marketing and SEO form the foundation for a sustainable, predictable, and scalable SaaS growth strategy.
Look at how some of the most successful SaaS companies in the world have all invested heavily in content-driven growth. ZenDesk, Salesforce, Drift, Intercom, Buffer, Asana, InVision, and of course Figma—all went all-in on content marketing and SEO.
That's not to say that they invested only in content marketing. Most of these companies have a diversified growth strategy, but content and SEO fuels the engine that drives them forward.
Let me expand on this a bit further by diving into three key reasons why SEO for SaaS is a vital investment for companies that want to scale quickly.
Reason #1: SEO Scales Exponentially
In a world full of marketing channels and acquisition strategies, inbound marketing and SEO for SaaS are among the most scalable and predictable approaches to growth.
The reason for this is simple.
Much like interest on a financial investment, the results that you generate from SEO will compound over time. With a well-executed SEO strategy, you'll see exponential growth in targeted traffic, which can then be turned into leads and users.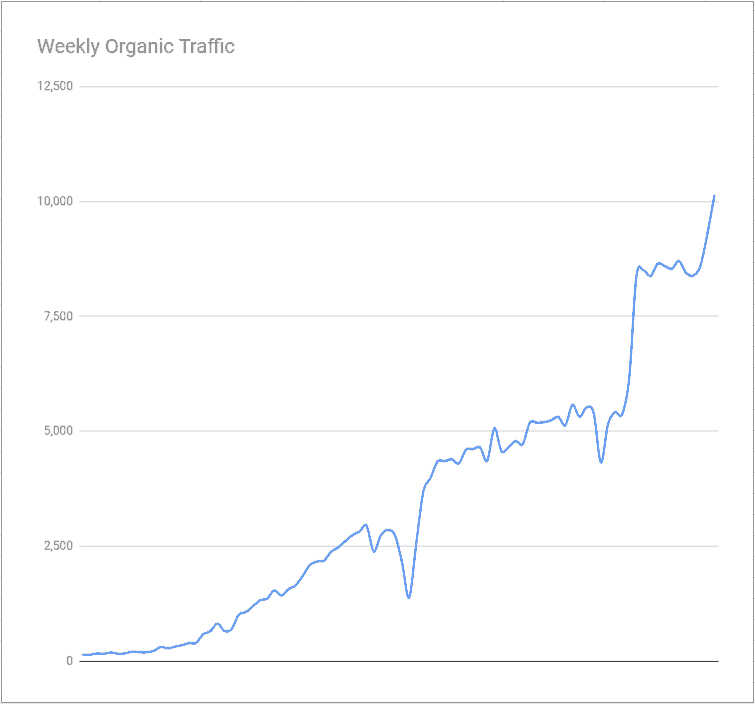 Search traffic is generally predictable.
As a content marketing agency, we've seen this time and time again. When the Optimist team works with SaaS clients, we're able to build compounding, exponential growth.
Our strategy is to create valuable content, focus on a core set of targeted keywords, earn high-authority links, and improve the search rankings of key product marketing pages.
While the exact number of people who search for a given query will vary from day to day, you can pretty accurately predict how much traffic you'll receive if you ranked #1 for a search term like "content marketing software."
Reason #2: SEO Reduces Your Dependence on Paid Marketing
For many SaaS companies, paid acquisition can become a deadly addiction.
Sure, paid channels can be effective. However, as a software startup enters the growth phase, it makes sense to turn away from paid acquisition to more long-term, scalable strategies.
In almost all cases, the cost to acquire a user through a paid channel will rise over time. Your costs will increase as you wear out the audiences that are most likely to convert. Plus, as new competitors enter the market, more advertisers bid for the same inventory through paid channels, further driving up costs.
And, of course, reducing your spend is not an option.
With paid acquisition, you stop growing if you stop spending.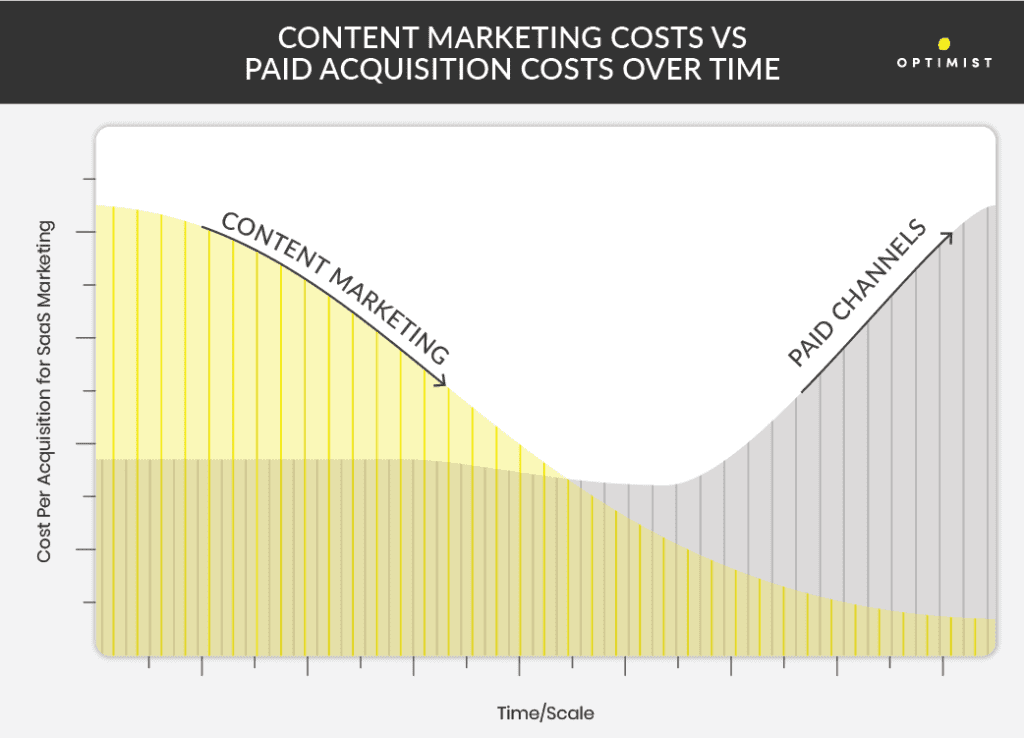 With content marketing and SEO for SaaS, it works exactly the other way around.
The initial investment may be slow to yield measurable results. In most cases, it will take several months to gain real traction and see a clear pattern of growth with an inbound marketing strategy. But when that growth comes, it compounds over time and steadily becomes a long-term asset.
While SEO is not maintenance-free, the cost of acquiring new users through organic traffic should decrease over time as your inbound traffic grows.
A blog post published today has a fixed cost, but it could generate traffic and leads for years to come. This effectively shrinks the customer acquisition cost (CAC) with each new signup.
As a result, SEO is a smart long-term growth strategy for companies that need to wean themselves off of paid channels being their primary source of new user sign-ups.
Reason #3: SEO Powers All Other Acquisition Strategies
Like most marketing strategies and channels, SEO can't function in a vacuum.
Yes, investing in content, keywords, and links will lead to a large increase in targeted, organic traffic over time. But, as you know, website traffic does not equal sign-ups or revenue. Beyond SEO, you need additional marketing strategies to capture, nurture, and convert that traffic into actual users.
The upside here is that SEO can "feed the machine", so to speak. It does this by filling up your marketing funnel with a constant stream of qualified, persona-based traffic.
This is what makes SEO for SaaS such a critical component of marketing success. The traffic you gain powers other channels and strategies like adding email subscribers and filling your retargeting funnel.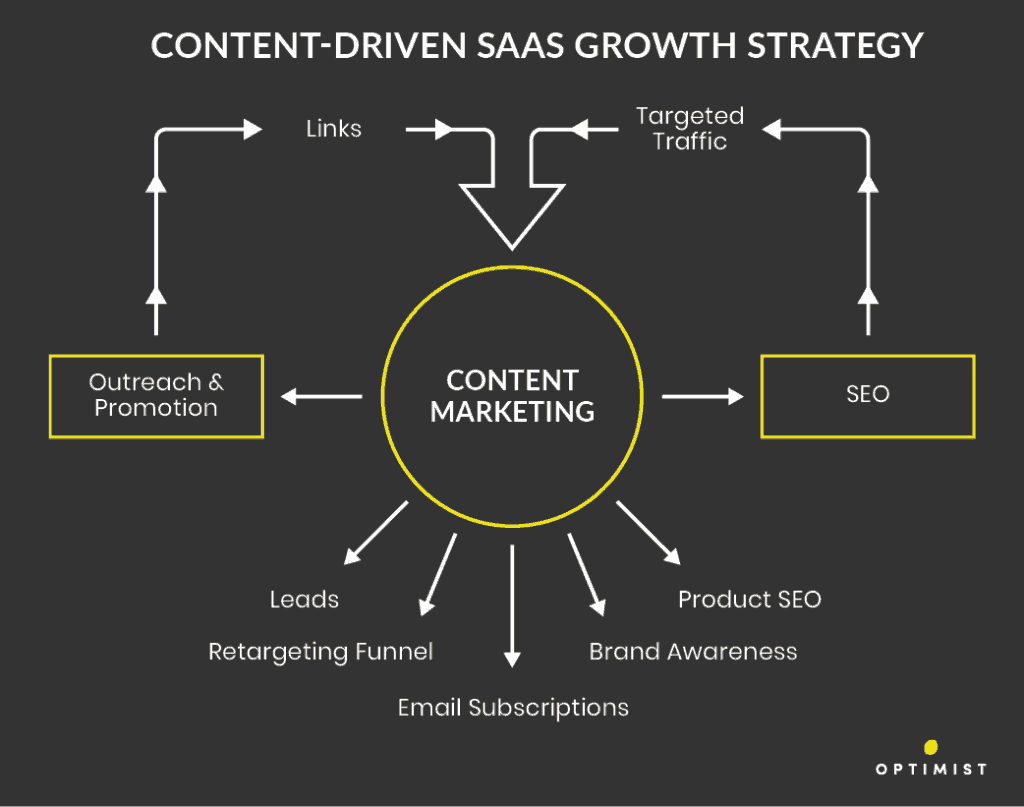 With this all in mind, let's dive into how you can create and pull off a successful SEO strategy—one that drives the growth in traffic and leads that you hope to achieve.
How to Map Your SEO Strategy to the SaaS Marketing Funnel
Creating a successful SaaS SEO strategy doesn't happen by collecting a random list of keywords.
It starts with the buyer's journey.
To get in front of your potential customers at the right times, you need to understand their problems and which keywords they may type into Google to solve them.
To do that, you need to clearly define your target audience by developing buyer personas.
These personas will help you understand:
Problems your potential buyers experience and want to solve
Which solutions they may be familiar with already
Which products they're already aware of
Using this information, you can choose target keywords, structure your website, and create helpful SaaS content. The idea is to be helpful at each step your potential user takes from the start of their research process, through to the point where they decide to sign up for your SaaS product.
(Note: In this case, we are referring to the buyer's journey only up to the point that they sign up or begin a trial.)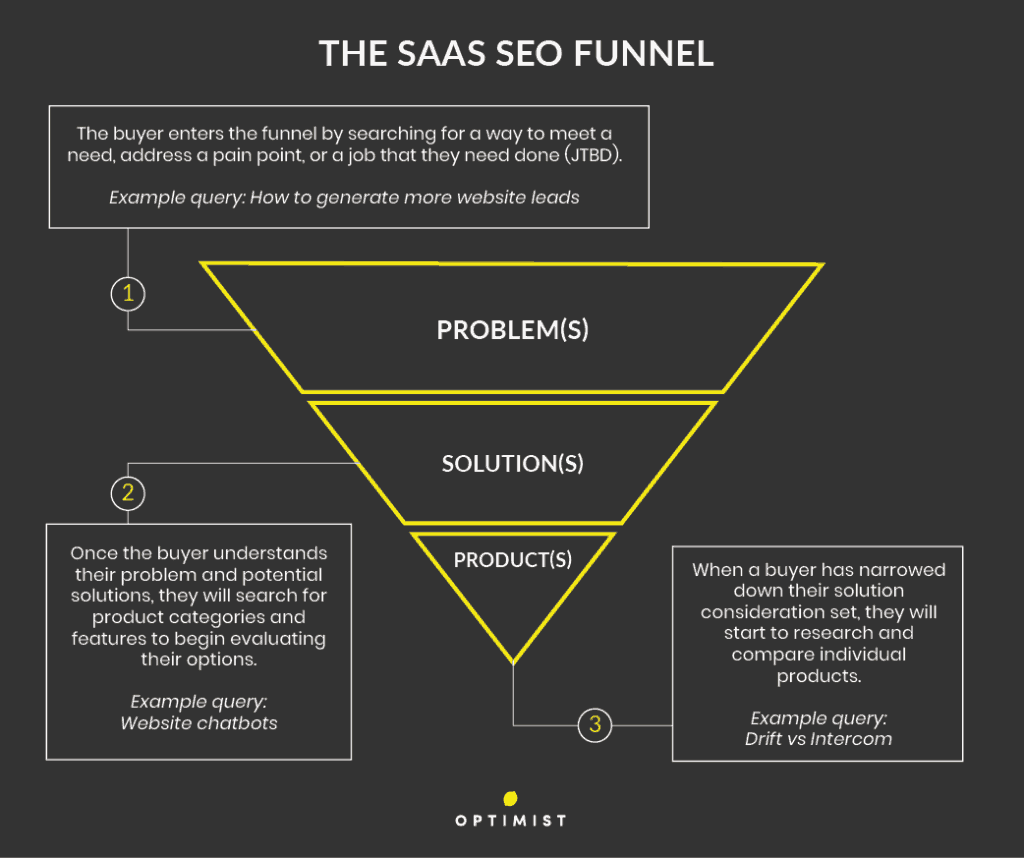 While we typically think of this as a funnel or series of stages, the buyer journey is rarely linear from top to bottom.
Because of this, you can't assume each buyer will come to your site at the top of the funnel and simply use email or nurturing to move them through each step.
You need to develop a robust keyword and SEO strategy that extends beyond the top of the funnel to include the consideration and purchase phases.
Let's go through each stage of the funnel and how you should address it in your SEO strategy.
Top-of-the-Funnel SEO for SaaS: Attracting Prospective SaaS Buyers
Your buyer has a problem.
And so far, they're not sure exactly how to solve it. Hell, they may not even know how to express it! But they have an itch. Some part of their personal or professional life could be easier if they could just find the right solution.
This is their pain point.
Many SaaS buyer journeys begin here. Maybe your customer is looking to improve their customer service, or they need a way to get their clients to pay invoices faster.
Where do they turn?
The same place everyone does. The same place I turned before discovering Figma.
Google.
The buyer sets out to research the pain they are feeling, to understand it, and hopefully find a solution.
"How to get my invoices paid more quickly", they type.
As a SaaS marketer, this is an opportunity to attract a buyer at the very start of their journey.
From an SEO standpoint, you can usually accomplish this by creating targeted content for the specific queries that your buyer is searching, such as:
"How to increase my sales win rate"
"Keeping track of business expenses"
"Grow my business"
In most cases, these become blog posts that act as a simple educational tool for your audience.
These blogs explain how the user can solve their problem or meet their need. Next, they should introduce a solution to that problem.
If you're marketing a SaaS product, the solution should (obviously!) be a piece of software (like yours!) that has a feature that meets their needs.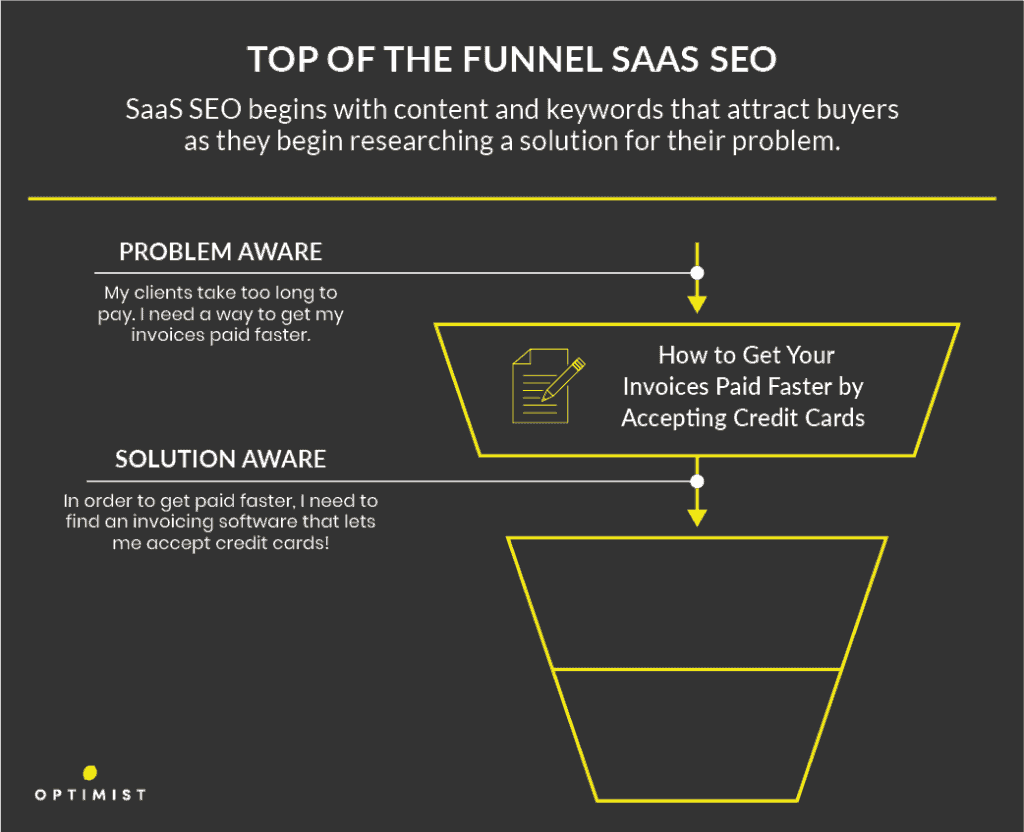 At this stage in the buyer's journey, they're just beginning their research process.
This means that only a small percentage of visitors (usually less than 1%) will read this content and immediately convert into a customer.
But that's okay.
The goal you set for this content should be to fill the top of the funnel. That is, create a pool of potential buyers who are entering your sales cycle. They might not convert right away, but they're likely to make a purchase decision in the near future.
As part of your overall SEO strategy, your goals for this content are straightforward:
Attract targeted traffic consisting of problem-aware prospects
Help the reader learn about how they can solve their problem
Educate the reader on a specific solution or product category
Capture these prospects via an email newsletter, retargeting pixel, or a free product trial with the option to upgrade.
Part of your strategy here may be to send the user further into your funnel by immediately getting them to click a link to another page on your site.
That would move them to the middle of the funnel—the next step in the journey.
Middle-of-the-Funnel SEO for SaaS: Putting Yourself Into the Buyer Consideration Set
The middle of the funnel happens after a buyer becomes aware of a solution to their problem but before they've begun looking into specific solutions.
During this stage, the buyer is creating a consideration set.
This is a list of tools, products, or services that may help them solve their initial pain point.
Keep in mind that the solutions your prospect is considering might not always be direct competitors to your software. They could offer a completely different solution to the same problem.
In the middle of the sales funnel, your goals should be:
Attract solution-aware visitors
Introduce your SaaS product to the consideration set
Educate the buyer on your product's workflow, integrations, and which features set it apart.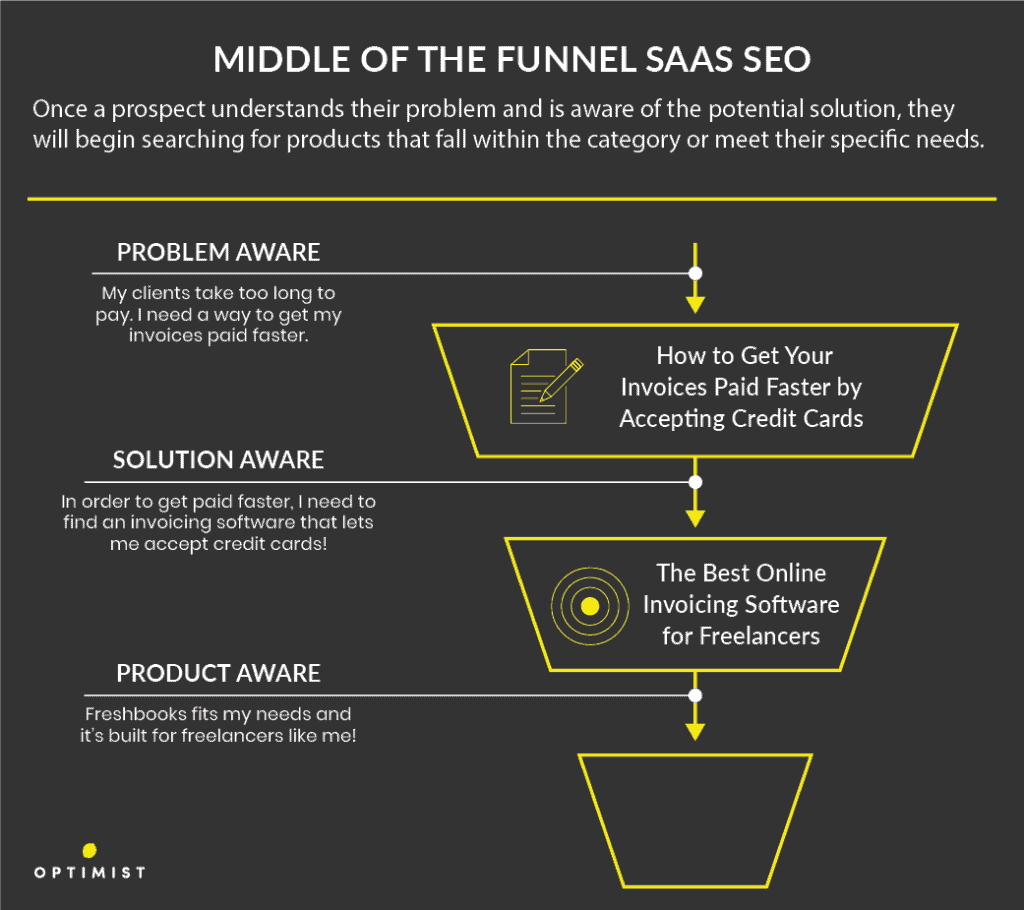 At this stage of the buyer's journey, they're looking for information about product categories, features, requirements, implementation, and integration capabilities.
At this stage, they're armed with more precise language about the types of solutions that they're looking for, based on their previous research.
So, their queries could look like this:
"Sales enablement tool"
"Digital signatures for Salesforce"
"How to choose the right CRM"
Or, they're searching for specific ways to implement the solution. This includes integrations with other tools and software. They could also be searching within a category that fits their specific persona or industry.
For example, they might search "Accounting software for freelancers" after learning that one way to get their invoices paid faster is by using accounting software that lets them accept credit card payments.
For SaaS companies, content and pages that attract middle-of-the-funnel searches generally fall into one of six main types.
Product category: Your most basic searches, e.g. "help desk software"
Product category comparison: When the buyer is comparing multiple possible solutions to their initial problem, e.g. "help desk software vs knowledge base software"
Solution/industry: More specific searches that identify the buyer's persona or industry., e.g. "B2B help desk software"
Features: Specific features the user wants in a solution, e.g. "help desk software with chatbots"
Integrations: How the software plugs into other tools, e.g. "help desk software with Salesforce integration"
Implementations: Specific use cases, e.g. "how to route support tickets to Slack"
Once again, keep in mind that prospective buyers can come to your website at any point in their journey.
In this case, we're examining the middle of the funnel through the lens of SEO or organic search. That means this content isn't necessarily geared toward users who are already in your funnel (via email, retargeting, etc.). Instead, it's meant for visitors who are landing on your site via search.
Even though the prospect has already identified a potential solution to their pain and is actively researching tools or services, they could be landing on your website for the very first time.
So, when you plan and create content that's optimized for middle-of-the-funnel keywords, you should assume the reader has no familiarity with your company or product at all.
Also, keep in mind that the lower in the funnel—or the further into their journey—the buyer is when they land on your website, the more likely they are to convert into an actual customer.
As a result, these keywords will likely be less popular (from a search volume perspective) than top-of-the-funnel searches. They're also likely to be more competitive from an SEO standpoint.
This leads us to the final stage: The bottom of the funnel.
Bottom-of-the-Funnel SEO for SaaS: Differentiating Your Product from Alternative Solutions
At the bottom of the funnel, the buyer is fully aware of the problem they're facing, the solution they will use to solve it, and likely some (or even all) of the specific products that meet their needs.
In marketing speak, we call these buyers product-aware. (Note: Product-aware refers to the fact that the buyer is aware of specific products that may meet their needs. That doesn't necessarily mean they are aware of your product in particular.)
So what's left?
Well, most buyers will compare multiple products to see how they stack up before they decide on the best solution.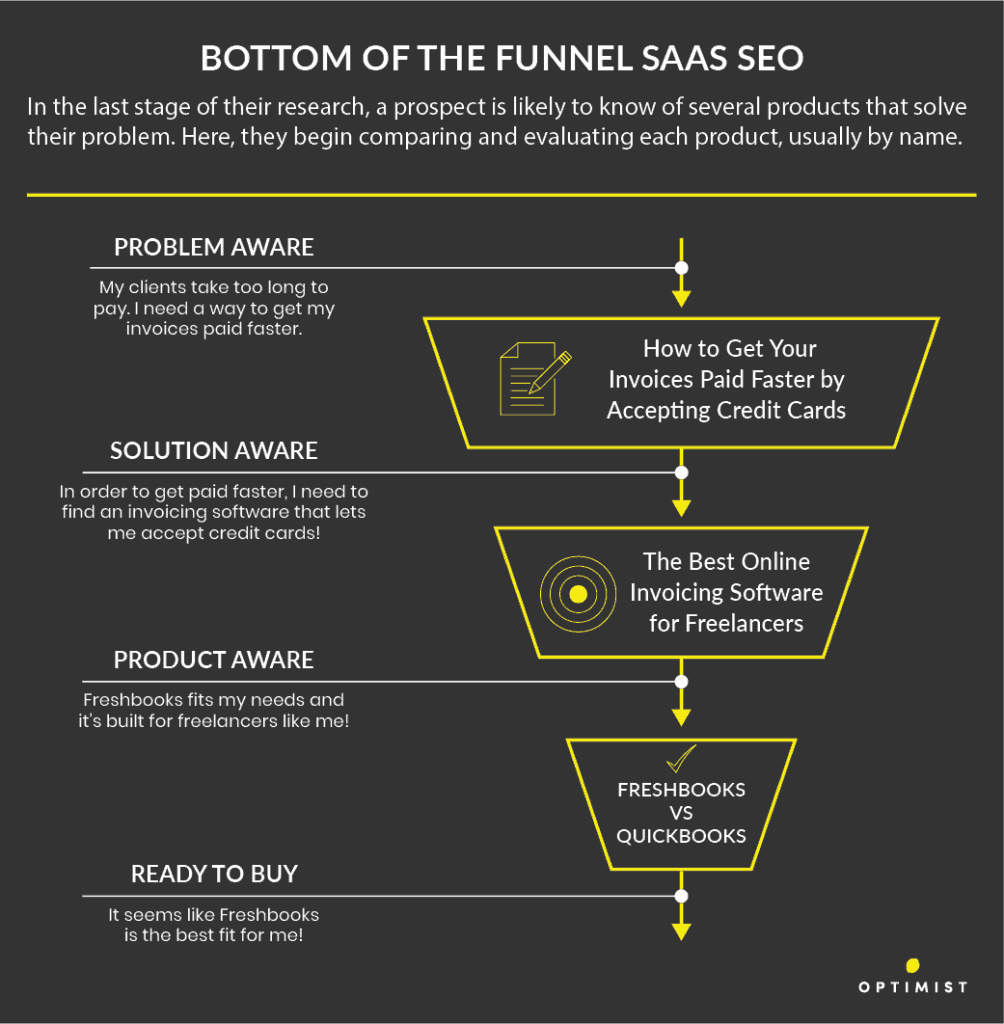 This means that if your SaaS is in the consideration set already, buyers will likely be searching for info on how your product compares to competitors (both direct and indirect).
If your product is not in consideration at this point, you still have a chance to enter the conversation.
Here are your goals for bottom-of-the-funnel SEO:
Attract product-aware traffic
Inject your SaaS product into the consideration set (if it isn't already)
Highlight the key features that make your product a better fit than competitors'
Differentiate your product category (and your specific product) from alternative solutions
The keywords you focus on here will generally fall into a few high-level buckets:
Comparisons (X vs Y)
Alternatives/competitors (Y Alternatives)
To position you for the searches your prospects are doing at this stage in the buying process, you'll need to do some keyword research and competitive analysis to build out a targeted SEO strategy.
But Wait, There's More: Pre-Funnel SaaS SEO That Attracts the Right Buyer Persona
Lastly, I want to touch on the idea of pre-funnel SEO.
This is an important approach that many SaaS SEO strategies include.
Rather than focusing only on a pool of buyers looking to solve a specific problem (problem-aware), this content—and the associated keyword(s)—is used to attract persona-qualified traffic. Persona-qualified traffic might not be in the market for a specific product or service at all!
Think of it as being in a trade publication for your industry.
You're talking to the right people, even if not everyone is interested in what you're selling right now.
This can be especially effective for niche industries and businesses.
You can focus on pre-funnel SEO to grow your audience if
There are only a few targeted keywords that qualify your traffic as being the right persona and problem-aware, or
You're focused on generating demand in an emerging category.
Combined with other nurturing tactics, pre-funnel SEO is an effective way to both drive problem awareness and generate demand.
For example, HubSpot's content marketing strategy is extremely top-heavy. They invest a lot in creating content that attracts marketers and salespeople, and not every article they publish maps directly to a pain point that HubSpot's software addresses.
And that's totally fine.
Pre-funnel keywords can include any that are relevant to your buyer persona, even if they're removed from your product itself. In HubSpot's case, it's everything from "how to set your marketing goals" to "how to hire a Head of Marketing".
For HubSpot, content marketing is both an acquisition strategy and part of their brand awareness and demand generation efforts. Not every article needs to lead to immediate product signups.
In advertising terms, you might think of this as serving a similar function as a brand campaign.
Your goals with pre-funnel keywords:
Attract persona-qualified traffic, even if they don't necessarily have an immediate need for your product
Fill your retargeting funnel
Achieve a micro-conversion (email signup, content download, etc.)
Build an addressable audience within your target group(s)
How to Think About Keyword Research for SaaS SEO
Now that we've covered the ins and outs of SEO throughout the marketing funnel, it's important to talk about your keyword strategy—the heart of successful SEO for SaaS companies.
In order to rank for your target keywords, you need to first identify those keywords and then create pages or content on your site that are optimized for each query.
For the sake of this guide, I'm not going to go through the entire keyword research process from start to finish. Our friends Brian Dean at Backlinko and Tim Soulo over at Ahrefs have each written very thorough tactical guides on how to conduct keyword research from scratch. You can also explore this guide on conducting more niche keyword research.
When we conduct keyword research for SaaS products, we need to think about more than just the potential customer.
We also need to think about search intent.
Search intent is how Google's algorithm classifies every query that a searcher types into the search engine. Search intent determines which types of pages and content will appear in the search results.
For instance, if you type "keyword research software" into Google, you'll get pages advertising and reviewing specific software products.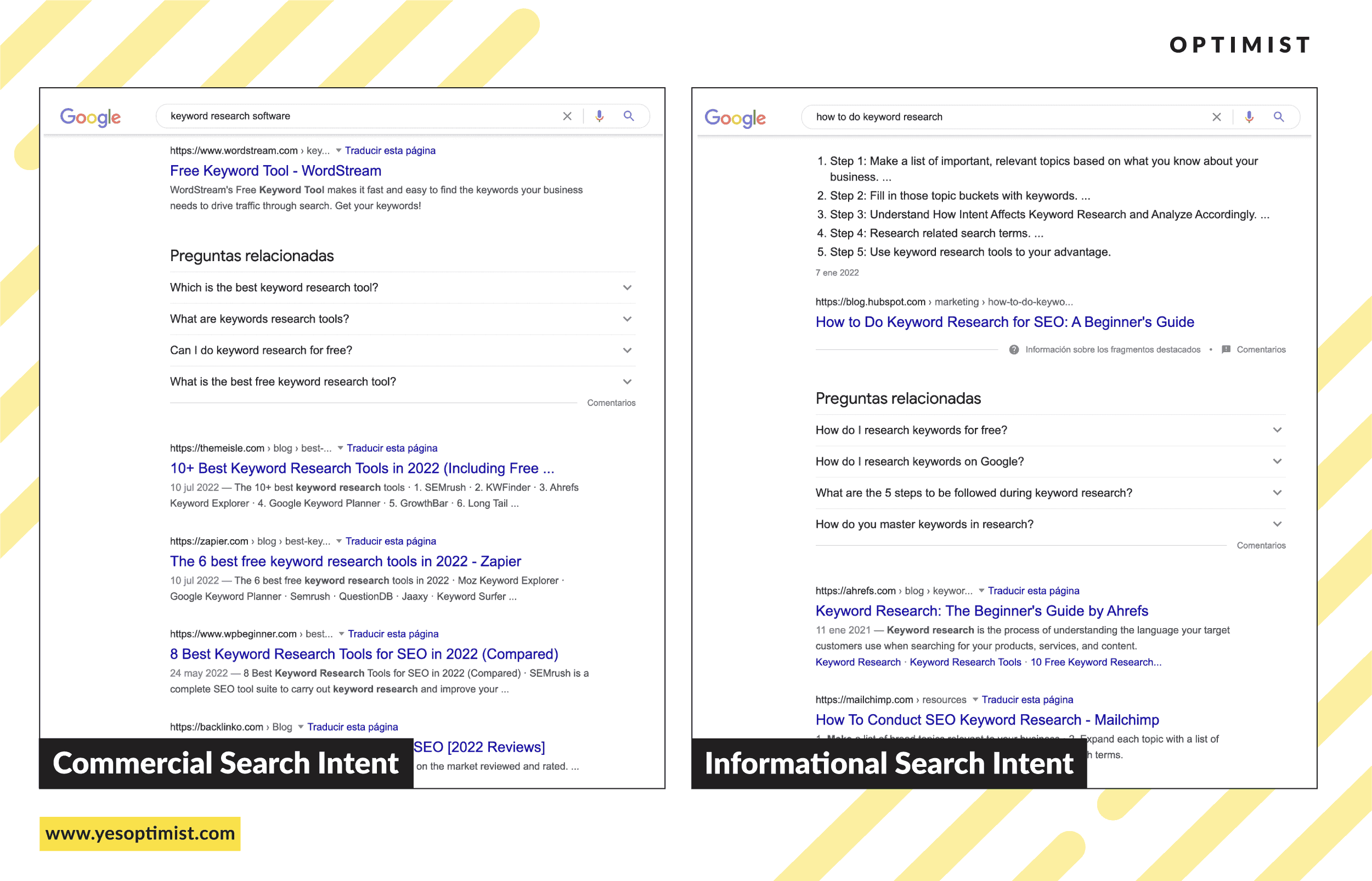 This is what we call "commercial" intent—the searcher expects to see specific products that match the category so they can identify the right one for them.
But if you search "how to do keyword research", you'll get very different results.
You'll see how-to guides and educational articles.
This means that we need to match the content or page that we are creating to the intent of the search. Otherwise, we won't be able to rank for the query driving the search.
Whether you're targeting short-tail keywords (head terms) or niche, long-tail keywords, you'll want to plan and create content that matches the search intent:
Informational/Educational: Blog posts, guides, how-tos, and case studies
Commercial: Home page, product marketing pages, landing pages, and product lists (listicles)
Transactional: Product pages (more common in eCommerce than SaaS)
Navigational: The main pages of your site (home page, features, pricing, login, etc.)
Search intent can also be "mixed", meaning Google shows results to answer multiple intents.
Remember: Don't try to force a page to rank for a keyword if it doesn't fit the search intent. If you try to make your home page rank for "how to do keyword research", you'll find it's pretty much impossible.
Ultimately, it comes down to the user experience.
Translation: give the people what they want, as quickly and easily as possible.
You need to understand where the buyer is in their journey, what kind of search results they need (and expect), and match your content to both.
Problem-Solution Keywords (Top of the Funnel)
To build a top-of-the-funnel strategy, you should start with your buyer's pain points or problems.
Let's use a real-world example to walk through this together.
Drift sells some cool website chat software, along with bots and automation features.However, when a prospect begins the buying process, they don't usually set out to buy website chat software. Instead, they have a specific problem to solve, a pain point to address, or a JTBD (remember, that's "job(s) to be done").
Maybe they want to shorten their sales cycle, generate more leads from their website, or automate lead qualification.
These are all pain points or JTBD that Drift can help them solve.
The keyword research process should begin by identifying these pain points and JTBD. These will, in turn, lead them to use your product.Start at the top of the funnel by creating a problem-solution map that breaks down your product, features, and use cases into user stories (JTBD).
Each user story should present a specific problem or pain point experienced by the user when they first begin their buying journey. You can then use that pain point to identify specific keywords that you should target at the top of the funnel.
Our process at Optimist involves a mix of several approaches:
The JTBD framework
Competitor analysis
Feature/pain point mapping
For each of our clients, we go through a deep research process where we begin by understanding the customer's initial problem. Next, we conduct keyword research for each use case and use this data to build an SEO strategy.
As we work through all the individual features and personas, we uncover a huge number of specific "jobs" that customers are "hiring the product" to accomplish—and how they align with the product's features.
At this stage, most content will have informational intent, meaning the user is looking for pages to help them learn more about the topic they're researching.
Solution-Product Keywords (Middle of the Funnel)
Continuing down the SEO funnel, we move into the middle stage of the buyer's journey.
At this stage, the prospect is looking for specific product categories and features they've identified as potential solutions to their problem.
You want to approach this research by looking at several different types of keywords that could identify solution-aware buyers searching for specific products to add to their consideration set, such as:
Product category keywords
Product feature keywords
Industry/vertical keywords
Implementation/integration keywords
We go through this process in a pretty simple way.
First, we work through the product's various features and break them down into the features or use cases that we think buyers might be searching for.
The content this drives ranges all the way from a high-level description of your software, down to its individual features and use cases. Of course, we use actual keyword data to guide the specific language choices.
Next, we identify the key industries and verticals you serve and want to target with custom-tailored solutions pages. In Drift's case, they emphasize key teams or roles rather than specific verticals. That's okay, too.
These become their own set of keywords (and eventually pages or content) that are optimized to attract this persona-specific or industry-specific traffic.
Lastly, we look at any key integrations that could warrant their own pages or content. We also try to identify any key implementation use cases that have significant search volume.
Keep in mind that during this research phase, we start with rough brainstorming.
Armed with a bunch of our best guesses, we then use a tool like Ahrefs to conduct dig into the data and narrow down which keywords we should target.
During this research, you should carefully consider the user intent behind the query. You can often verify intent by running the search yourself and seeing which search results Google sees as the most relevant.
Middle of the funnel keywords often have split search intent, typically between informational and commercial intent.If I'm searching for "website lead generation" I am trying to solve a problem—I need a way to generate more leads.
The SERP reflects that intent.
The top results are articles, guides, and resources. They're not product or feature pages.
On the other hand, if I search for "website lead generation software", I've already identified the solution to my problem and I'm now looking for specific products that meet my needs.
Often, you'll find that keywords that seem to fall into this stage of the funnel actually belong in a different part of the journey. That's okay—the keyword may still be an important part of your overall strategy. But, in order to rank, you'll want to be sure that the content on your page matches the intent behind the search.
Product Comparison and Purchase Keywords (Bottom of the Funnel)
Now, we've moved on to the final phase of our keyword research process.
We want to create comparison pages that let us capture search traffic from buyers who are evaluating specific product solutions.
We start this process by making a list of competitors.
This list should include direct competitors (like Intercom, in Drift's case) but also indirect competitors. That is, alternative solutions to the problems we identified at the top of the funnel.
For instance, some buyers may be comparing the idea of using live chat software versus a website form or exit-intent popup software. Both of these alternative solutions could do the "job" of generating more inbound leads.
Ultimately, the competitor set—the various possible solutions the user is evaluating—will depend heavily on the JTBD of each individual buyer.

The search intent here is a blend of commercial and educational.
Most of the bottom of the funnel keywords fall into a few key buckets:
X vs Y
X Alternatives/Competitors
How to Choose the Right X Software (Buyer's Guide)
Using a keyword tool like Ahrefs or SEMRush is important at this stage. This will help you uncover and compare the various relevant keyword combinations. It can also help you understand how prospects think about your competitor set, which is probably different from what you expect.
When in doubt, follow the data!
Bringing it All Together: Creating an SEO Content Map
Following this process of analysis and research, you should have a long list of keywords that fall somewhere along the buyer's journey.
So, now what?
The Complete Content & SEO Growth Collection
Get the full list of strategies, tactics, and tools you need to plan and execute a content marketing strategy that will help you achieve explosive growth.
No tricks, gimmicks, or bullshit.
Next, you synthesize the data into an actionable plan. This plan will inform everything from your site structure to landing pages, blog content, and product features, solutions, or integrations content.
Here's what that may look like, in a nutshell:
Keep your keywords segmented by funnel stage
Within each funnel stage, sort your list of keywords into groups or individual keywords that can be reasonably targeted with a single page (1-3 very similar keywords/variations per page)
Create a plan that maps out all the keyword groups you are planning to target, with some basic details about what content should be included
If applicable, compare your content map with your existing website content and update or optimize any pages that align with the content map
Where there are gaps, plan to create new pages or write new content to target these keywords across the buyer's journey

This becomes your tactical guide.
As I mentioned before, you'll want to create new content that's optimized for the keyword groups that you identified here to maximize your SaaS website's footprint in the search results.This will give you the opportunity to capture search traffic from prospects as they progress through their buying journey.
Let's Talk About Your SaaS SEO Strategy

Book a strategy call with our team to discuss how we can help you hit your growth goals.
On-Page Optimization and Technical SEO
It takes a bit more than just keywords on a page to rank on Google's first page.
Of course, it all starts with high-quality content creation. Every page and piece of content you publish should be optimized for both SEO and for the user.
Never sacrifice content quality for keywords.
But sadly, quality content on its own isn't enough.There are some basic on-page and technical SEO considerations that you should be aware of. This guide won't cover all of the nitty-gritty details, but Moz has a great guide on this topic.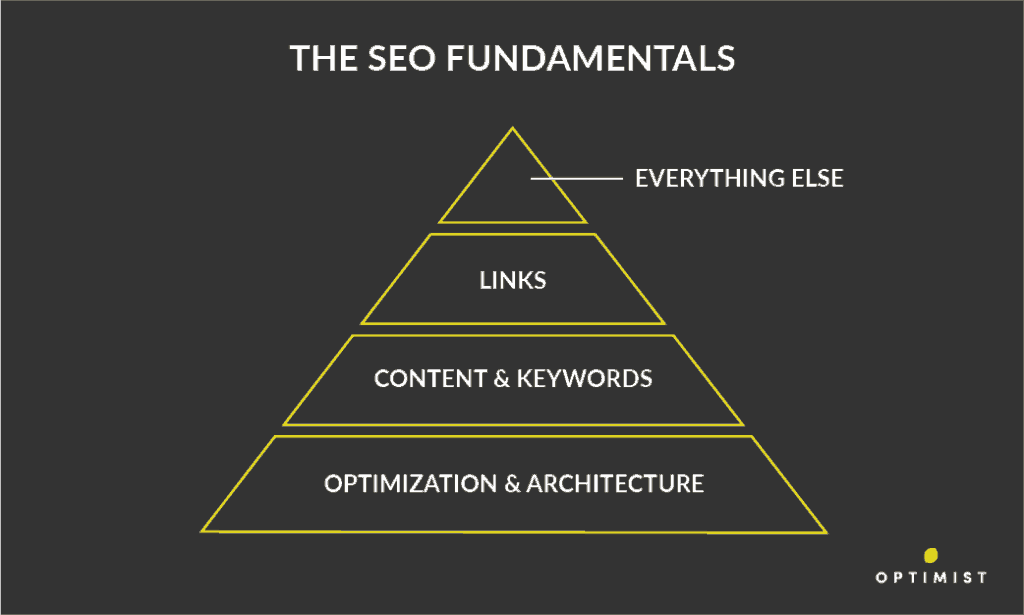 Without basic on-page optimization, your chances of ranking are pretty slim.
The good news is that most of the ranking factors are pretty intuitive and common sense when you consider the user experience.
Just ask: What makes content helpful and easy to digest for you as a reader?
Must-Have On-Page SEO
Let's start with the non-negotiables.
Your site needs to be able to be read and understood by both humans and robots. This means you need to follow a few well-established content best practices to even stand a chance of ranking.
Here are the things you absolutely need:
Titles: Optimized, unique title tags for each page
Heading: One H1 tag on every page, optimized for the target keyword
Hierarchy: Obvious web page and content hierarchy, making use of H1, H2, H3, etc. tags where it makes sense for the reader
Code: Clean HTML and markup on every page, making it clear which elements on your site are most important
Site Architecture: Intuitive site architecture that's easy for humans to navigate and for search bots to crawl and index (e.g. don't put a how-to guide under your "About" section)
No hidden content, keyword stuffing, cloaking, or other black-hat tactics. Google will know, and punish you for it. Trust me.
If you follow these general best practices for on-site optimization and have a smart keyword strategy with content targeted at each stage of the funnel, you're most of the way there.
But there are a few other things you can do to give yourself even more of an edge.
Powers Ups for Your SEO Strategy
Let's talk about the things that you can implement to make your SEO even more effective.
Meta descriptions: Many people would consider this essential. And it is important to write unique, detailed, and attention-grabbing meta descriptions for every page. But these days, Google rewrites these descriptions about 70% of the time, so I would consider this just a bonus.
Internal links: These help both Google and users understand the relationship between different pages on your website. Add contextual hyperlinks from each internal page to 3-5 other relevant or related pages on your site using exact-match anchor text.
Quality external links: Links to pages on authoritative websites help to create credibility with your reader—and signal authority to Google—by showing you've done your research.
Image alt text: Adding a brief, detailed description to your images makes your content more accessible to visitors who use screen readers. It also helps your content to rank in Google's Image Search results, which is a great way to drive traffic and earn organic backlinks.
Site performance: Your website's load speed and usability (especially on mobile devices) is a big ranking factor. Try make your site design simple so it loads quickly. Removing unnecessary code or scripts and using caching to speed up image and video loading also helps.
A/B testing: It's worthwhile to test all kinds of elements on your pages to maximize the value of the organic traffic you're generating. Look into running A/B tests without impacting your site's SEO.
If you can check all of these boxes, your on-page SEO and technical SEO will be in pretty good shape and probably won't hurt or hinder your rankings.
Linkbuilding for SaaS SEO
Most marketers cringe at the idea of asking people for links. There's something about the whole process that just feels undignified. As a result, many marketers focus on creating great content (that's a good start!) and hope and pray that people will find it and link to it.But, here's the truth: Links make it easier for content to rank.
No other ranking factor correlates more strongly with high search rankings than the number and quality of backlinks pointing to your site. And if your content doesn't rank in the first place, how will your content be discovered in order to accrue links in a more natural way?
You need links—full stop.And you'll need to use some form of active outreach to help get the ball rolling.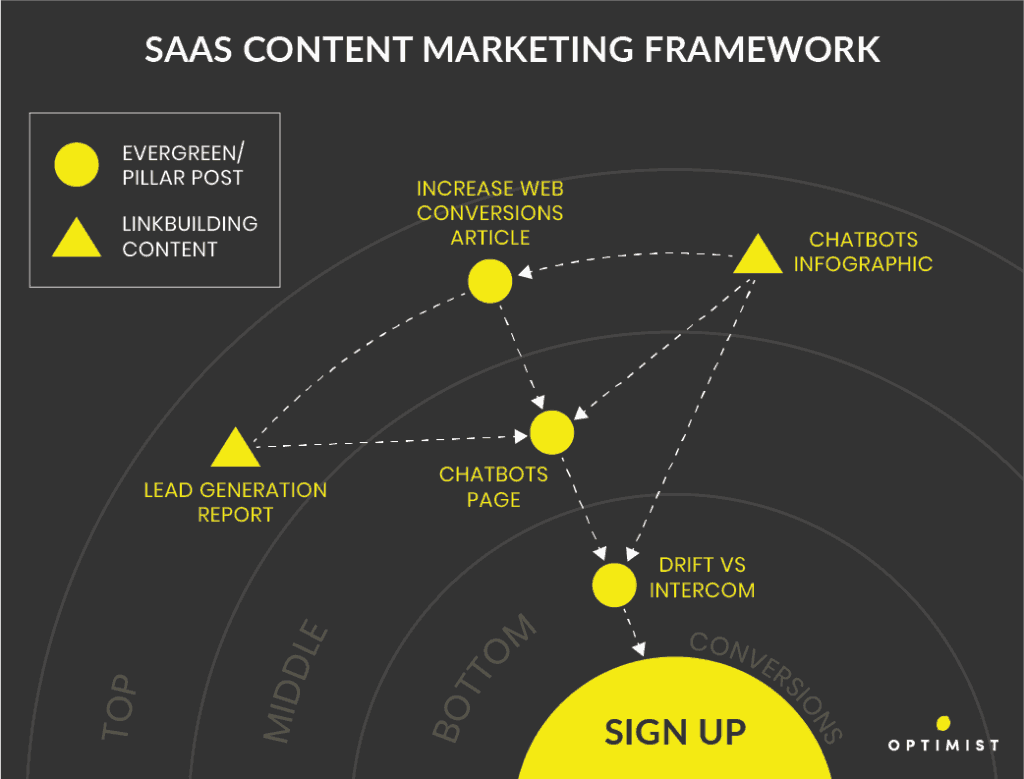 Links are the grease that keep the entire SEO engine moving. They help pass authority to pages like your product features pages that are important but difficult-to-earn-links-to.
Yes, even great content—even "epic" content—will not magically rank without some strategic effort to help it along the way. A big part of that strategy and effort is manual promotion through social media and targeted outreach. This "white-hat" linkbuilding outreach helps you earn links and raise your overall domain authority.
So how do you generate links?
The answer is simple.
You create kick-ass content (worthy of links)
You show it to the right people (via email outreach, pitching journalists, sharing with influencers, submitting it to newsletters and roundups, etc.)
Without getting into all of the nuances of exactly how you build links at scale, you should check out Alan Silvestri's awesome post on Traffic Think Tank.
It's a great guide that includes lots of tactical takeaways and repeatable strategies for generating inbound links that both power SEO and drive conversions. Alan also wrote an awesome piece on evaluating ROI for linkbuilding that's worth a read as well.
One simple way to get started with linkbuilding is to publish guest posts on another website.
This strategy has both fans and detractors, but there is no doubt that it works.
The key to effective guest posting is focusing on building real relationships with other relevant sites within your industry or vertical. And make sure the content you write for these sites is valuable and informative—not just a lazy attempt to get a link back to your site.
But don't skip this part of the strategy. It's absolutely critical.
Refreshing and Updating Content
As I'm writing this, I am updating this guide, which I originally published about 2 years ago.
There's an important reason for this: Content freshness is a ranking factor.
What this means is, all else being equal, Google gives preference to newer content on a topic versus older content on the same topic. (Again, this assumes all things are equal, like the quality of the content, page authority, site authority, topical authority, etc.)
And this makes total sense—if you consider the user experience.
The world is constantly changing. There are new discoveries, new data, and new ideas being announced every day.
New content is constantly being published. Your article may be outdated or your competitors may one-up your content over time.
There's nothing worse than reading an article and realizing that it's outdated—and may actually be totally wrong in light of new information.
So it makes sense that your content should be updated and refreshed periodically.
When allocating time and resources, I would plan to make minor updates and revisions to most pages every 3-4 months and major revisions approximately once a year.
This is why I always cringe when people refer to an "SEO campaign" as if SEO is a one-and-done process with a finite start and finish.
SEO is a long-term strategy. It takes long-term planning and dedication to build and maintain content over the life of your business.
SaaS SEO Metrics & Goals
It's not much of a strategy if we don't have an outcome in mind.
It's always valuable to start by defining what success will look like and creating a process and workflow for measuring and evaluating your performance over time.
Using tools like Google Analytics, Google Data Studio, Ahrefs, SEMrush, and others, you'll want to compile a core set of metrics that give you a snapshot of how things are going and what progress is happening (and at what rate).
SEO's North-Star Metric (The Main Business Goal)
When it comes to SaaS SEO, we start by defining our north-star SEO goal.
This should be the true business objective we want to achieve. If we're measuring the ROI of our SEO efforts, this is the return.
What does success mean?
Usually, this is something like:
Increase organic traffic to the website by 300% in 2023 vs 2022
Generate 1,000 SaaS product sign-ups from organic search in Q3
Generate $1,000,000 in revenue from organic search over the next 2 years
This is our "SMART" goal—something big and specific that we want to achieve by investing in our SEO strategy.
And it usually gives us the primary metrics we'll want to measure consistently over time.
But it's also helpful to break that down further into other metrics that help us better understand the big picture and the results we are achieving.
Secondary Metrics
Secondary metrics are usually directional data points that tell us whether our strategy is generating results that will lead to our primary goal.
For instance, if your primary goal is revenue from organic search, then a great secondary metric might be organic search traffic.
Secondary metrics help you better understand which underlying metrics are impacting your primary goal. They can also help pinpoint which other factors may be influencing the entire business (e.g. organic leads were down last month—but all leads were down in general, so this could result from something like seasonality).
Leading Indicators
One more level of metrics will help us understand what sort of progress we're seeing, even if it's not reflected in the traffic or revenue data we really care about.
This can be super important for demonstrating value—especially in the early days.
SEO can be slow-moving and growth usually comes in leaps and bounds.
For instance, if you move from not ranking at all for a target keyword to ranking #11, you may not see a significant change in traffic or conversions. But you still want to know that you're making progress toward your goal by tracking search engine rankings.
Other leading indicators might include:
Total referring domains or backlinks
Domain rating
Number of keywords on page 1
Total number of ranking keywords
Building a Scorecard
We recommend defining all of these metrics at each level and compiling them into a single report that you update every week, month, or year.

For instance, you may have a scorecard that looks like this:
Primary Goal: Conversions (sign-ups) from the blog
Secondary Metrics:

Total conversions
Total site traffic
Sitewide organic traffic
Organic blog traffic
Organic blog traffic conversion rate

Leading Indicators:

Top-10 keywords
Total referring domains
The most important part of SEO reporting is consistency.
Once you establish your metrics and where you'll find them, you must report against the same benchmarks. This is the only way you'll have a true picture of what is happening over time.
Integrating SEO into Your Broader SaaS Marketing Strategy
As we wrap up the process of building a successful SEO for SaaS companies, I must point out that, ultimately, SEO is just one channel and one strategy.The world's most successful SaaS companies rely on a combination of up to 7 key channels to drive traffic and leads, according to data compiled and analyzed by Mike Sonders.
And those channels most often work together:
Organic traffic to your blog fills the retargeting funnel, which is the basis for your paid campaigns
Linkbuilding and PR efforts increase your brand recognition and drive WoM signups
PPC campaigns drive product signups, which are nurtured by email
TL;DR: SEO is important, but it's not the whole game.
Even so, as Mike points out in his post, SEO and organic traffic is consistently the number one driver for most successful SaaS companies.
Scaling targeted inbound traffic to your site is likely to be the engine that propels your company forward. That makes SEO the single most important strategy for attracting buyers to your site throughout the whole funnel.
Generating a constant stream of traffic from search is a major investment that can pay off—exponentially.
Get more kick-ass content from us
Subscribe to our email list and get regular updates.
No spam or BS. Just great, insightful articles.
Hiring In-House SEO vs SEO Agency
Finally, let's talk about execution.
As we've covered in this guide: There are a lot of parts that go into a successful SaaS SEO strategy.
And you may be wondering if this is something your team is capable of executing in-house.
In some cases, it makes total sense to focus on handling SEO in-house and building a team.
Ultimately, it comes down to:
Your goals
Your timeline
Your budget
Let's look at the three possible scenarios.
Hiring an SEO Agency or Freelancer for a Short-Term Engagement
In some cases, the best move is to hire an SEO agency to provide expert guidance on which changes and updates you can make to your site to improve your SEO.
Think of this as a project or consultation.
It will generally include:
SEO audit
On-page SEO recommendations
Technical SEO recommendations
Site structure or hierarchy recommendations
Content plan or roadmap (no content creation)
General guidance on best practices
This is best suited if you're looking to score some quick wins but you're not ready to invest in a long-term inbound/organic growth strategy.
As we discussed throughout this guide, building a long-term growth strategy isn't a one-and-done project. But if you have a simple, tactical goal like optimizing your current site pages for keywords, then this kind of partner may be what you're looking for.
In terms of budget, this kind of help might run somewhere in the range of $2,000 to $20,000 for most simple and small websites. If you have a large site (hundreds or thousands of pages), it could cost considerably more.
Beware of any SEO agency that is selling a long-term SEO package that doesn't include content creation, linkbuilding, or some kind of true ongoing service.
That said, an optimization project doesn't generally require consistent, ongoing work.
Hiring a Long-Term SaaS SEO Growth Partner
If you have a big-picture strategic business goal centered around SEO—like making organic/inbound your primary channel for new product sign-ups—then you will probably want a long-term agency partner.
Ideally, this partner will own strategy and execution.
This kind of agency can help with:
Competitive analysis
SEO strategy
Content creation
Content publishing
Targeted linkbuilding
Content maintenance, management, and updates
Reporting and analysis
And possibly all of the above.
To deliver this scope of work, your partner should have a cross-functional team that can own:
Keyword research
Content strategy
Content planning
Project management
Writing, editing, and optimization
Design/visuals
Content promotion
Linkbuilding/outreach
Tracking and reporting
This usually works out to be a team of 5-7 people, each with a specialized role.
In terms of pricing, you can expect to budget the equivalent of roughly 1-2 FTE salaries for a full-service team. The exact price range is generally determined by a combination of output, scope, and quality.
The key distinction is that there is a constant flow of new work or deliverables that positively impact and grow traffic, conversions, and revenue over time.
This is why we built Optimist.
As a SaaS content marketing agency, we've partnered with dozens of companies over the years to drive 2x, 5x, 10x, and even 30x growth in organic traffic and conversions.
Generally, clients prefer working with a full-service partner for 3 key reasons:
Expertise: They don't want to risk pursuing the wrong strategy and prefer to work with a proven partner that understands how to drive business results.
Cost: Although a larger investment than ad hoc solutions, a full-service agency with a team of 5-7 costs considerably less than building an in-house team capable of delivering the same level and quality of work.
Speed: Consistent delivery with a team that's ready to jump in. No need to spend months recruiting, hiring, and training.
It's also possible to build an outsourced team of freelancers or specialty agencies to piece this together, but it's much more hands-on.
Building an In-House SEO and Content Team
The costs of building an in-house team (generally 3-5 FTEs) are considerably higher than hiring most full-service agencies. But the unit economics are generally better. A team of full-time employees can generally deliver more work and (hopefully) drive faster growth than an outsourced team.
Ultimately, this is the long-term solution that will make the most sense for companies that have seen SEO and content marketing strategy successes and are ready to gear up further.
To be honest, most SaaS companies that work with Optimist go on to build an in-house content marketing and SEO team.
In fact, we consider this a good sign.
When our clients decide to build their own in-house team, it usually means that we've delivered enough value that they're ready to invest even more heavily. They're doubling down on the work we've done together and it makes financial sense to do that with a full-time team.
In-house teams generally include:
Content/SEO strategist
Content Manager/Editor
Writer(s) (FT or freelance)
Designer or design resources
Analyst
The all-in cost of 3-5 FTEs can easily run $300,000 to $500,000++ per year.
Hiring, training, and retaining this team can take several months to a year.
This up-front investment of time and money can be prohibitive, which is why clients choose to prove out the growth strategy and channel with us as a partner before hiring a team directly.
Once there is a clear business case for expanding the strategy, it's easier to justify building a team to drive future growth.