Fair warning.
This post is probably going to piss some people off.
Here's why: SEO can be complicated as hell.
There are a billion on-page and off-page factors. The algorithm is constantly changing. And everyone is jockeying for a little leg-up over their competitors.
For most companies, achieving success with SEO is not a matter of having a PhD in Google's algorithm.
I'm going to take all of that complex, jumbled, mess of a system and simplify it. I'm going to turn it into a basic flowchart. A checklist, essentially.
So, for some people, this is going to seem a bit…reductive.
First, let me say that I am not a deep expert in SEO. I know it pretty well.
Want to discuss SEO strategy as part of your overall marketing and content? Let's chat.
Need some smart strategy ideas for how to build links? I can help.
But, if you want to get deep into the annals of every minor Google update for the last 12 years, then I am really not your guy. As I said, SEO can be incredibly complex. And I know that.
Some vendors–the more unscrupulous among us–take full advantage of this. They sell "SEO stuff" that's really just handwaves and black magic. They charge a bunch and do very little. It's frustrating.
This shit almost never works. Companies pay for it because they simply don't know any better–they have no idea how SEO works at all. In this case, having a basic understanding of what SEO actually means in practice can save you tons of money.
But, for most companies, achieving success with SEO is not a matter of having a PhD in Google's ranking algorithm, either.
Most often, SEO comes down to 2 things:
Core set of best practices
No-nonsense marketing and brand building
True SEO wonks get deep into the nitty gritty of technical SEO details–and that's valuable in some cases. When it comes to the most competitive niches on the internet, every tiny detail represents an edge or an opportunity. And that's great.
For everyone else? It's probably overkill.
So, this post isn't meant to take anything away from the art and science of high-level SEO experts. Instead, it's meant to be a basic bit of knowledge for the rest of us.
It's more important than ever for marketers and business owners to have this basic level of understanding about how SEO works. Not everyone needs to be a total search nerd. But you should understand the basics.
That way, if you're looking for help with SEO, you can at least avoid getting taken for a ride by dishonest vendors. Or, worse, getting wiped out of the SERPs entirely after hiring someone who uses black-hat SEO tactics.
That's why I created this flowchart.

To break this down even further, let's just cover the three basic parts of SEO in 2018.
Step 1: Basic, on-page and technical optimization
The bedrock of successful SEO is just good, old-fashioned optimization.
This isn't 2001, so it's not about stuffing a keyword onto your page 10 million times. Instead, it's just about giving Google–and your readers–a clear understanding of what this specific page is about. This means having the topic/keyword clearly stated in your page title, having clear headings and defined sections, and some other basics.
In addition, you want to have a clear hierarchy on your website that makes it easy for humans to navigate and also easy for bots to crawl and index.
Step 2: Create great content
In 2018 (and probably forever), kick-ass content is the crux of successful SEO. Full stop.
The reason why is simple.
Search engines aren't trying to reward the websites that "play SEO" best. They're trying to reward the sites that have the best and most relevant content.
All of the ranking factors that you hear about are just heuristics that they use to try to understand the quality of the content that you're creating. If you create good content, it attracts links. It gets shared. People stay on your website longer.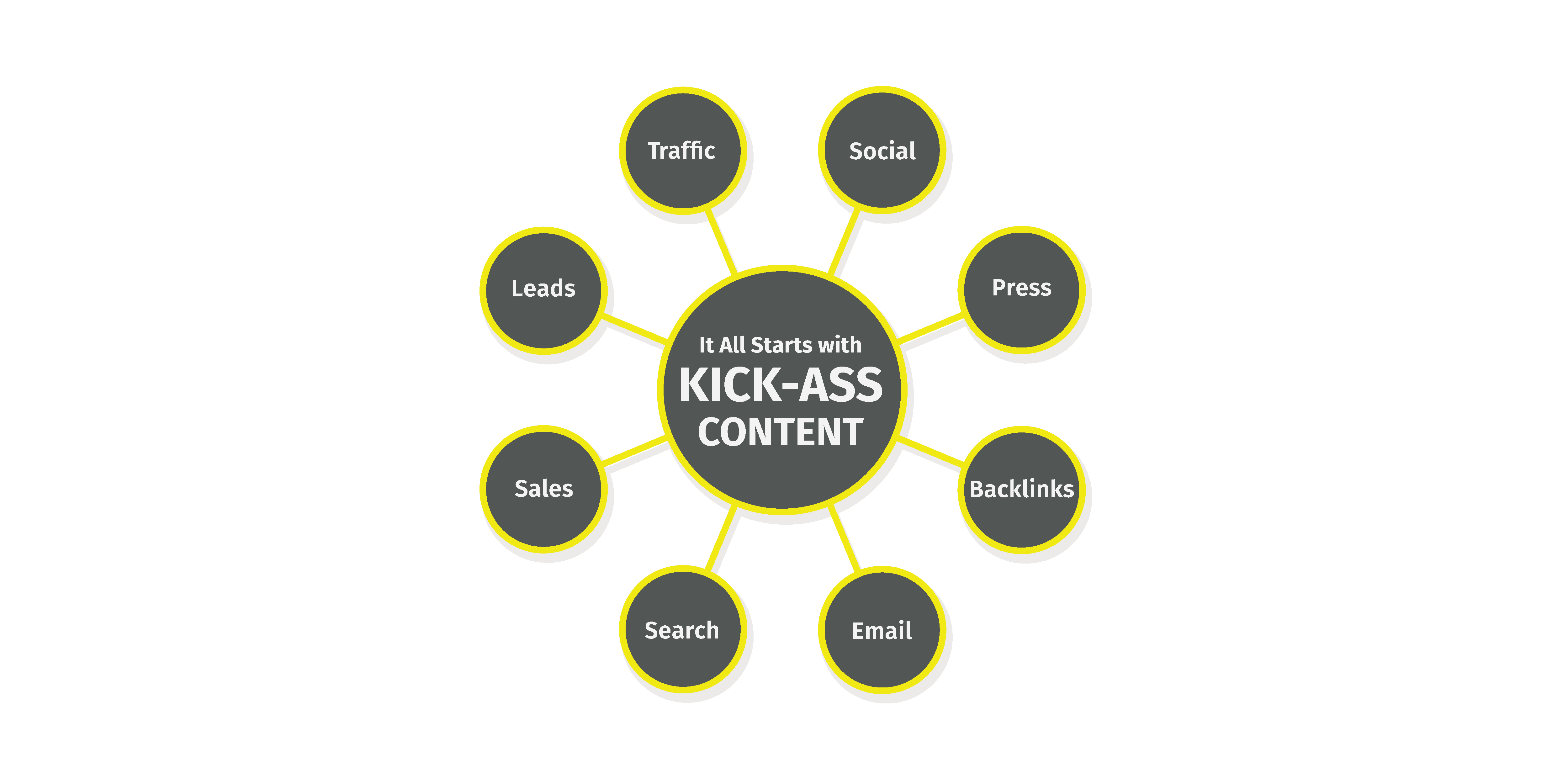 Whether you're hoping to target 1 keyword or 10,000 keywords, having great content is essential.
Beyond just being the main currency of SEO, using content also gives you a huge strategic advantage. Content allows you to both expand your keyword footprint (i.e., target more keywords) as well as use that content to generate links and shares that will help raise your domain authority.
If you just have the most basic product pages on your website, it's like playing chess with only pawns.
You can do some things to help improve your rankings. But your moves are severely limited.
Step 3: Show it to the right people
The next step is where a lot of people fail.
They spend all kinds of time and money creating great content.
Then they click publish.
Crickets.
Nothing happens.
Is that because their content wasn't good enough? Probably not.
Part of any successful content marketing program is ongoing, active outreach, promotion, link building, and networking. It's pounding the pavement–doing the work to make the content a success.
Zero to 1,000,000 Users



Want to see what a high-growth content marketing and SEO strategy looks like in practice?
Check out a case study on how to grow a startup from scratch. Includes an in-depth breakdown of specific strategies, tactics, and outcomes.
Incredible content is useless if no one ever sees it.
Whether your goal is to drive traffic, generate shares, or build links, you need to put your content in front of the right people.
SEO can be fairly straightforward, but "blog and pray" is not a viable strategy.
This breakdown of SEO may be somewhat simplified, but we've seen time and time again–in industries from B2B services to SaaS and custom apparel–that it ultimately comes down to these basics.
If you're feeling overwhelmed about the size, scope, and complexity of SEO in 2018, just step back. Take a deep breath. And follow along with the chart.
I promise it won't steer you wrong.
Get more kick-ass content from us
Subscribe to our email list and get regular updates.
No spam or BS. Just great, insightful articles.