You're in the hot seat.
Perhaps you're a founder who needs to impress investors with organic growth. Perhaps you're a newly hired marketing director assigned to create organic growth. Or maybe you're somewhere in between.
The point is…
You need to obtain those first-page rankings for keywords spanning the top, middle, and bottom of your marketing funnel. You need the high-quality traffic that comes from those strategically chosen keywords. And you need to convert your blog visitors into trials, demos, and/or leads.
You need to build an organic growth engine that delivers real results to your organization. And you need to build it now.
The bad news: It's a tall task that requires time, money, and expertise.
The good news: If you pull it off, you're going to increase brand visibility, establish thought leadership, and lower customer acquisition costs.
Perhaps the other set of good news is that you have options to accomplish this task, and that is the very nature of this article:
Should you outsource your content marketing or create it in-house?
As someone who works for a content marketing agency, you probably expect me to say it's better to outsource.
The truth is, there's a time and a place for each approach.
What I think you'll see by the end of the article is that the decision is less about the results you're looking to achieve, because at a high level, those are always going to be the same: SERP rankings, organic traffic, and conversions.
No, the decision is more about the resources you already have, the timeline you have to achieve your goals, and the business stage of your company.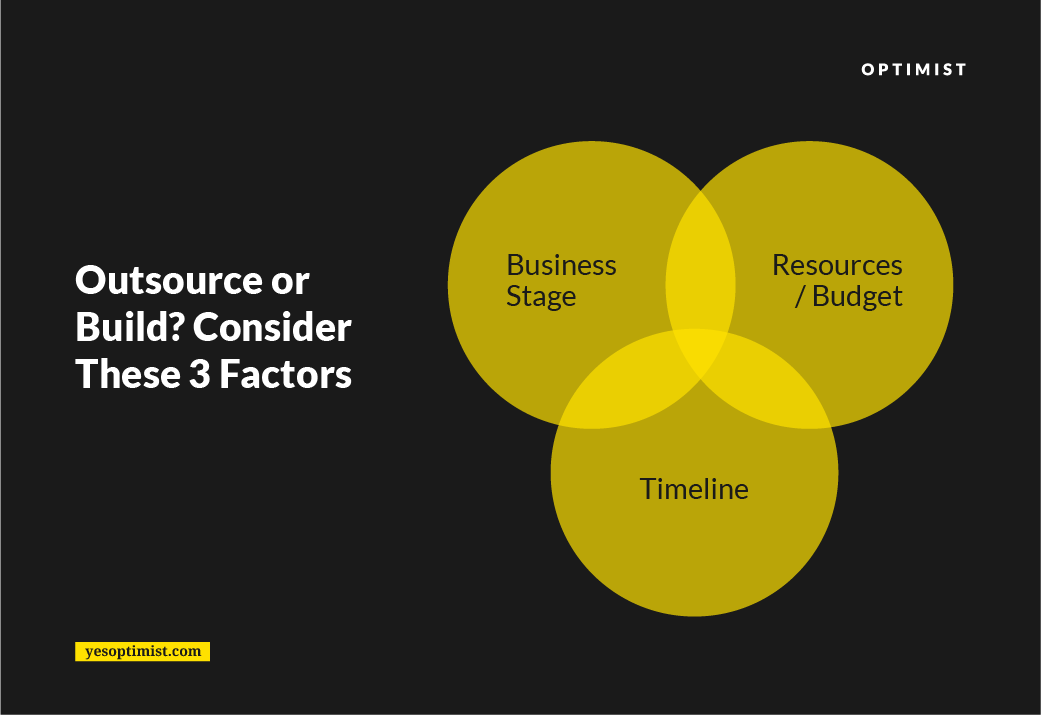 The goal of this article is to help you make a decision based on those three variables.
Let's dig in.
Content Marketing By the Numbers
Before we talk about how or why or to outsource content marketing, we need to establish (with numbers!) exactly what you're outsourcing.
What are content marketing deliverables, how long does it take, how much does it cost, what types of roles are involved, and what tools do you need?
No matter which method of content marketing — outsourced vs. in-house vs. hybrid — you choose, you're essentially going to need execute on three main things:
Content strategy
Content production
Reporting, analysis, and optimization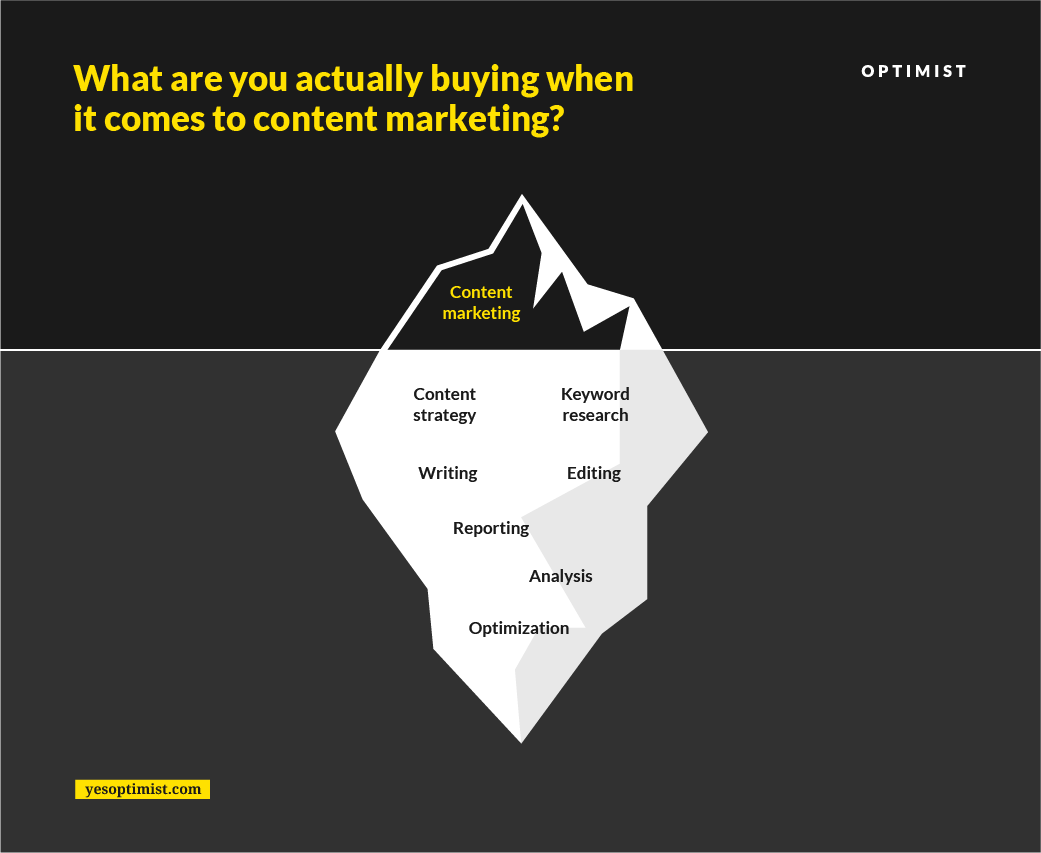 Now this article wouldn't really be worth a g-whiz if we didn't break each of those items down in detail — including the costs, timeline, roles, and tools involved — so let's do that now.
Content Strategy
If you want to compete in the SaaS space for organic growth, you're going to need a lot more than just a one-time list of keywords.
We've written an exhaustive post on what needs to go into an effective content marketing strategy for SaaS in a separate post and won't go in-depth here.
Instead, just know that crafting an effective content marketing strategy is an expert-level endeavor that includes specialized expertise, time, and several different tools. Here's a look at those line items:
Tools Required
Ahrefs (or similar)
Keyword Insights (or similar)
Google Analytics
Google Search Console
Google Sheets (or similar)
Roles Required
Timeline/Costs
40-60 hours or 4-6 weeks for initial setup*
5 hours per week for maintenance
*While 40-60 hours could technically be accomplished in a week, it's more likely that this project will be spread out over a few weeks due to the nature of the work, the collaborative process, etc.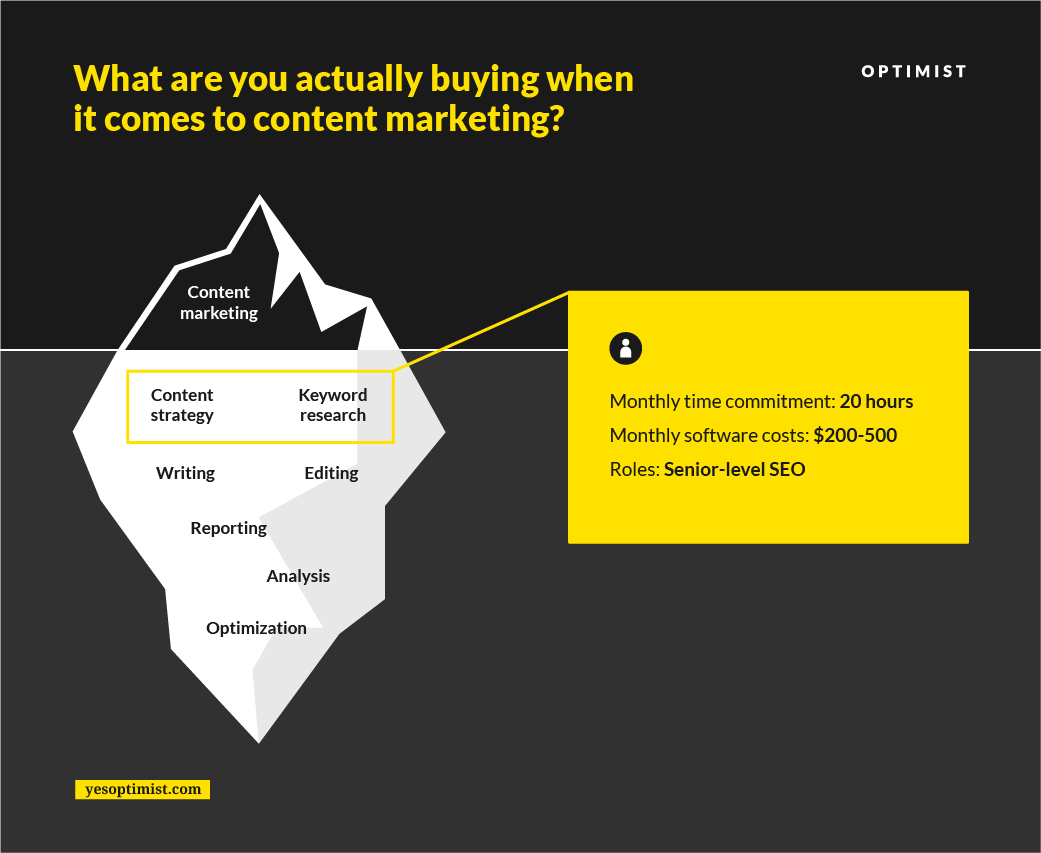 Content production and administration
Bringing your strategy to life means crafting, polishing, and publishing content to your blog on a regular basis. How regular? If you're just starting out and want to get traction on your blog, we recommend publishing at least six times a month. If you have aggressive growth goals, that will likely need to increase to more than ten posts per month.
To us, outsourcing content creation includes:
Writing a content brief
Writing the draft
Designing the blog post graphics
Publishing the content via your CMS
Here are the resources that go into every piece of content:
Tools Required
Google Docs (or similar)
Clearscope (or similar)
Content brief
Adobe Creative Cloud (or similar)
Figma (or similar)
WordPress (or alternate CMS)
Roles Required
Writer
Designer
Administrator*
Editor*
*These roles can be condensed into the writer if you're short-handed, but ideally you'd have separate resources for each.
Timeline/Costs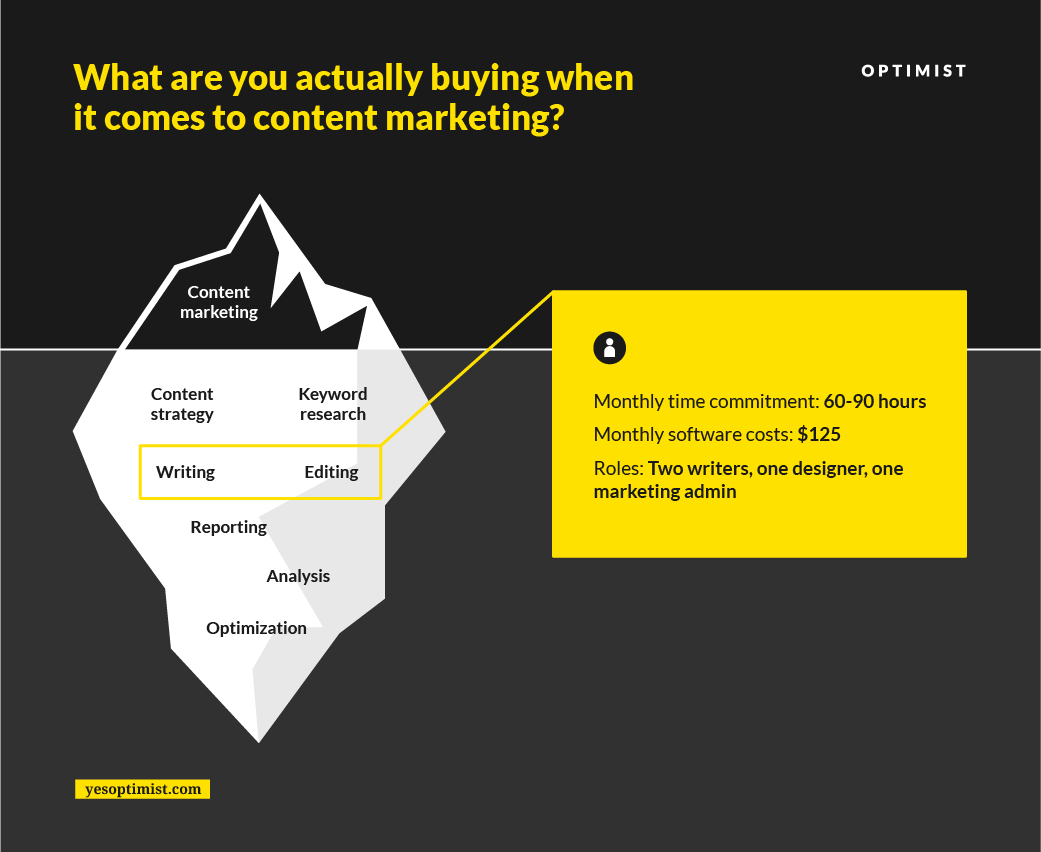 Reporting, analysis, and optimization
If you want growth, you're going to need to have measurement tactics in place to keep track of all the metrics you're creating. While some of the reporting can be automated, we suggest having a regularly scheduled manual review of your data so that you're closely connected to the results.
Typically, you'll be tracking the obvious things like organic traffic, conversions, and rankings, but you can take this a step further by also monitoring things like SERP features, backlink sources, and technical SEO issues to ensure you're getting the most out of your content and discovering new opportunities.
Here's what you'll need:
Tools Required
Ahrefs (or similar)
Google Analytics
Google Search Console
Google Sheets (or similar)
Roles Required
Timeline/Costs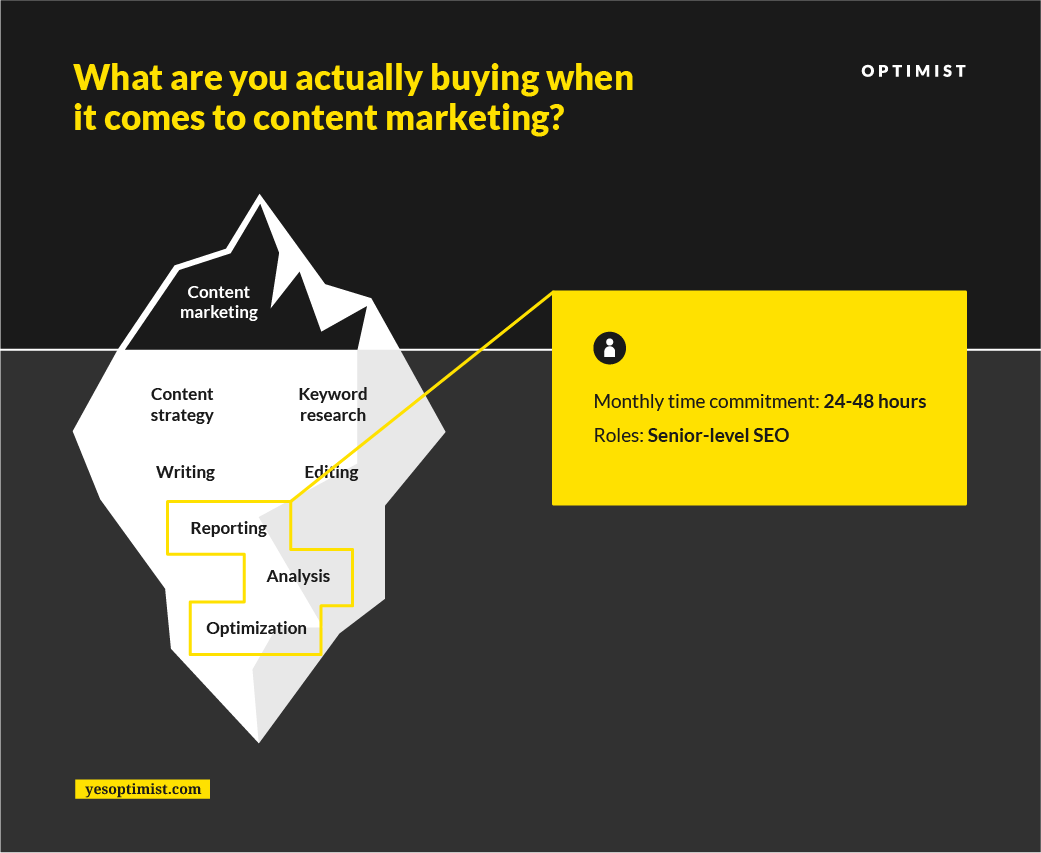 As you can guess, there's a huge difference in time commitment between executing six posts per month and ten. Some tasks are pretty easy to measure by post, but others, like strategy and reporting, have more of a monthly or quarterly cadence.
That said, if you've been following along with the math, you'll see that your monthly time commitment is somewhere around 80-100 hours per month. This is split between several different roles which will likely have vastly different pay scales, so your total cost will vary depending on which resources you engage.
Also, note that there are several paid softwares involved with these procedures which likely land somewhere around $200-$500/month.
Note—One thing that hasn't been factored into this monthly total is project management. This is because that task varies quite a bit, and even more so when you have re-writes and problems. That said, effective project management is a huge determining factor of your success with content marketing and you'll need to account for that time, so consider adding 20% to the monthly hours total above.
What does it mean to outsource content marketing?
Companies that outsource content marketing use a third-party vendor, typically an agency, to plan, execute, and report on their content marketing efforts. Typically, the agency collaborates with a senior-level marketing employee at the company for overall strategy and regular operations.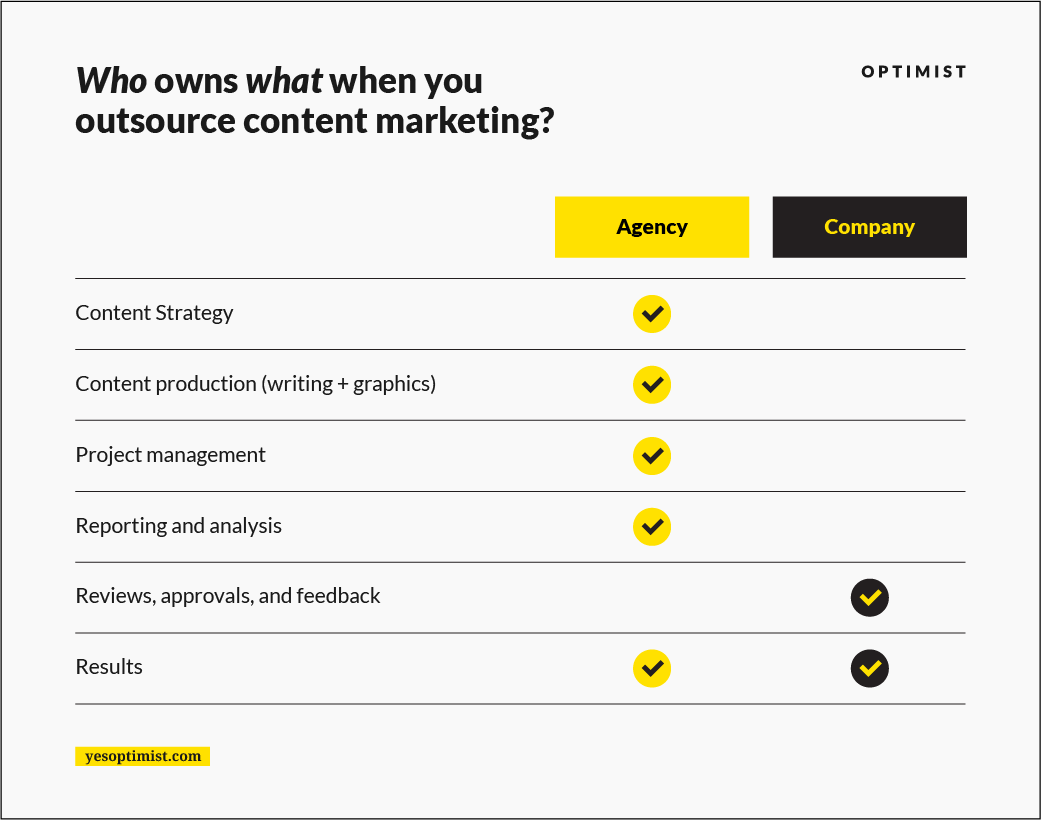 When CMO's or marketing directors outsource content marketing, they're typically outsourcing the whole program — from content strategy to production to analysis — and the company itself maintains a managerial role. Companies are typically looking for content marketing results like increased keyword rankings, increased organic traffic, and increased conversions (users or MQLs) from organic traffic.
We're going to discuss the different approaches to building an organic growth engine with content marketing below, but first, we want to mention a quick word on quality.
A note on content quality
If I had to sum up the entire need for search engine optimization (SEO) right now in one tweet, it would be this one:
We are light years beyond black-hat SEO tactics like keyword stuffing, etc., but the fact remains that there is a lot of shit content being pumped out in the pursuit of SEO and content marketing.
Google's recent helpful content update has made it clear—there is no more value to be gained by producing skin-deep, thinly researched, un-original content. If you want to rank, you need content that is truly epic. 
So for the sake of this article, we're going to assume you're looking for high-quality content marketing, as opposed to just '1,500 words on [insert keyword here].'
How do we define "high-quality content marketing?" In short, it should deliver the following (at a minimum):
9/10 writing skill: grammar, punctuation, style—it's organized and easy to understand
SEO compatible: there is at least some search volume for the target keyword
Keyword optimized: appropriate headings, structure, and LSI keywords
Business relevance: people searching this term are potential customers
Matches intent: addresses a problem, uncovers to solutions, or compares solutions
Complete: When a reader finishes the article, they have all the info they need to take the next step (which should be included as a CTA)
To be clear, you can obtain professional content with any of the following methods—outsourced, in-house, or hybrid.
By now you understand the broad strokes of what you're building, so now let's take a look at the options you have for how to build it.
And in case you don't have time for the details, here's a quick look at some of the high-level criteria you can use to decide which option is better for you.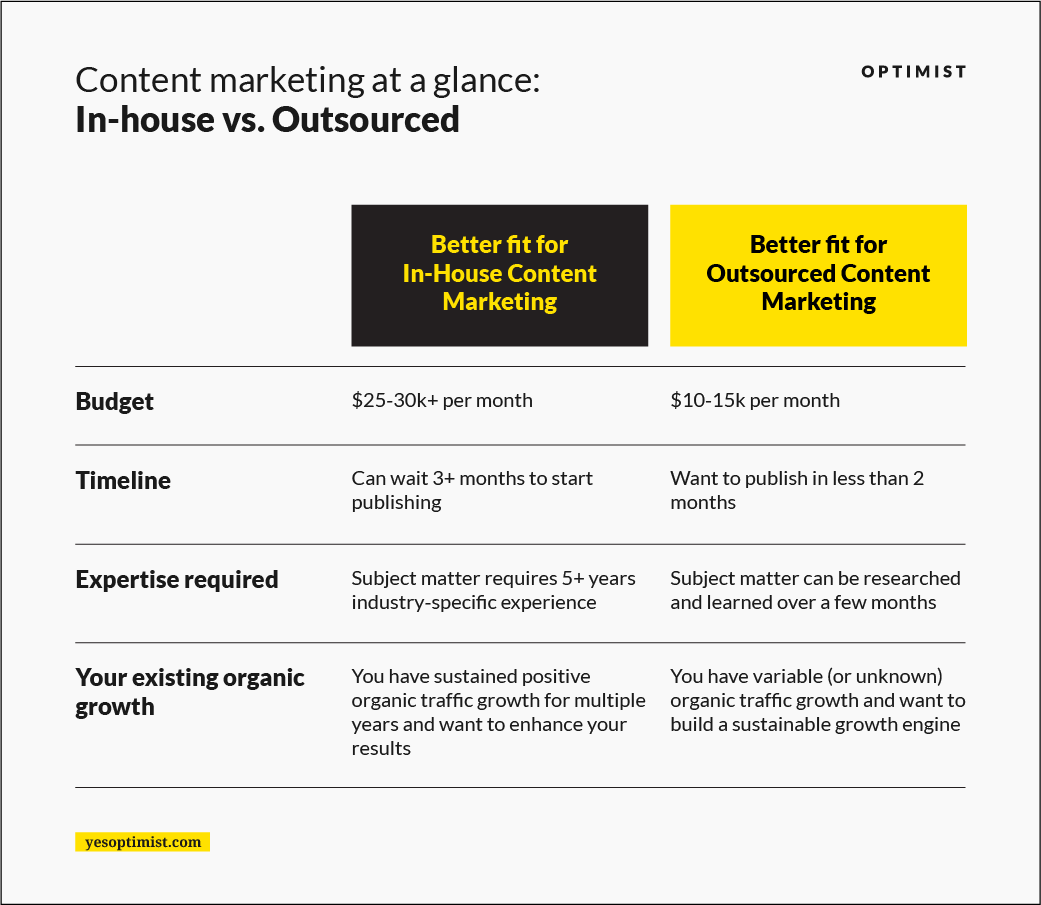 When to Build an In-House Content Marketing Team
Here are the most common scenarios for when it's best to build your content marketing team in-house. We'll use the deliverables mentioned in the previous section to make the case.
When you have a lot of money
No getting around it, it's going to be expensive to build a high-quality in-house content marketing team. Here's the annual payroll you're looking at using data from Glassdoor:
Content Marketing Manager: $142,832
Writer #1: $49,697
Writer #2: $49,697
Designer: $48,888
Marketing Assistant: $44,348
Total: $335,462
That's almost $28,000/month in payroll, and we're not including taxes, insurance, liability, etc. Even if you think those numbers are off and want to fudge them 20% either direction, you're still looking at a massive chunk of your OpEx budget.
This option is more feasible for companies that have raised at least their Series C round of funding.
When you have a complicated product or niche industry
If your product or industry takes years of experience to understand, it may be difficult for an agency to pick it up quickly—not impossible by any means, though. If this is the case, you may need to develop writing talent from existing full-time employees at your company. This will also extend your timeline for achieving content marketing results.
Scenarios like this also come into play in highly technical and competitive fields. If your content will be used by experienced professionals on deeply technical content, you probably won't want to have a third party responsible for accuracy. This can be solved with a thorough and collaborative review process, but sometimes it's just faster to plan and write the content yourself.
When you need to build on existing SEO results
If you have no experience with creating a content marketing strategy, implementing production schedules, and analyzing organic traffic results, you probably shouldn't try to build an in-house team.
However, if you have a couple years of organic growth from content under your belt and you're looking to make SEO the primary growth lever for the company, it might be time to invest in an in-house team.
In theory, in-house teams will be able to:
Change course rapidly
Produce deeper content
Work on accelerated timelines
Collaborate with other departments more easily
After all, you would have a team of people working eight hours a day on whatever you ask them to. This can be especially important when content marketing becomes central to your company—ideas for blog posts can be extended into case studies, white papers, webinar series, podcasts episodes, social media marketing, and sales enablement collateral.
In short, business owners that already have mature content marketing operations can likely squeeze even more results out of their content by bringing it in house, but it will take much longer to ramp up to this level.
When to Outsource Content Marketing
Now let's look at the other side of the coin—when it makes more sense to hire a content marketing agency and the overall benefits of outsourcing.
When your marketing team is lean
If your digital marketing team is only two or three people, or if you're the founder and also responsible for organic growth, you can essentially bolt on an entire content marketing department by hiring an agency.
You get a team of experts, decades of experience, and all the tools needed to develop a content strategy, produce the content end-to-end, and analyze the results.
Most times, you don't even need a "Head of Content" type role to work with an agency—they should be able to work with any high-level marketer to build you an organic growth engine that delivers keyword rankings, organic traffic, and conversions.
And of course, this can be achieved with an all-inclusive rate that's not only more cost-effective than building your team, but also doesn't add a ton of liability to your company via a crew of new employees.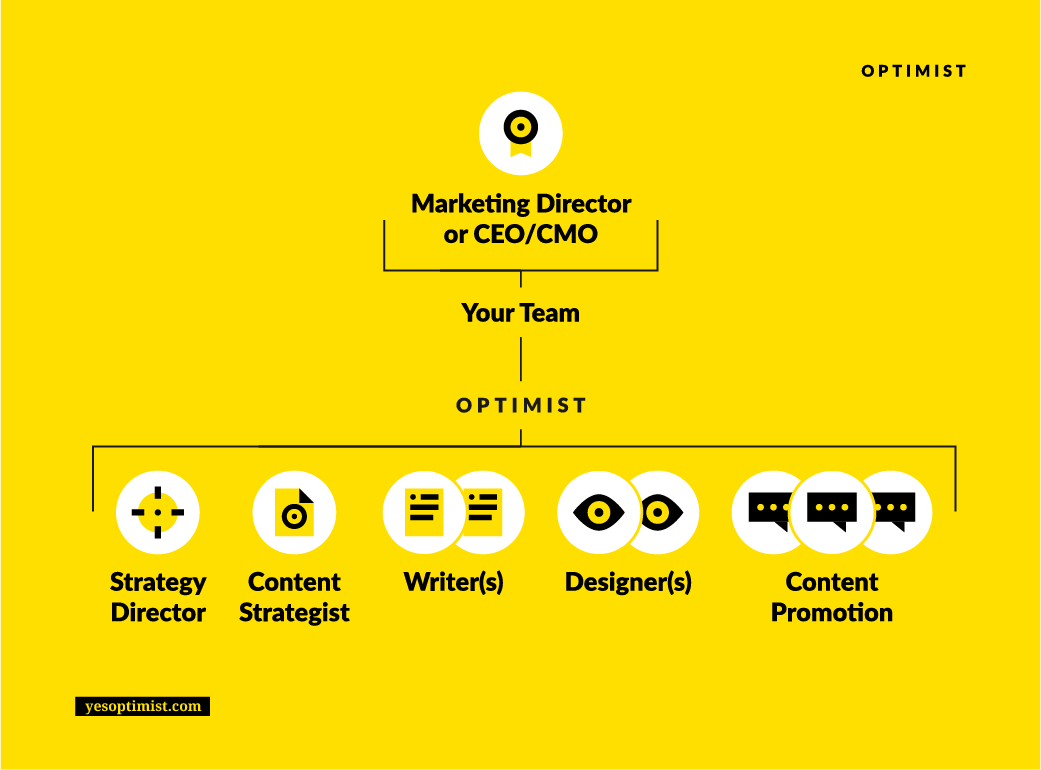 When you can't wait 3+ months to start publishing
To be clear, no results with content marketing and SEO come fast… It takes time to develop the strategy, ramp up production, and then wait for Google to test and rank your content. However, when you compare an agency that has existing expertise, personnel, and tools with trying to build your own team, it's not particularly close. Think of the hiring process alone!
Reputable agencies that specialize in content marketing not only have the experience and expertise to guide your content strategy, they will have the systems and processes to ensure that they can scale your content operations.
Within eight weeks of kickoff, you should have a rock-solid content strategy, four to six pieces of published content, and measurable results (rankings, traffic, conversions) trickling in. At this stage, the brand voice and tone of the pieces should be dialed in and the workflows (handoffs, approvals, edits, revisions, etc.) should be going smoothly.
In the world of SEO and content marketing, there's no quicker way to start building your organic growth engine.
When you want to scale your content marketing
Long-term business value derived from content marketing are only going to come when three conditions are met:
Your content follows a strategy that makes sense for your business
Your content is optimized for search (keywords, quality, and promotion)
You produce a lot of content
One really good article for a super relevant keyword isn't going to change your business. Becoming a topical authority in your niche by producing lots of content at various funnel stages (top, middle, and bottom) is the only way to hockey stick organic traffic growth and lead generation.
Content marketing agencies are going to put multiple writers on your account, churning out several articles per month until you own your topics from a search perspective.
When to Use a Hybrid Approach to Content Marketing
As you've probably guessed by now, you could potentially use a mix of in-house talent and agency/freelancer contracts to run your content marketing program. This can be an attractive model for a company that's in a transitional phase in terms of employee turnover or growth, or those seeking a more budget-friendly option.
The most common scenario where we see a hybrid approach to content marketing is when a company has a marketing manager with some experience with content/SEO who hires a few freelancers to execute their strategy. Candidly, this approach doesn't usually work very well for a few different reasons:
Project management and admin
Wrangling multiple freelancers and holding them to deadlines is a full-time job in itself. And in addition to managing writing deadlines, the in-house content marketing manager will also have to coordinate graphic design, administer all the content in your CMS, and create a publishing schedule. If you're depending on your content marketing manager to lead strategy, it's likely going to have to take a backseat to their project management duties.
SEO skills
There are people who know content, and others who know SEO, and oftentimes they are not the same person. Your content marketing manager will need to be able to use SEO tools and practices to evaluate traffic potential, correct website errors, and find opportunities via technical means to optimize traffic and conversions.
On the flip side, SEO practitioners who do know how to execute these tasks often don't understand how to craft a content strategy that results in content that:
People actually want to read
Balances top, middle, and bottom-of-the-funnel topics
Converts into paying customers
A content marketing manager that has both sides — content and SEO — is a bit of a unicorn. Don't count on finding one anytime soon!
Graphic design
Graphic design is much more than just a way to break up white space in written content—used correctly, it can:
Help readers visualize data
Increase reader understanding of subject matter
Increase search visibility by earning placement in image packs, etc
If you're outsourcing both your written and visual content, it's much less likely that the writer and designer will be able to collaborate effectively to create these types of graphics. And when this collaboration doesn't happen, content marketing managers typically fall back on stock photos that don't enhance the content.
Hybrid content marketing approaches should be used with extreme caution.
When to Hire Optimist for SEO: The Best SaaS Content Marketing Agency
If you've made it this far into the article, you've just witnessed our approach to content marketing in action:
We ranked an article for a keyword that we've strategically chosen: "outsource content marketing" if you were curious 😉
Our audience (that's you!) discovered the content via Google search
We explained the topic in depth by providing tons of detail and specific use cases
And now, we'll provide you with the next step…
We work with SaaS companies looking to grow their organic traffic from search. We lead the SEO strategy, we provide end-to-end content production, we promote your content to earn backlinks, and we report the results to you.
If that's what you're looking for, set up a time to meet with us and discuss your growth goals.