A few years ago, I was tapped for a startup content marketing opportunity that quite literally changed my life.
This is the story…
My friends at College Raptor had just raised a Series A round for their incredible college matching technology. And the CEO asked me to help them figure out how to make it scale.
It was a consumer platform, offered for free, with the main objective being to scale traffic and drive user growth.
I was pumped.
I was ready.
Actually, I was terrified.
I had never done this before.
I had worked in marketing for my entire career and helped a lot of different companies grow their traffic and sales. But I never had to start at 0 and figure out how to get to a million.
The climb seemed daunting.
I knew that startup content marketing was super effective at growing and scaling a website's traffic. I'd done that in the past and I knew it worked–somehow.
But, like a lot of people, my approach to content marketing up to this point was basically just to "blog and pray." I knew that creating content could drive a lot of high-value traffic and generate leads and sales, but I didn't really know how to track, measure, or control that growth in any meaningful way.
With such a big, hairy, audacious target, "blog and pray" just won't cut it in a startup content strategy when I had to report to the board of directors and investors.
I had to figure out what worked for everyone else and put together a measurable and repeatable plan. I had to drive results. Fast.
So I started researching startup content marketing strategy. I read everything under the sun.
I found so many incredible resources on the web that taught me everything from how to do really in-depth keyword research to how to use competitive analysis to get to great content more quickly.
I was introduced to the Skyscraper Technique and learned about the absolute necessity of manual outreach and link building.
Together, these articles became my base of knowledge which I used to form the strategy that we would go on to use at College Raptor.
Let's Talk About Your Content Marketing & SEO Strategy

Book a strategy call with our team to discuss how we can help you hit your growth goals.
Armed with the knowledge of what worked for startup companies and established brands alike, I crafted a startup content marketing strategy for College Raptor.
And it turned out to be incredibly effective.
Just over one year after launching, we generated well over a million visitors to the website. We brought in over 100,000 organic sessions per month. And it's still growing.

In this case study, I'm going to tell you exactly how we did it.
I won't rehash all of the specific tactical steps (e.g., how to do keyword research or send outreach emails.) They have been thoroughly covered by many other sources.
Instead, I'll focus on the big picture — the strategy that we used to achieve these results and, more importantly, why it worked. In short, we'll look at what successful content creation and promotion for startups looks like.
I'll also share some key transition points to help you hit hockey-stick growth, a few lessons learned along the way, and what we could have done differently to get even better results.
Let's get into it.
Building a Startup Content Marketing Strategy: Assumptions and Objectives
When we started this journey, we knew a few things to be true about what we were trying to accomplish.
I'll call these our assumptions:
Much of our audience was using search to find information related to the college search, admissions, and financial aid process
In order to generate search traffic, we needed both content and domain authority (backlinks)
Our audience was also using social media to find information on colleges
With these assumptions in mind, we knew that our strategy had to meet our needs for reaching our target audience.
Here were our stated objectives:
Create content that attracts relevant search traffic from our target audience (college-bound students, their parents, etc)
Generate links to the website to help us improve our rankings and search visibility
Gain traction and authority in the space, grow our brand presence through social
One of the biggest realizations for me seems pretty obvious in retrospect, but at the time it felt like as huge revelation. And it became the basis for much of our strategy moving forward.
Here it is: Each piece of content doesn't have to meet all 3 objectives.
Obvious, right?
It seems like it now.
But at the time, I was so focused on figuring out how to check all the boxes that it didn't immediately dawn on me that each piece of content we produced could meet just one objective and that together they would generate the same outcome.
I think a lot of startups get stuck right on this point.
Although they understand the intrinsic roles of content, they get stuck because they can't think of any topics that serve every objective when they have to execute their content strategy.
"How do we write a post that goes viral on Facebook, generates 1,000 links, and also has long-term search value?"
The answer is: You probably don't!
And this realization became the basis for our strategy.
Sure, sometimes you nail all of these objectives. Every once in awhile, you land on the perfect piece of content that feels like it fires on all cylinders. But most of the long-term growth and planning shouldn't be spent wracking your brain for this single, golden unicorn.
Instead, break it down.
Rather than expecting every piece of content to accomplish everything, create three separate pieces of content, each one serving a purpose within the bigger strategy.
So that's what we did.
The Trifecta: Our Startup Content Marketing Strategy
Here's how we structured our content marketing strategy: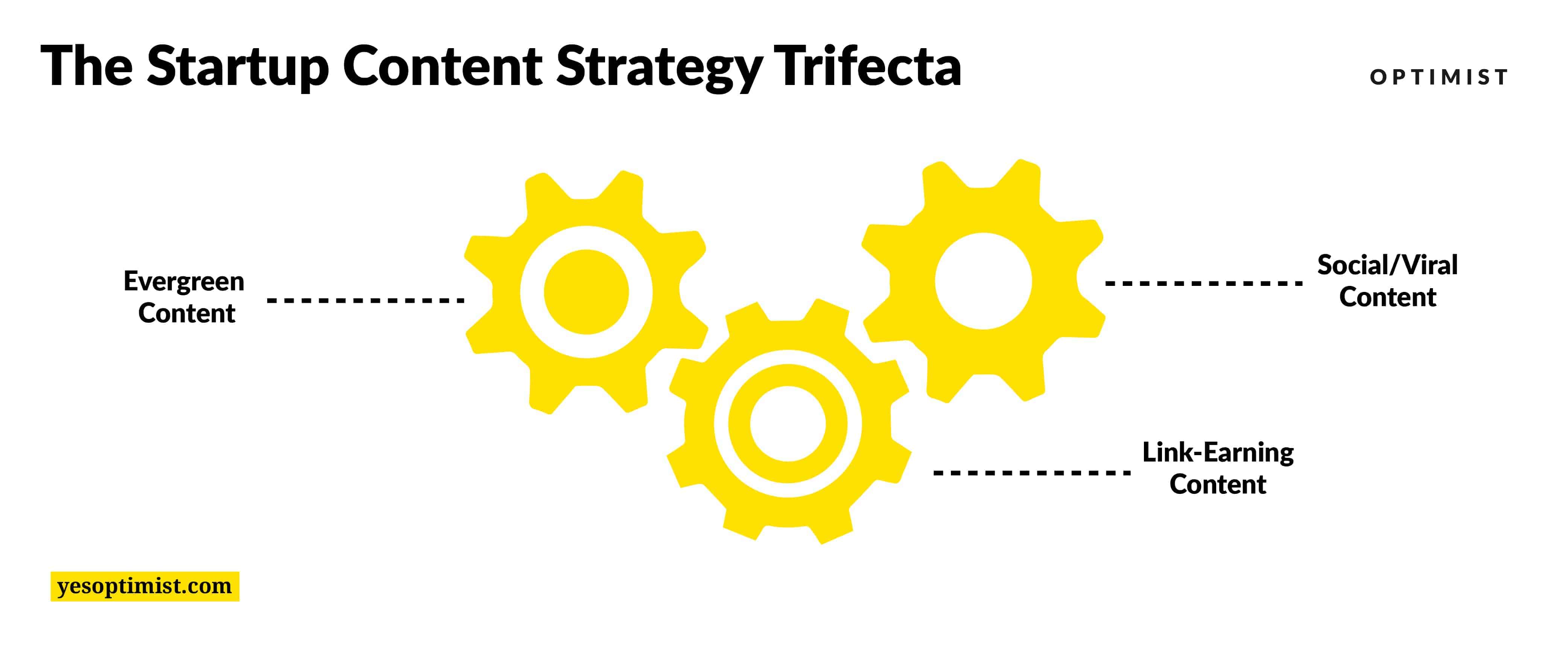 I call this our "Trifecta Strategy" because it has three basic components.
Here's how we broke down each piece:
1. Evergreen content
We built this topical and keyword-focused content for search.
Think of it like the meat and potatoes of the site. It answered questions like, "what's a good ACT score?," or, "what do colleges look for from students who apply?"
We knew that the people searching for these topics were our target market. We wanted them to find the answer with us so that we could then encourage them to check out the product we had to offer.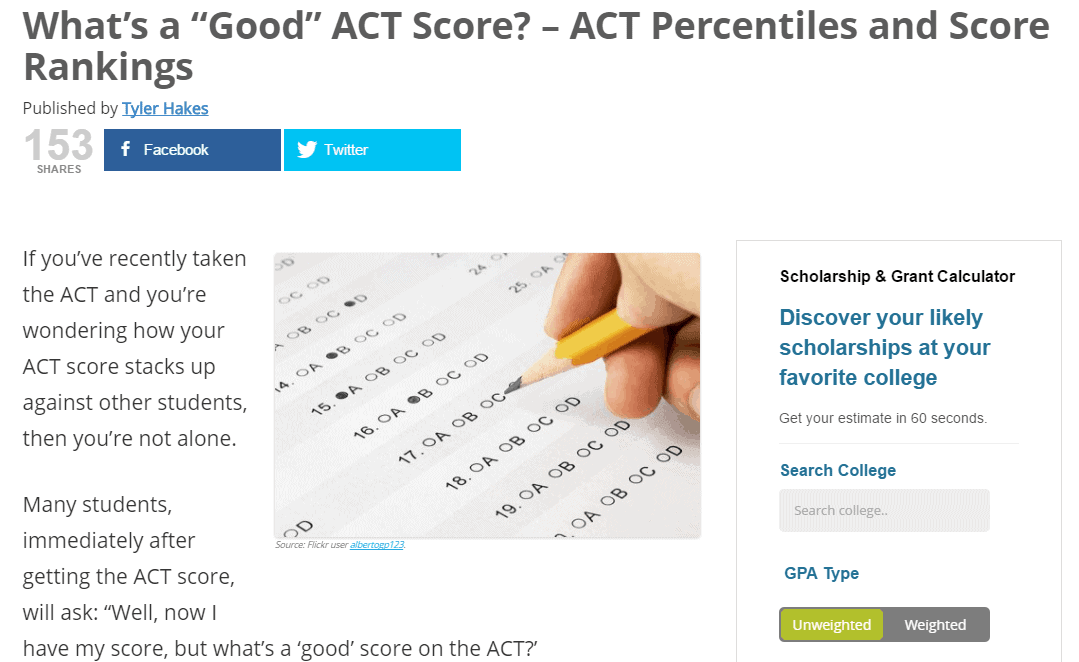 But this stuff wasn't super sexy.
Not every post is bound for viral greatness or worthy of a million backlinks. And that's okay.
In many cases, we barely even promoted this content–if at all. We let Google do all the heavy lifting and generate traffic over time.
We cast a wide net by building out an extensive library of this kind of topical, focused, evergreen content. We brought in students and parents at different stages in the college search and admissions process.
2. Social-viral content
We created this content specifically to play well within our target demographic market on social media. We aimed to generate likes, shares, and traffic.
It didn't have to be super informative. It didn't have to be keyword optimized or meaty enough to get links.
Think like Buzzfeed — use elements of surprise, fun, or intrigue to make content go viral.
"13 Owl Photos that Look Like Celebrities," probably doesn't get a lot of search traffic or earn a bunch of links.
But it goes gangbusters on Facebook.
And that drives a ton of traffic and creates brand awareness.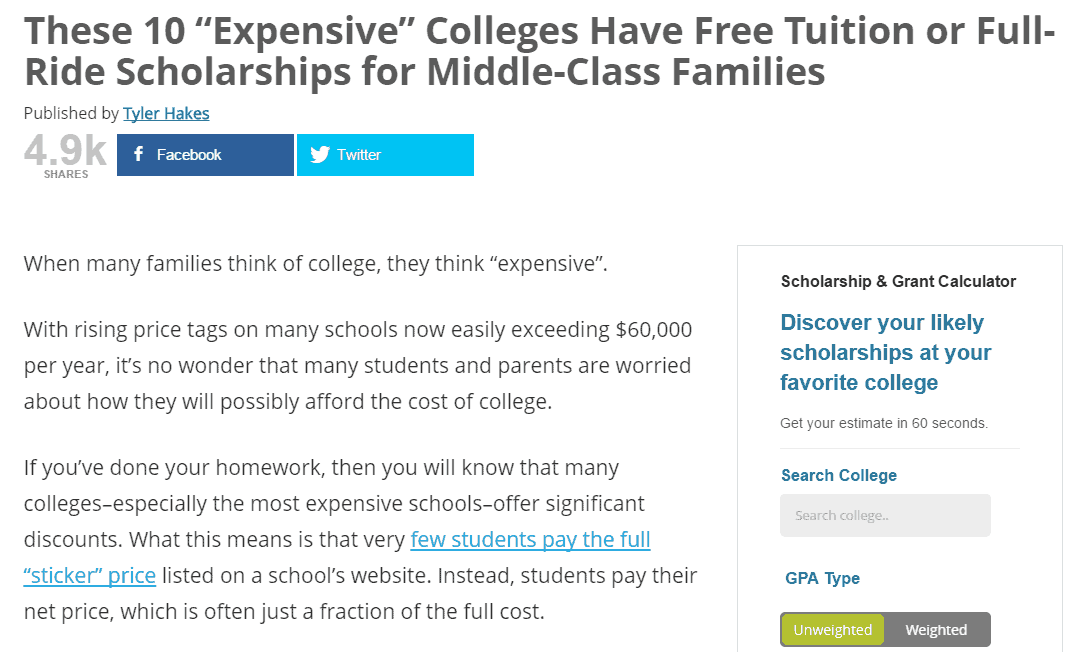 The social-viral content got our target market familiar with our site while helping us build awareness and earn trust.
You might also use this kind of content in a more traditional funnel to qualify prospects. You could use social-viral content to generate traffic and then use retargeting or other tactics to convert those visitors into leads.
3. Link-building content
Last but certainly not least, we needed links to the site to make the evergreen content work harder. Without strong domain authority, all of those articles would just be lost in the sea of Google results, probably somewhere around page 20.
By creating separate content assets that were specifically aimed at earning links, we were able to "raise the ship," providing authority to our entire domain and raising the Google ranking of all of our pages.
This kind of content requires you to often times take off your marketing hat for a minute.
Forget about your target audience.
Instead, think about other sites, writers, or publishers.
What kind of content do they link to?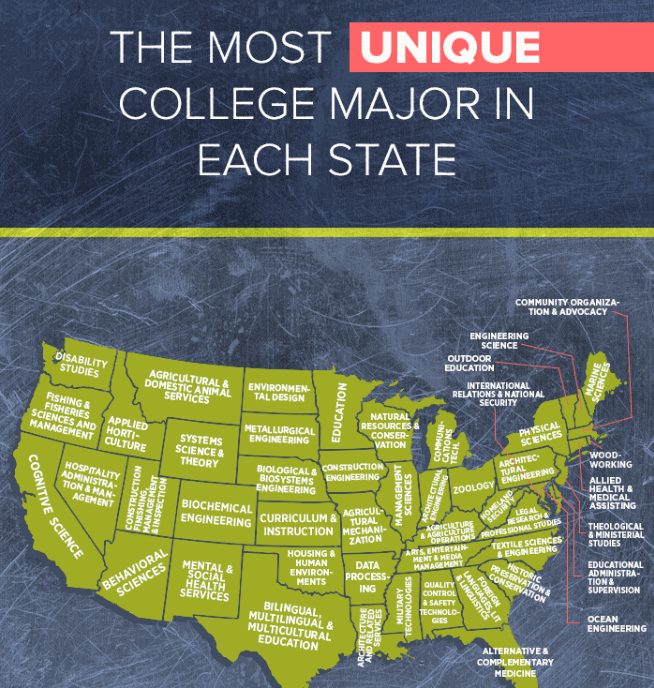 This is the kind of content that earns links from reputable websites. It's often not your run-of-the-mill blog post. It's an engaging graphic, a new study, or an especially valuable resource.
But you can't just publish this kind of great content and wait around for links. You need to do promotion and outreach to get the content in front of the right people. And that's what we did.
For every piece of link-building content we created, we spent twice as much time researching, compiling contacts, and doing email outreach.
Now you may think that this Trifecta Strategy means you'll have to create three times as much content. But that's not true. You don't need 1,000 articles to generate 1,000 links — you only need one great resource with the right promotional strategy.
This is why the Trifecta Strategy is so effective.
It's about creating a strategic mix of content that's designed to drive growth for a startup, with each piece serving a purpose. It's about making every piece of content work as hard as possible.
In our case, we did end up producing a lot of content in order to achieve the end result–because our addressable market was huge and there are a lot of different topics to cover. But in a smaller market, this strategy may only mean having a few really strong, product-focused landing pages that are propped up by content that's used to earn links.
Either way, the main point remains true: Your content should work together to achieve the stated objectives. Each piece should have a purpose.
But each piece doesn't have to serve every purpose.
Note: If this were a B2B company or you wanted to generate leads or email subs, we would also add content assets that are designed to generate leads like white papers, ebooks, email courses, etc. That would make it a "Quadfecta," I suppose.
Using Public Data to Score Early Wins With Startup Content Marketing
When we studied startup content marketing growth, we noticed most companies that crushed it at link building used data.
Interesting studies, analyses, or maps were everywhere. We all love nice graphics or data visualization. Plus, unexpected facts and figures make for sexy headlines.
So, we set out to try to capture a piece of that success for ourselves.
One of our early successes was so simple that it seems crazy in retrospect.
We spent a few days coming up with ideas and putting together a piece of content–a nice infographic, backed by some data. Then we put together an outreach plan where we targeted news media and bloggers who we thought would be interested in what we had found.
We hit publish and sent out some basic outreach emails sharing the content with the writers we identified.
And we waited on the edge of our seats.
Was this going to work?
It was really our first attempt to grab some big attention and build links. We weren't sure what the expect.
But just a few minutes after we sent out our emails, we got a big break.
I got this email: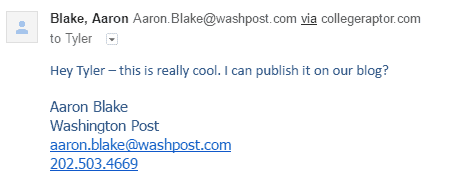 Holy shit.
We got picked up by the Washington Post.
But from there, things really took off.
Once the post went up on WaPo, our content got picked up by dozens of outlets: The Houston Chronicle in Texas; The Deseret News in Utah; Minnesota Public Radio; Time magazine.
We found out later that the content was even cited before the U.S. Supreme Court.
So what was this groundbreaking piece of content?
What compelled all of these news outlets to take heed and post us on their website?
It was a map of the United States. With some college logos. And a bit of analysis.
Seriously, here's the post: Where the 114th U.S. Senate Went to College.
We literally looked up the list of U.S. senators on Wikipedia and researched each one to figure out where they went to school. Then we did some basic analysis and made it into a map.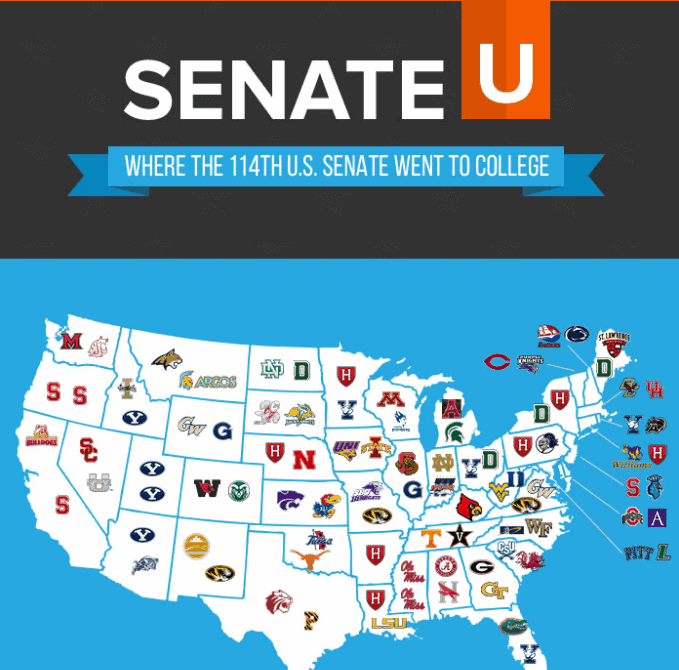 Trust me, it was not rocket science.
The biggest lesson to take away from our victory here is that you can totally use publicly available data to make cool content.
You don't need to fund some expensive research study if you use the data that's already out there. And there's a ton of it.
We used other public data sources time and time again throughout the year to create rankings, infographics, maps, and other content and resources.
You can find data from a number of sources, but here are some ideas of where to look:
Public/government databases (we used IPEDS data extensively)
Manual research (like our data on the senators)
Google trends/keyword data (regional interests, trends over time, etc)
Published research and reports from academic journals
Trade publications and industry studies
Facebook advertising/page data
All of this data is out there–and it's free.
The key to using it is to find new and interesting ways to approach the data. Take something that exists in the world and make it better, sexier, or easier to understand.
You can use this data to create things like:
Static infographics or data visualizations
Interactive data tools or resources
Maps, charts, and graphs
Ratings or rankings
Layered research based on data from multiple sources
Once you have something cool and interesting, then it's just a matter of showing it to the right people. Email it to writers who cover the beat. Make it simple for them to pull it down and use it in their own stories.
This content doesn't have to be for your primary audience. It should be related to your market, but the real goal here is to get links.
Your target audience should be writers and publishers in your industry, not your average user.
Our infographic wasn't designed to appeal to a 16-18-year-old high school kid. It won't help them find the right college. But it helped us get links, which will bring traffic to all of our content aimed at our main audience.
Remember, this startup content strategy is about putting together the pieces, not trying to make every piece of content meet all your goals at once.
Our First Viral Content Success & What We Learned
Early on, we saw a lot of wins like the infographic above. Small victories here, spikes in traffic there.
But nothing compared to our first big success.
In the last week of May, we published something new and different. At the time, we honestly weren't sure how it would go.
We knew that we wanted to go after the world of college rankings, which are big game for many major publishers. But we couldn't compete head-to-head on a list of "Best Colleges." We didn't have the authority to get traction there (yet).
So, we improvised. We put our own spin on things.
We came up with the idea of creating a ranking for "Hidden Gems" — colleges that, according to our methodology, were overlooked by students when they compared to other colleges of similar quality.
Simply put, this was a different kind of college ranking.
One of the things that we got right (in retrospect) was that many of the colleges we honored were not your typical "Best Of" colleges. They were still good schools, but they generally weren't on a list of the top 100.
Fast forward to launch day.
After spending a few days compiling all of the data, creating some graphics, and putting together the final post, we clicked publish. Then we got to work on outreach.
We had a plan to promote the content and put in front of people who mattered most. We sent out hundreds of emails and messages to colleges, newspapers, counselors, and anyone else we could think of who might help us spread the word about the ranking.
I spent the better part of the day drafting and sending emails.
Then we started to see results.
We watched as traffic started to pour into the site. 10 people. 20 people. 100 people. Pretty soon we had a steady stream–hundreds of people on the site for hours on end.

What happened?
The colleges on our list were sharing the content on their social channels. Then, their students and alumni were sharing it from there.
We were going viral.
When the dust had settled, we had the biggest spike in traffic to date.
250,000 visitors in just one week. That's huge.
We also generated a ton of links–many from reputable news websites and EDU domains.
From this success, we learned a lot about what factors would help push our content over the top:
1. People love sharing maps
As you may be able to tell from our first big successes, people love maps. And we figured out early that we could use them effectively.
I think it plays on both the sense of identity and the need to feel different from other people.
We went on to use this as a cornerstone of our link-building strategy, segmenting data geographically whenever possible.
2. Vested interest helps expand reach
We were posting about colleges and shining a spotlight on their institutions. So, by including these colleges in the actual content, they had a vested interest in promoting the piece.
In total, we had a college from every state–or a base of 50 targets for outreach.
To boot, since we took a different approach in our rankings, many of the colleges on the list were not used to receiving national accolades. These weren't the same 50 schools that are on the U.S. News list of top colleges every single year. But they were still good institutions.
This taught us the power of vested interest. Any time our content could help promote another entity, we could work with them to expand our reach and grow our audience.
3. Self-affirmation and positive social proof encourage sharing
The effect was amplified even further because each of these colleges had an audience of alumni and current students. All of them had their own vested interest in the positive social proof of having attended a "Hidden Gem" college. So many of them shared it and helped spread it far and wide.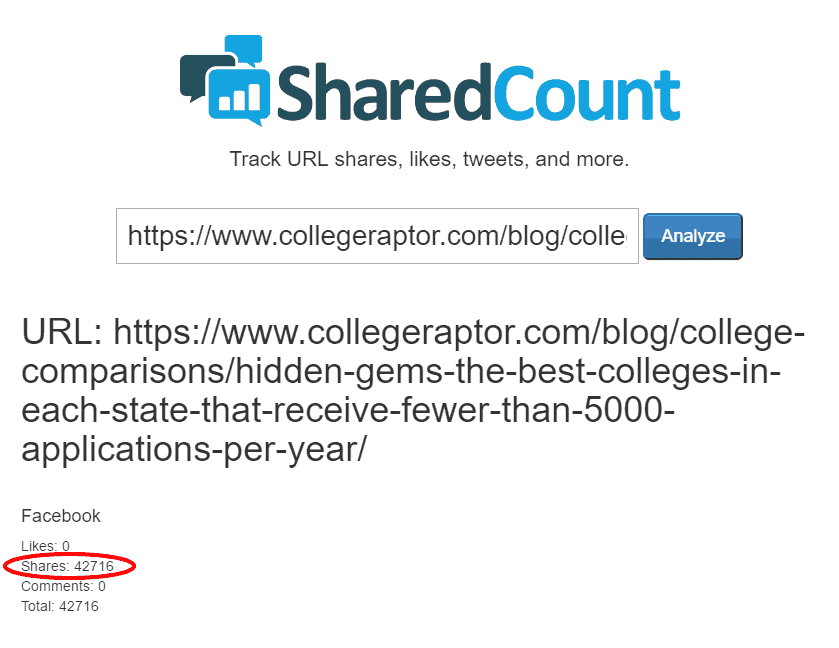 Our content ended up with tens of thousands of shares, likes, and comments. (Note: The numbers here don't seem to be displaying likes/comments correctly, but the share count lines up with what we saw a few months after publishing the post.)
We learned that one of the keys to going viral is to create content that plays on our desire for self-affirmation. People love to share things from reputable, third-party sources that seem to confirm a belief they already have (e.g., they made a great choice by attending the college they chose.)
4. Coordinated outreach is critical
Let me say this again: Outreach is essential for startup content marketing growth.
And outreach is ultimately what made this piece work.
We gathered hundreds of contacts to make sure that someone saw the post at each college. We sent it to their respective local media. We wanted other influencers to notice a new type of college ranking that didn't have the same 20 schools at the top 🥱.
Our team spent way more time doing outreach and follow-up to ensure the success of this piece than we did on creating it.
That proved to be a big lesson for us moving forward.
Great content is great, but it ultimately doesn't matter if noone sees it.
Although we had already focused on outreach, this caused us to realize the magnitude of the outreach we needed to do to achieve these kind of results.
5. Comprehensive promotional materials make it easy for people to help you
If you want people to promote your content, you need to give them everything they need to do it.
Make it so simple they can't say no.
When we did outreach to colleges about this recognition, we didn't just send them a link to our post.
Oh, no. We did way more than that.
We prepared a press release template. We created a visual badge. We gave them specific materials and instructions on how to promote and publicize the achievement.
And it worked.

Dozens of colleges used the materials we put together and helped promote this piece, sending it viral, and generating tons of links back to our site–almost all of them from high-authority EDU domains.
Rinse & Repeat: Scaling a Startup Content Marketing Strategy
Okay, so we had some big wins under our belt. I mean, we had just driven a quarter of a million people to our website in 7 days.
We made it. Right?
Well, not exactly. In fact, that was dead wrong.
We learned quickly that although we celebrated every win as a huge victory, the traffic quickly died down. Just as quickly as the Internet shines its light on you, it moves on to the next thing.
And that's another big lesson to learn. Sustained growth for a website like this doesn't come through a single flash of brilliance or a viral success. It almost never works that way.
Content marketing growth is incremental. It's slow, sometimes painfully so.
It's like assembling an airplane in mid-flight. You're trying to create content that will rank well in search while earning the links you need for that content to rank.
It's not an overnight process.
And you will fail at times. You'll spend too much time creating something you think is great, only to have it fall flat when pushed out into the world. And that's okay.
The key is consistency and process.
Keep calm and carry on.
Hitting Explosive Startup Growth with Content Marketing
With a few successes under our belt, we were on a solid growth path. We experienced steady traffic increases, and all of our existing content was rising in the SERPs.
We were about 8 months in and had about 150-200 linking domains.
But we didn't set out to achieve slow and steady. We wanted big-time, hockey-stick growth.
So, we changed course.
When we got to this point, we knew we had an opportunity to really turn up the dial.
If each new piece of content you publish lands pretty high on SERPs, then it becomes a question of how many pieces of content you can load up or, in other words, how many unique search terms you can rank for.
This can be possible because the domain authority you have built will lift each piece of content on your website.
More pages = more keywords = more traffic.
We slowed down our production of content aimed at generating links and social traffic. Instead, we went heads-down on producing evergreen content targeted at relevant keywords.
We planned out hundreds of article ideas and dug into everything related to the college search and admissions process.
We came up with content ideas by:
Looking at our competitors and identifying gaps
Doing extensive keyword research
Joining forums and communities with our audience asking questions
Sourcing questions from our existing audience
In the next few months, we published about 200 articles.
Up until this point, we had seen slow and steady growth in traffic. This step changed our trajectory.

We had over 300 articles on the site to bring in search traffic from our target audience on a wide range of relevant topics. Our traffic started to explode. We were growing at 20%-50% per month.
This worked because we had spent the first 8 months focusing almost entirely on earning links. We had generated enough domain authority so that each new piece of evergreen content would almost certainly land somewhere on the first page of Google for the target keywords.
It's worth noting that we didn't have to do it in this order. We could have spent the first months on a production sprint and building out a huge catalog of content. Then we could have spent the latter half of the year building links to "raise the ship" on the content that already existed.
Ultimately, the order doesn't matter. The results should have been ostensibly the same.
But there can be some strategic advantages to the order of operations.
In this case, we opted to build links first and then focus on building out more content. Since College Raptor had a number of data-driven, programmatic pages, building authority early started to show results right away, even if we didn't have a lot of search-focused content.
What I Would Have Done Differently: Lessons on Startup Content Marketing
Reflecting on this year of work, we have accomplished something many companies and startups can only dream of.
But that doesn't mean we did everything right.
Although we had a lot of success, this was ultimately one giant learning experience. Here are some of the things I would do differently:
1. Work smart(er), not hard(er)
Like many, we started with the assumption that our content needed to be something special — something no one had ever done before, seen before, or even dreamed of.
We spent hours racking our brains for ways to twist or layer data to make something new.
What I know now is that you don't need to try to reinvent the wheel every time. There are easy wins to be had by simply looking for what's been done and making incremental improvements or changes. In some cases, you can even take the same premise and put your spin on it or create your own version. If you're after links, you might simply do outreach to a different audience.
This doesn't give you a pass to be lazy. You still need to create great content.
But you can be smart about it and learn from other's experiences.
2. Repurpose content more
Another way to optimize time and resources is to build repurposing into the core of your startup content marketing strategy.
This can take a lot of forms. It may mean creating a series of graphics that work as a big, long infographic and breaking them down into smaller pieces for a series of text-based posts.
It might mean collecting a series of content that's already published on your site and packaging it up into something new.
Repurposing is a great way to get extra mileage from the work you've already done.
Look for opportunities to tie things together or use your assets in different ways or for different audiences.
Remember that just because you've read something on your site doesn't mean everyone has. So there's no shame in giving it a second, third, or fourth life.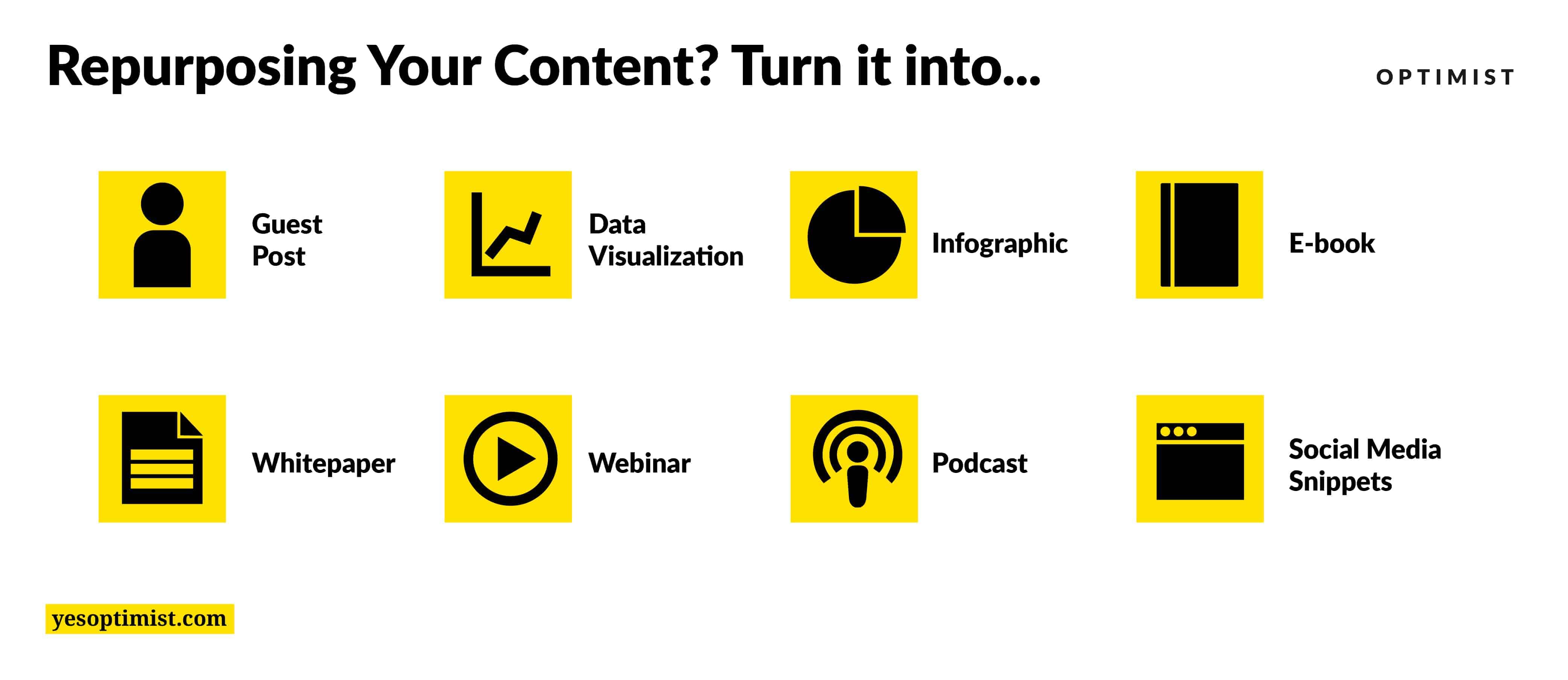 3. Curate content where it works
It's tempting to think that if there's good content out there, you need to set out to make something better–bigger, sexier, more helpful.
But sometimes you should just take what's already been given.
Notice that I didn't use this case study to explain to details of how to craft a nice outreach letter or use a tool like Ahrefs to identify link opportunities. That's because it's already been done–a lot. So rather than simply rehashing what's already been created, I just put together a collection of prerequisite resources .
In an age of so much content, sometimes the best thing you can do to add value is to simply serve as a filter.
Curate a list of the best of what's already out there.
Many of the great content marketing and SEO experts of the world rely heavily on curating lists of other people's content to provide value to their readers. And they can still use it to generate traffic and links.
Don't underestimate the power of curation.
4. Focus more on design and presentation
Another thing to keep in mind is that looks matter a lot–probably more than you think.
Design plays a pivotal role in the success of your outreach and link building. Often, people don't even read a post. They skim and try to pick up the key points.
They're busy, and they just want to know, "is this a valuable resource of just some spammy junk?"
Having a page with a clean design can set their mind at ease quickly. A wall of text may contain the same information, but it doesn't feel quite as welcoming as a well-designed guide with clear bullet points, section headings, and useful graphics.
Content is only relevant if it's usable.
Using the Startup Content Marketing "Trifecta Strategy"
I wanted to share this experience not just to brag about the numbers (although they're pretty impressive, if I do say so myself). But, because what we learned through this process was that this model–this content marketing strategy–could be applied to almost any business.
Let me be the first to say that it's not easy.
In fact, it's damn hard. It takes a ton of work.
But with focus and the right team, this same framework can be applied in nearly any industry–the three (or four) content types are universal.
What changes is the strategic mix of content that you need in order to achieve results.
Here are some tips for adapting this strategy:
1. Plan for SEO from the beginning
This strategy was ultimately so effective at generating huge amounts of search traffic because we went wide and shallow in terms of SEO. We had a huge number of pages related to a broad range of college topics.
If your business relies on ranking highly for a few specific keywords–like, say, an eCommerce store, for example–then your strategy will likely be different. Evergreen content may not be valuable in terms of bringing in traffic that actually converts. So your strategy may focus almost entirely on building links and driving social traffic.
Whatever the case, you must consider the SEO landscape of your industry and then adapt the strategy to help you compete there and achieve your goals.
2. Set a benchmark (the 7% rule)
The general rule for achieving the all-mighty hockey stick is that you should aim for 7% growth, week over week.
The same benchmark generally applies here. We used 7% weekly growth in organic traffic as a goal and it gave us something to chase after and also a way to project what our growth would look like into the future.
You probably won't hit 7% every week, but if you're seeing about 7% on average, then you're probably in good shape.
3. Stay strategic
Why do so many people fail at startup content marketing?
The main reason is that they lose sight of their strategy.
Instead of focusing on results, they only worry about publishing content — any content — just to meet some arbitrary schedule or quota. But this is ridiculous.
Content takes time, money, and effort. If you're not using it strategically — if you're blogging just to blog — then it becomes an expense that doesn't generate a return.
Focus on the strategy and make sure every piece of content you create and publish is put to use as an asset. Everything you create must focus on one of the core objectives of your content strategy.
If you can't immediately say what the purpose of a post would be, scrap it.
Let's Talk About Your Content Marketing & SEO Strategy

Book a strategy call with our team to discuss how we can help you hit your growth goals.
Essential Reading on Startup Content Marketing
As I mentioned at the beginning of this post, most of our strategy was built on the teachings of many SEO and content marketing experts who generously share their time and knowledge.
People like Noah Kagan, Robbie Richards, and Brian Dean were all hugely helpful in teaching me some of the fundamental laws of scaling traffic.
Since I didn't have the opportunity here to rehash all of the specific strategies and tactics that I learned from them, I've packaged them up into a collection of essential ideas, strategies, and tactics for anyone who wants to apply this strategy or achieve similar results.
Get More Kick-Ass Content from Us
No fluff, no BS, no sales pitch. Just deep, actionable, and insightful content on the art of content marketing and the science of SEO.
Sign up for email updates so you don't miss it.
This article was updated in 2021 with help from Ling Wong.