There's a paradox of opportunity happening right now for B2B technology companies.

Many teams are being forced to cut back on marketing and lead generation efforts due to uncertainty. According to a survey from the B2B Marketing Zone, more than 60% of marketers expect their budgets to be cut this year.

But, there are more companies than ever looking for software solutions that allow them to move work online and collaborate remotely. More than 40% of companies expect to increase software spend in key segments like web conferencing, collaboration tools, and remote solutions.

For most B2B technology companies, this presents both a challenge — and an opportunity for good.

Companies that figure out how to reach these buyers in their moment of need will be able to both achieve growth and provide urgent solutions. 

Companies that stumble through these trying times will miss an opportunity to help potential customers when they need solutions most urgently.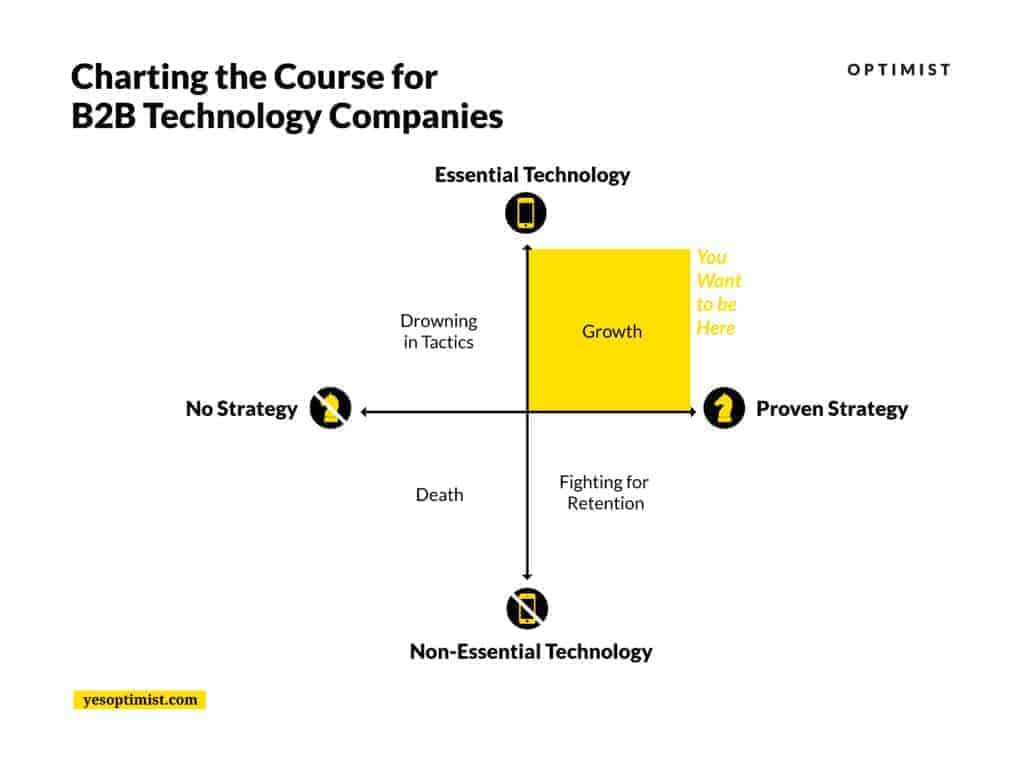 The only question is which companies will recalibrate their strategy to meet the needs of their potential customers and which will stumble through the crisis, without a clear plan.

Companies that successfully navigate this moment will come out with a huge advantage over those that waffle, slash and burn, or flail their way through a mixed bag of tactics without a strategy that works.

Smart strategy will win the day.

Of course, the importance of strategy isn't entirely new. But the context of our current moment dictates the need for a specific and precise approach. It's time for focused effort on a proven strategy for immediate lead generation. You need a way to get in front of prospective customers who need your solution and provide them with some much-needed stability amidst the turbulence.

You need a performance marketing strategy that generates leads.
You Can't Afford to Do Lead Gen Wrong
In normal times, there's a marketing budget for experiments and room for tactics that may not work.

In uncertain times, that's not the case. Slashed budgets, short-term time horizons, and lean teams mean there's no time — or money — to waste.

That's why it's important to focus. There must be swift action to concentrate time, effort, and budget on the singular strategy that will move the needle most.

For most B2B technology companies, that means being laser focused on lead generation.

Your team's ability to pivot to what works and execute with speed and precision will be the competitive advantage that allows you to both make the most of your limited marketing resources and provide solutions to the potential customers that need quick solutions to evolving problems.

But that also means that you need a proven framework for how to rapidly scale lead generation efforts and build a new pipeline that's focused and relevant in the current context..
Accelerating Inbound Lead Generation
Inbound marketing works. 

For our entire existence, Optimist has been working with clients to help craft content marketing strategies to achieve sustainable growth. We even launched our own b2b lead generation strategy almost entirely on the back of one purpose-built article.

We've long preached the importance of strategy with a smart mix of long-term investments and short-term campaigns. Most of our work is focused on building a foundation of compounding growth over time. 

But now is not the time for steady, sustainable growth.

It's time to pour gasoline on the fire.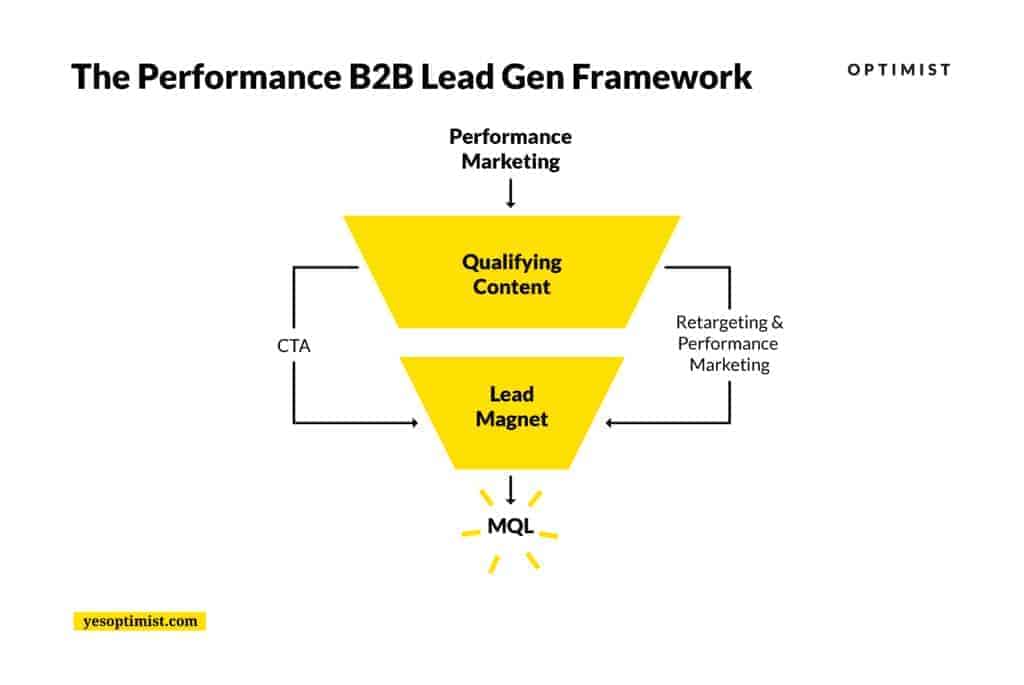 The same tactics and strategies that we use to build lasting and sustainable funnels can be paired with new strategies to accelerate inbound lead generation.

With the right framework, we can transform these long-term strategies into a shorter, faster funnel. 

Using a smart mix of precision-targeted, strategic content assets and laser-focused promotion, B2B technology companies can reach the buyers actively looking for solutions — your solution.

Then, we can convert those qualified prospects into MQLs that flow directly into your pipeline.

We've boiled this down into a two-step framework focused on maximizing the impact of content to help attract prospects, qualify buyers, and generate leads as rapidly as possible. 

The net result is faster, more efficient lead generation that B2B companies desperately need right now.
Building a Funnel of Targeted Traffic with Performance Content
If you're selling a B2B technology or SaaS solution that enables remote work or helps teams collaborate better at a distance, there's no shortage of companies looking for your solution. 

Each of these companies is looking for help that you can provide. 

Your first goal is to get in front of those prospects.

Building a smarter and faster lead generation strategy means building a funnel of targeted, qualified traffic. Each of these prospects is a potential buyer and with the right content and message, you can successfully attract and qualify them.

We can use strategic top of the funnel content to both attract and qualify prospects and generate demand for your solution — in one step.

We call this Performance Content.

Performance Content is built to achieve 3 specific goals:

Qualify prospective buyers based on persona and need
Prescribe a solution to their problem
Introduce your product as that solution
The article that you're reading right now is an example of Performance Content. 

By crafting a direct, problem-solution oriented headline and using targeted content promotion, we're using this strategy ourselves to help identify potential customers looking for a solution that we can provide. (That's Performance Content and inbound lead generation).

Looking at the headline of this article, we can pick apart the strategic elements that we've used to attract and qualify traffic on an inbound basis: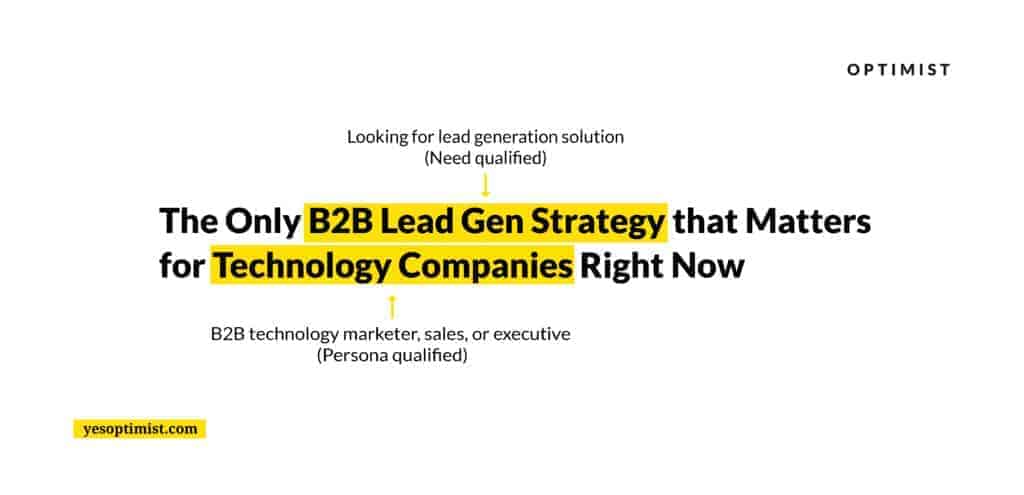 This tells us that, if you're reading this article, you are likely: 

A B2B technology marketer or sales executive
Looking for a way to pivot or evolve your lead generation strategy in the current climate
A potential customer for Optimist
Then, we pair this with a laser-focused promotion strategy to put this content in front of prospective buyers from a pre-qualified list of target companies, segments, and roles. 

Now you're here. 

With a single article, we've moved you, as a prospective customer, through the first 2 stages of our marketing funnel.

The next step is converting the traffic flowing to this article into inbound leads.
Generating Marketing Qualified Leads
Now that we've peeled back the curtain a bit here, let's put the rest of the cards on the table. 

Generating targeted, qualified traffic is great.

But you can't sell to an anonymous reader.

You need actual leads who raise their hand and indicate that they are, in fact, looking for a solution and want more information about what you can offer them. 

The second step of the funnel is designed to convert qualified traffic into inbound MQLs. 

This isn't reinventing the wheel. Using lead magnets or gated content is a hallmark of all inbound marketing strategies. It's a proven tactic for moving prospects further into the marketing funnel or, in our case, generating a MQL that has expressed interest in the specific solution that we're providing. 

But, just throwing out any content offer and hoping for the best won't net you the qualified leads you need.

You need to tie the lead magnet that you're offering directly to the need of the prospective buyer. You need to continue to funnel and further qualify their interest, not just capture a random email address. 

Again, we use the content itself as a qualifying mechanism. By crafting a specific, actionable, and need-specific content offer, we're able to build a short sales funnel that converts targeted, qualified traffic into a qualified contact who has expressed direct interest in the solution we're providing. 

So here it is: 

The 2-Step Performance Content Framework for B2B Lead Generation
Learn how we help B2B technology companies rapidly build & scale a lean, inbound lead generation funnel with Performance Marketing and Performance Content.
The Role of Performance Marketing
The glue that holds this strategy together is our integration between Performance Content and Performance Marketing.

Using the latest strategies and proven best practices of paid acquisition, we accelerate inbound lead generation with hyper-targeted paid campaigns at each step in the funnel.

We use these campaigns in 3 key ways:

Driving initial target traffic to qualifying content
Driving pre-qualified traffic direct to the lead magnet
Retargeting qualified traffic with the lead magnet offer
Using a combination of LinkedIn, Facebook, Twitter, and other paid platforms, we're able to target and reach prospective buyers in key segments, specific companies, and even particular roles. 
We Can't Stop Here, This is Bat Country
Many companies are frozen right now — they're paralyzed by the fear and uncertainty of this moment. 

But, for companies that want to fight through the moment, doing nothing is not an option.

Fight the urge to do nothing. 

Fight the urge to wait for this blow over — to hope that things turn around and we can "get back to normal". There may no longer be a "normal". 

You don't need a blanket to hide under. You need a battle plan.

You need a strategy. 

If this strategy feels like it could be the solution you're looking for to quickly build and scale a pipeline for your B2B technology product, we'd love to discuss how we can help.

Optimist is a full-service content marketing agency focused on driving growth for B2B startups, SaaS, and technology companies. 

Let's talk.

Request a free strategy session.