One year ago, we launched Optimist.
The vision was pretty straight-forward: A full-service content marketing agency that works with clients on a monthly retainer.
Our goal is to grow it to $1.5 million annual run rate in 2018.
In our first year, we made a pretty big dent in that goal. We hit just under half a million run rate and signed 6 long-term clients.
But, what's probably more impressive is that we generated more than 30 inbound inquiries over the course of the year. All together, these represented an estimated $1.5 million in potential revenue.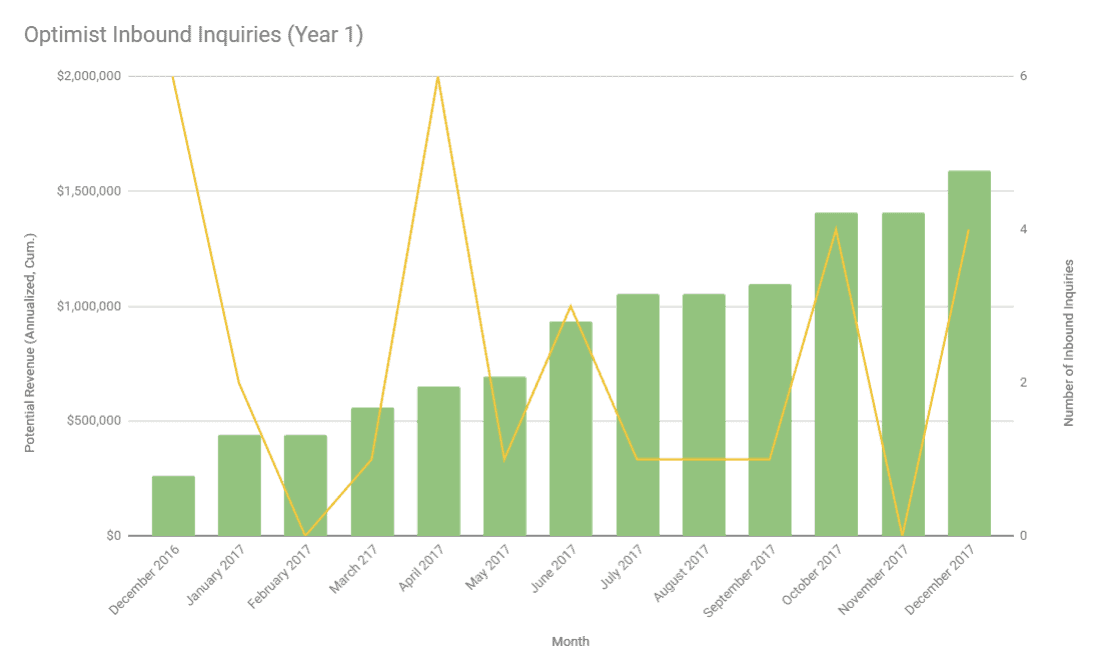 Since we have a pretty rigorous process for weeding out clients and choosing the ones we want to work with, many of these just didn't work out. In total, we closed about one-third of that business (plus some deals that are still in the works).
Overall, it was a pretty good year.
What agency owner doesn't want hot, ready-to-buy sales leads in their inbox every month?
The beautiful thing is that we aren't doing anything revolutionary. You can do it, too.
If you run an agency–marketing, design, technology, or any other type of service-based business–you can use a similar B2B lead generation strategy.
In this article, I'm going to tear down our lead gen efforts and explain exactly how we did it and how we're planning to improve in 2018.
Inbound lead generation framework
The crux of our lead gen strategy is a pretty standard inbound model. We use different types of content to drive traffic to the site, generate leads, and then drive action/inquiries.
Here's what it looks like at a high level: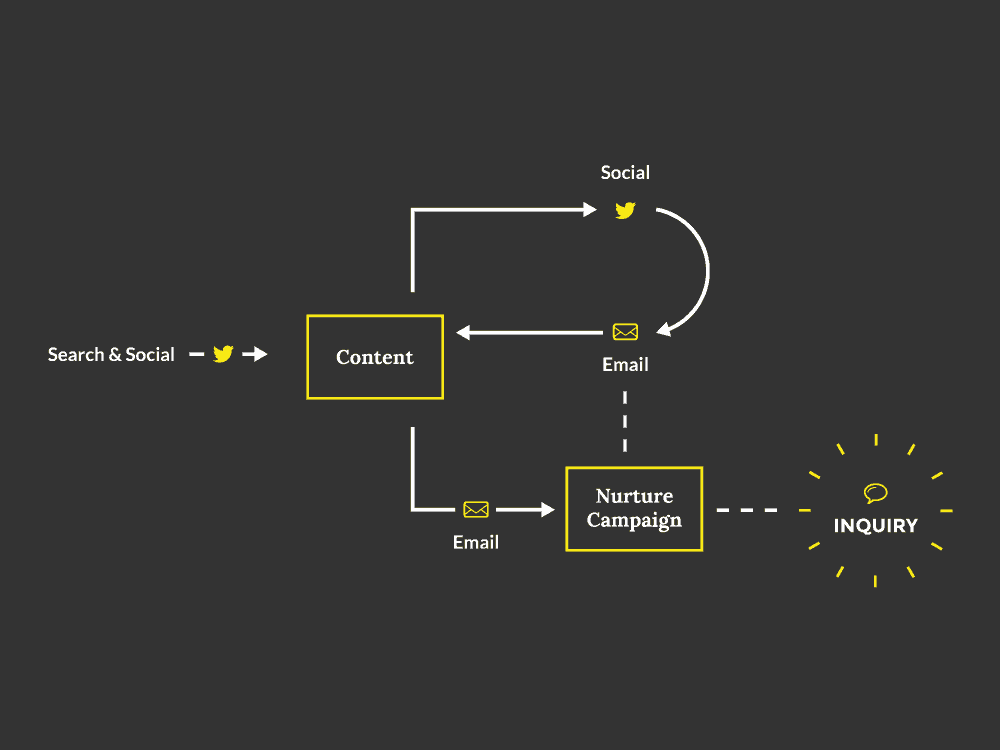 Essentially, we are driving traffic to top-of-funnel content using search, social, and community channels. Then, we use a combination of retargeting and email marketing to keep people engaged and try to move them through the marketing funnel. In the end, those who are most interested in working with us will convert into actual sales leads (or, opportunities).
If you're familiar with content marketing and inbound strategy, this should be pretty familiar.
But, just outlining the basics doesn't give you a full picture of how it works in practice–and how we execute on that strategy. Execution is really the key.
So, let's take a look under the hood.
Driving traffic to the top of the funnel
The key to any inbound lead generation strategy begins with traffic.
You can blog until you're blue in the face, but unless you have a strategy for how to drive traffic to that content, you'll just be wasting time and money.
Many companies think they can just start publishing content and eventually something will happen. Just keep posting and it's bound to generate business. Unfortunately, it doesn't quite work like this.
You need a plan for how to take a piece of content and use it to drive traffic to your website through different channels.
Now, each piece of content is unique. There's no one-size-fits-all promotion strategy for driving traffic to your content. But, in most industries and verticals, there are clear channels that drive the biggest impact.
Our main channels for content promotion/distribution include:
Social channels (Twitter, Facebook, etc)
Community outreach
Influencer outreach
Organic search (SEO)
Email
No silver bullet solution can give you all of the answers here. It's a matter of understanding your audience and then doing enough trial and error to learn what works.
Just like with our clients, we don't only focus on short-term results (e.g., "going viral").
We divide our effort between driving immediate traffic and long-term strategy. While we like to see traffic right away, we need keywords and links to build traffic over time.
This is key to maximizing the value of your content marketing efforts.
Without the compounding returns that come from organic traffic, you quickly lose momentum and have to start from scratch every time you publish something new. You're constantly just trying to match what you achieved the month before.
This is why we are focused on balancing the two forces.
We want both short-term results and some long-term bets that will pay off for years to come.
Together, these two approaches help us build a solid flow of inbound traffic to our site. We have people reading our content. But what happens after that?
Converting visitors into leads
Traffic is great. But, only if it converts into business.
For that, we have a strategy to convert visitors into email subscribers and then nurture them via email to hopefully drive an inquiry.
We've kept our strategy fairly simple.
We use in-line CTAs for content upgrades throughout each post: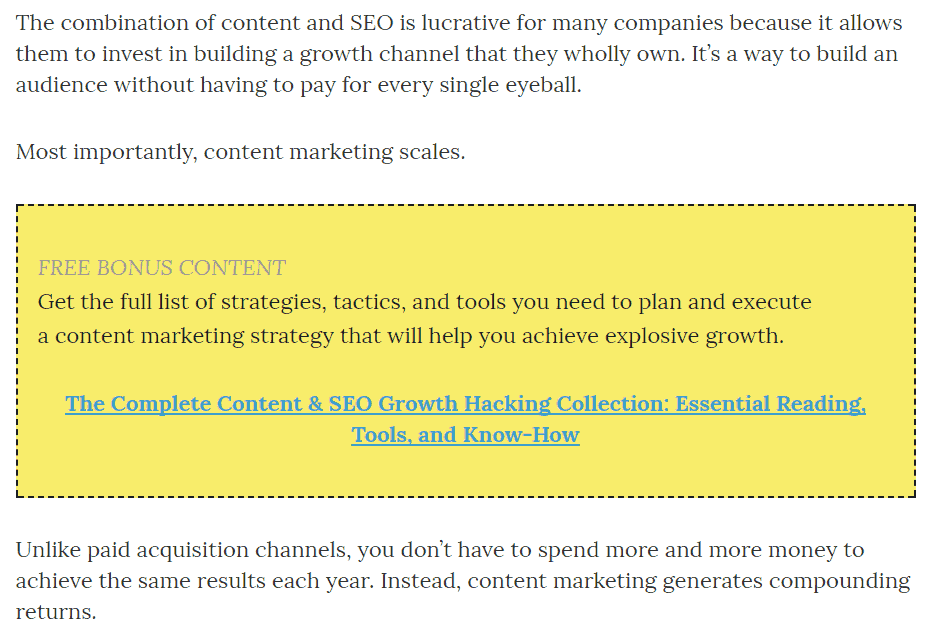 Plus, one "generic" opt-in form at the end: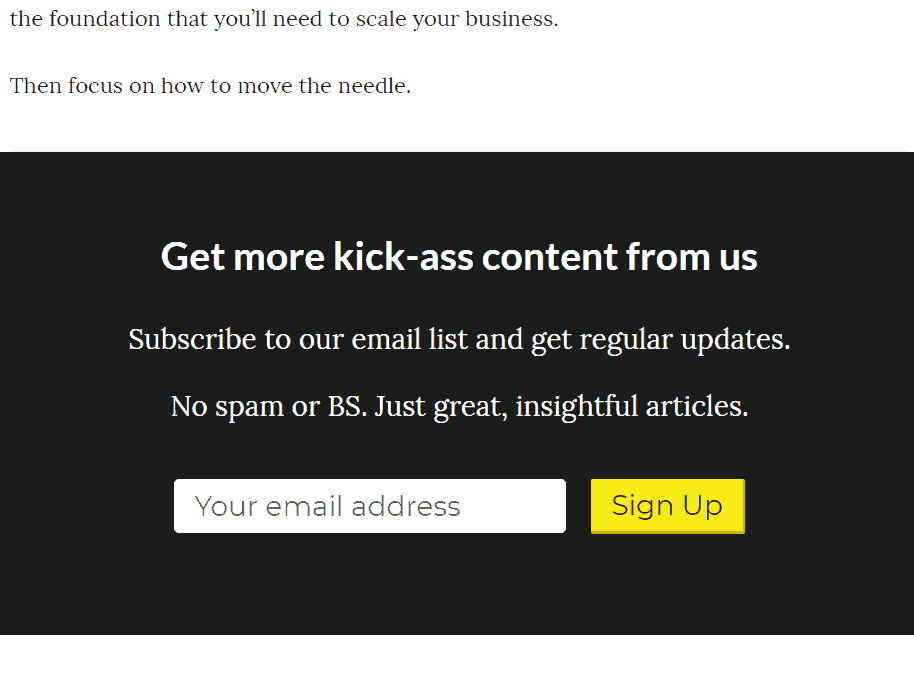 This is a pretty simple approach.
But, guess what?
We have a site-wide average conversion rate of nearly 4%.

Of course, we could probably pump this up with a more aggressive list-building strategy. But, we haven't bothered with pop-ups, exit-intent light boxes, welcome mats, or any of the other tactics that we often see.
To be frank, my philosophy has always been to focus on providing value.
Rather than trying to force people to give up their email address, just give them a good reason to want to stay connected.
In other words, focus on creating kick-ass content.
If you create great content and then offer them even more value in exchange for an email address, you should see good results. And you won't have to beat people to death (figuratively, of course) to get them to sign up or subscribe.
That's not to say that we couldn't improve the overall performance here. But we chose this approach deliberately. And it's working pretty well.
Nurturing email subscribers
For each "lead" (email) that comes through one of our content upgrade offers, we have a simple nurturing sequence.
This is by no means very sophisticated—but it keeps warm prospects engaged and coming back to the site over a 3-4 week span. The idea here to hopefully share enough content with them that they become interested and decide to inquire about working with us.
Here's what the current setup looks like in Drip: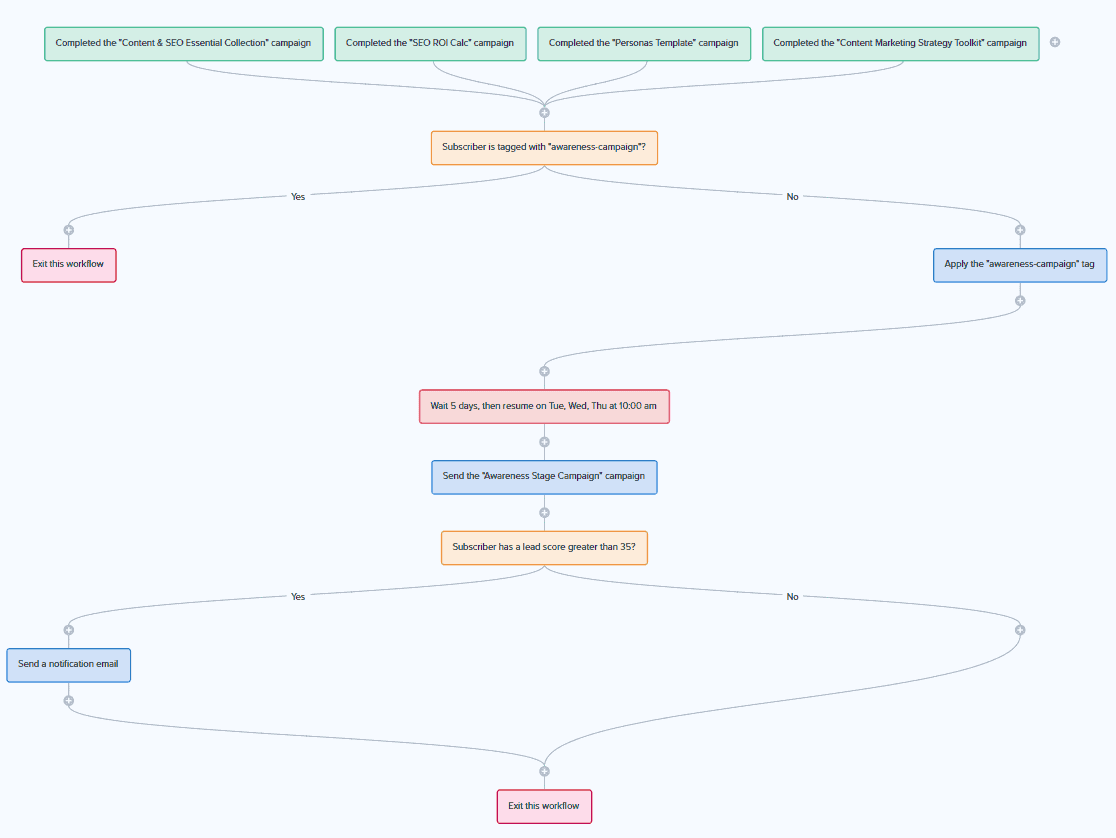 Once they're in the workflow, these leads will receive a sequence of 4 emails. They're not super targeted or segmented. There's no hard pitch. It's just a basic nurturing sequence that keeps us top of mind and hopefully encourages leads to turn into inquiries.
Admittedly, we are not marketing automation experts.
This whole system leaves a lot to be desired. Our number one goal for 2018 is to develop a smarter nurturing strategy. We want to be much more targeted with our offers and do a better job of sequencing campaigns based on personas, actions, and lead scoring.
But, for now, even this super basic drip/nurturing campaign seems to be working quite nicely.
We can watch the traffic flow in from emails regularly and most of the inbound inquiries that we get have come from people on our email list.
Pre-qualifying inquiries
Just because we have an email address (what we're calling a "lead" here) doesn't mean that the person is qualified or interested in hiring us.
The next step is to generate an actual inquiry (or an "opportunity", depending on your terminology). That is, get someone to show interest in hiring us and enter into our sales pipeline.
We've gone fully inbound for this process, too.
Rather than trying to progressively qualify leads and actively turn them into inquiries with slick sales calls or discovery meetings, we simply let leads take their own time and reach out when they're ready.
Here's what most of the inquiries look like: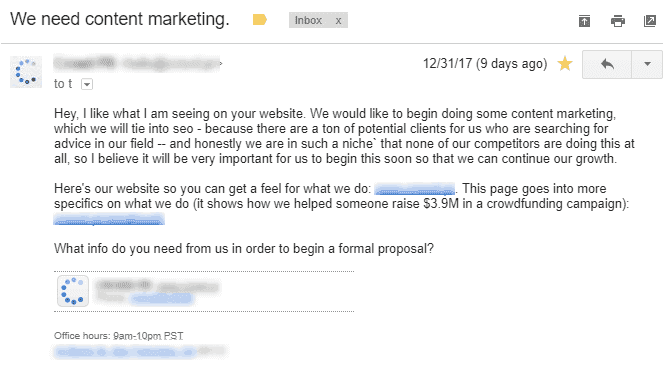 Let me just stop right there to say something.
It feels amazing to receive these emails.
There's no beating around the bush with this kind of message. Someone has done the research, considered their options, and reached out directly because they want to buy from you.
There's no better feeling, in my opinion.
Some people want to talk to every person they can to try to pitch their services.
I'm the opposite.
I'd rather conserve my time (and mental energy) for the people who are really interested in working with us. These people need minimal "selling" and they're much more engaged. Our strategy reflects that.
On our site, there are a number of steps that attempt to pre-qualify any inquiries before they hit the inbox. In my opinion, it makes more sense to scare away a few prospects rather than spend hours chasing leads and that were never going to become customers anyway.
First of all, we list some qualifying criteria right on our "Working With Us" page: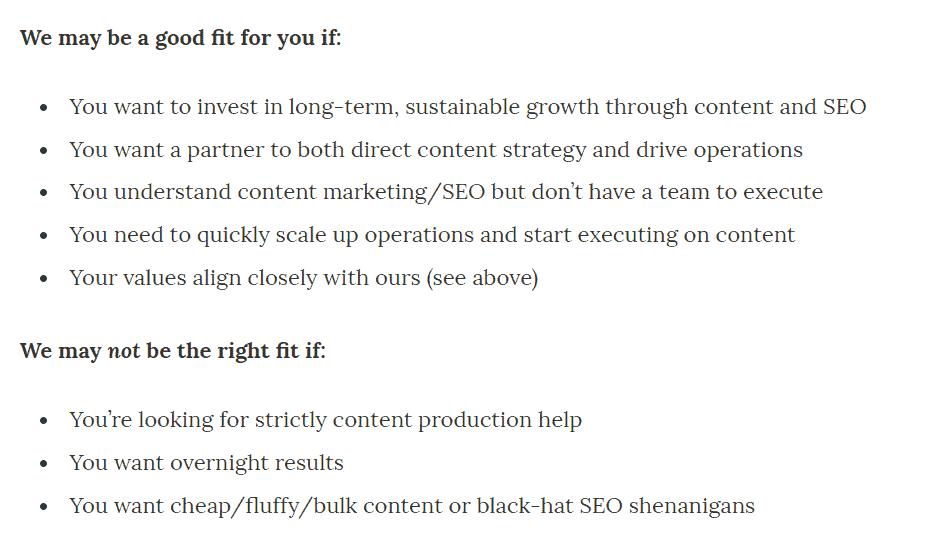 This allows prospects to read and evaluate if they are, in fact, interested in what we have to offer.
A lot of companies do this in a tongue-in-cheek way (like, "call us if you want results, don't call us if you want your business to fail.")
But I want it to be a true filter.
So the points are pretty honest and straightforward. They set expectations about what we can deliver and also try to set the tone for a relationship with our agency.
Secondly, we list the price on our website.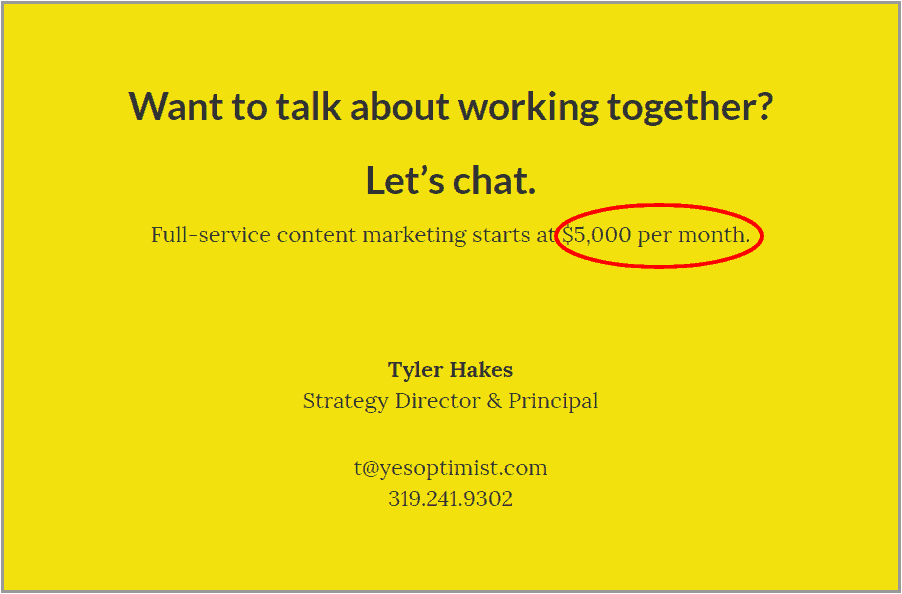 Now, some other agency owners may gasp at this proposition. By listing the price, I'm probably driving away people who might be interested in smaller engagement or removing some bargaining or negotiating power.
But, do I really want to spend my time talking to prospects who can't afford us?
The answer–for me–is a resounding no.
I'd rather wait for someone who can afford our services. Drawn-out negotiations over our prices are not fun. A big part of what we do is offer consistent service that is customized for individual businesses.
But a big part of how we do that is by limiting the size and scope of possible engagements.
Because we have a system and a process that we know works, we try not to deviate from that basic structure. While we may be able to achieve a certain level of growth at $5,000-10,000 per month, the results are much less predictable if we try to shrink that down into a package for $2,000-3,000 per month.
Imagine that you run a web design firm and you charge $5,000 for a "standard", 10-page website. Then, someone comes to you and says they can only spend $3,000. If you accept that job, you will need to find a way to cut costs.
This might mean making the site smaller, spending less time on design, or using pre-built templates rather than building everything from scratch.
Whatever the case, it directly affects the level of work that you provide.
In other words, it costs both you and the client. You make less money and they get an inferior product.
Where's the sense in that?
Haggling over price or chasing "opportunities" with no budget diminishes the value we provide to clients. Plus, it takes a ton of time and effort. It's a lose-lose.
So, we don't do it.
We may miss some revenue opportunities by driving away folks on the margins. But, in my opinion, we more than make up for that by having transparent pricing that attracts inquiries from companies ready to make the kind of investment we expect from our clients.
Counterintuitive approach to turning leads into opportunities
Now you may have noticed from the above screenshot that our process for generating inquiries is probably not "optimized" in the traditional sense.
We don't have some super-slick lead capture mechanism.
Hell, we don't even have a form.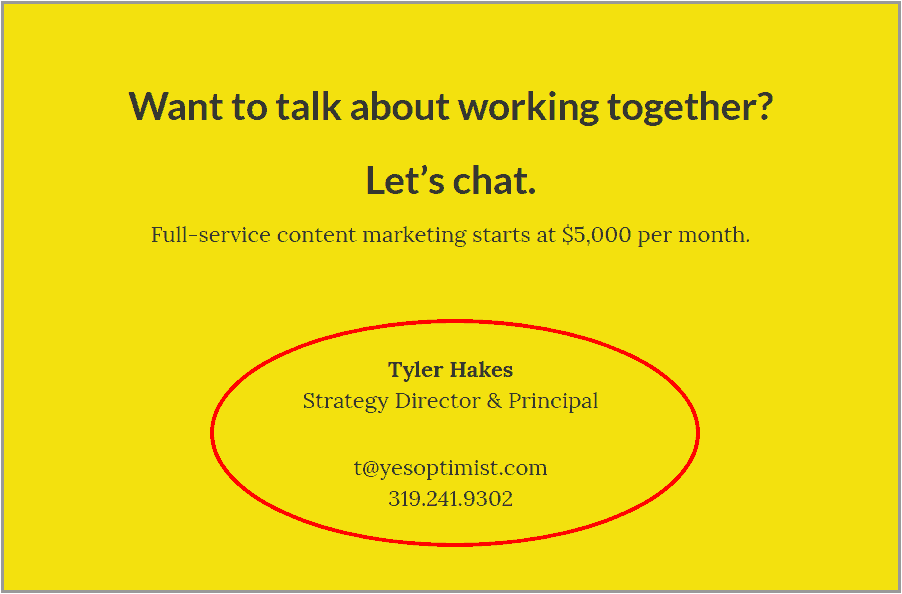 It's an email address and a phone number–plain and simple.
Our approach for lead generation defies most conventional wisdom, which says to make it as simple as possible for people to inquire in order to maximize the conversion rate.
We chose to make it more difficult for people to contact us.
We're playing hard to get.
But this isn't some kind of reverse psychology.
It comes back, again, to filtering and pre-qualifying our inquiries. We want people to be willing to make a small amount of extra effort to reach out to us. Because then we know that they're real inquiries and they're much more likely to convert into customers.
In other words, if someone takes the time to manually inquire, then the hard work of selling is likely already done.
Not only have they been on our site, read our content, and decided that we are a good fit for them. But they also went through the process to manually send an email to set up a call.
If the bar for inquiring was as low as clicking a button or filling out a form, we would likely have more inquiries but a lower overall conversion rate.
That means we would spend more time on the phone with opportunities that would never become clients. I'd be wasting that time that I could spend talking to real inquiries or doing other work.
I'd rather focus on those who truly want to work with us than spend time responding to people who are only half-way interested.
Our success in 2017 seems to show that this is working.
People are willing to make a couple of extra clicks to inquire.
But it does mean that we probably leave some opportunities on the table. There are some prospects who could have made great clients, but didn't have the time or energy to reach out. Or, people who we could have engaged a bit more to push them over the line and drive them to inquire.
The point is that we can–and should–improve this process.
So, as we overhaul our lead generation strategy for 2018, we want to build a more efficient pipeline.
We won't be totally abandoning these principles, but we want to create a system that more easily moves prospects through the funnel and into the sales pipeline. This will give us a more predictable stream of leads and inquiries.
Overhauling our lead generation strategy for 2018
For the start of 2018, our biggest initiative will be to overhaul some major parts of this strategy.
The biggest thing here is that we want to do a better job of segmenting and targeting our traffic and subsequent leads.
Right now, everyone just kind of gets thrown into a big ol' funnel.
This has worked okay. But it means that we can't segment the list to deliver targeted content and it's difficult for us to move into markets outside of startups/SaaS where we've focused in the past.
But, that will now be changing.
Working with Jeromy at Moonshine Marketing, we're restructuring the flow. Rather than having a single funnel and a generic nurturing sequence, we'll have targeted, segmented offers for each prospect. These are carefully designed to move that individual through an AIDA funnel before they enter the sales pipeline.
Last year, I published an article on content marketing frameworks. We've modeled our strategy after the B2B Lead Gen framework I outlined there.
Here's how it works: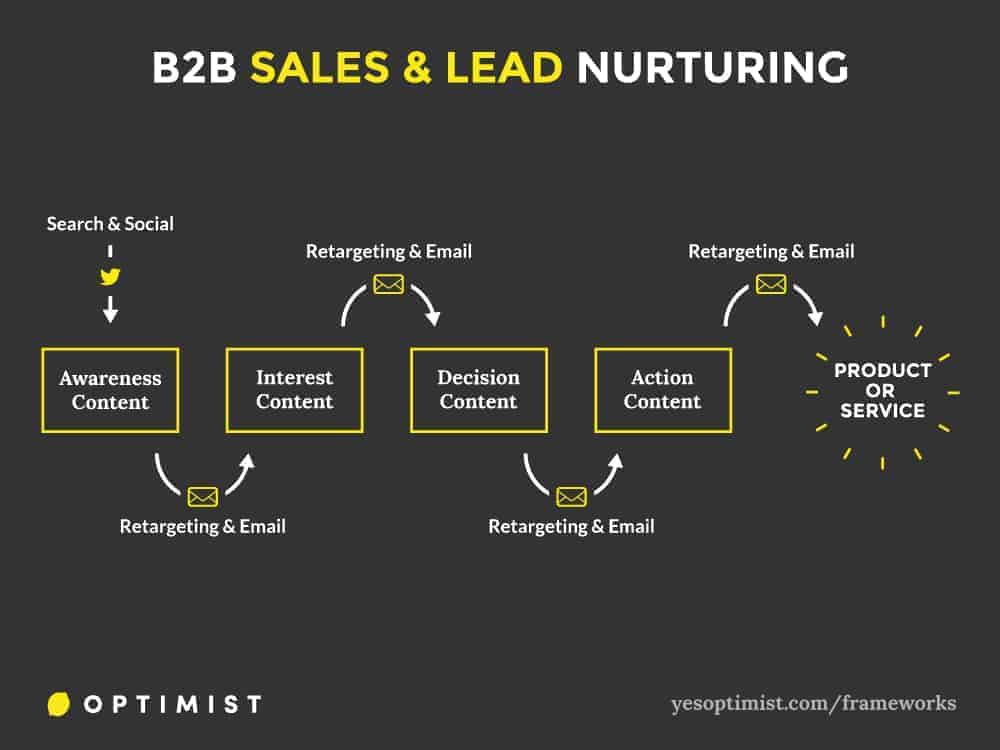 In practice, the content shakes out something like this:
| | | |
| --- | --- | --- |
| Stage | Persona 1 | Persona 2 |
| Awareness | Article A | Article B |
| Interest | Article C | Article D |
| Desire | Content Upgrade A | Content Upgrade B |
| Action | Lead Magnet A | Lead Magnet B |
Like the above framework, we'll use a combination of email and retargeting to move visitors through each stage in the funnel and turn them into full-blown leads. At that point, we can qualify/score them and either reach out directly or send them a nudge to inquire.
On top of that, we can use some retargeting wizardry to squeeze, qualify, and sort site visitors automatically into different funnels.
This means that all we have to focus on is filling the top of the funnel. Then let those people sift through the appropriate stages from there.
With this process comes much more targeted content, offers, and messaging.
It also requires more planning and strategy. (Luckily, we've had help in piecing it together.)
Everything is still coming together, but here is a (messy) whiteboard version from our early strategy sessions to give you an idea of how we are working through the process: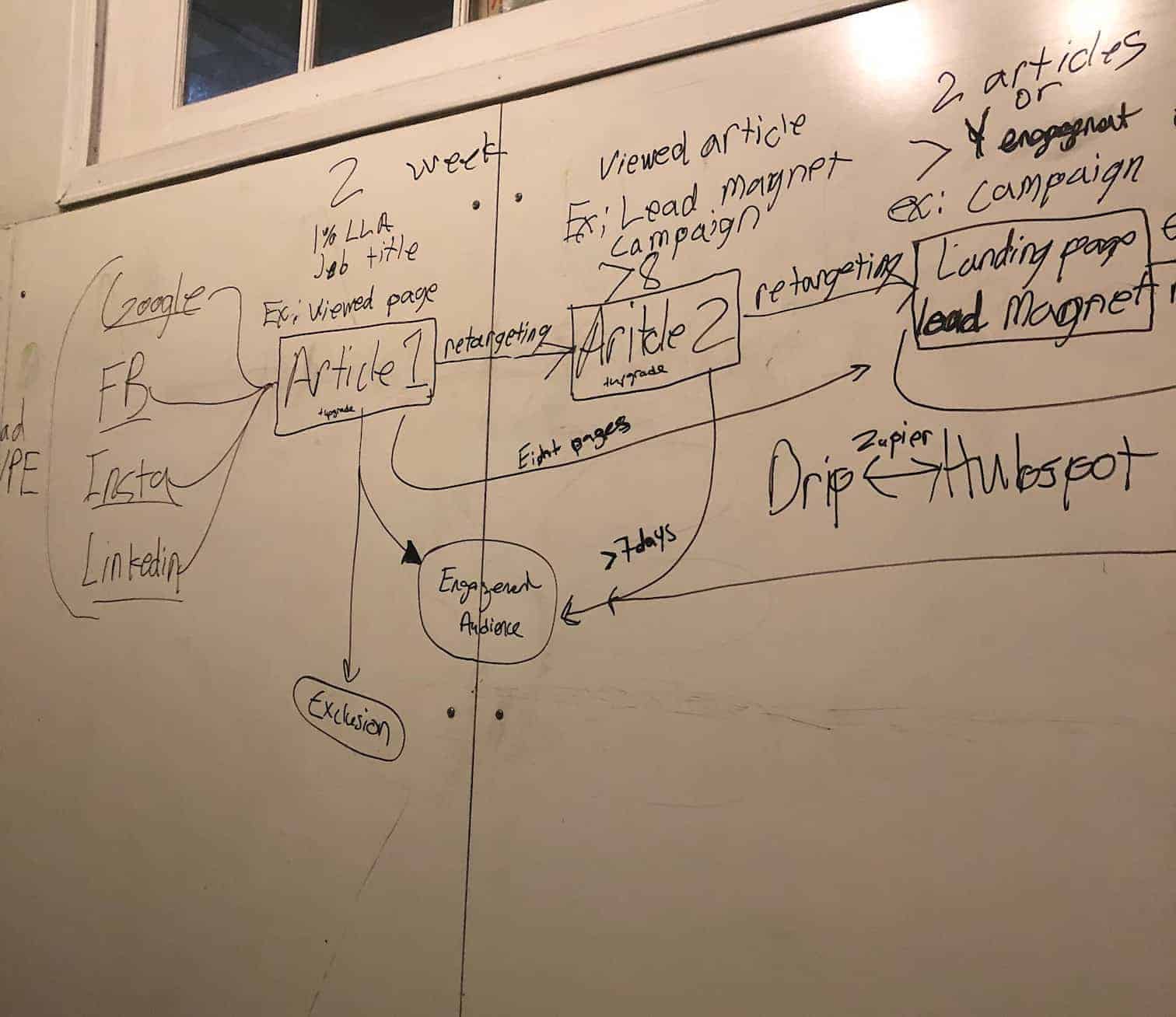 In 2017, we were able to generate nearly 30 inquiries worth an estimated $1.5MM annually. Of that, we have closed about $500,000 ARR; or, a 33% close rate.
So, if we assume the same performance over the course of 2018 and our goal is to increase revenue to $1.5MM, then we will need to generate about $3MM in inbound opportunities. That means a total of approximately 90 inquiries throughout the course of the year.
That's roughly 2 per week.
My guess? We'll crush it.
Seriously–I'm not just saying that to sound confident or arrogant.
Seeing the success of our early and crude lead gen strategy, our new, more-sophisticated system will likely push us to a whole new level.
But, the cool thing is that it's still powered by a simple formula.
Our entire approach to growth and lead generation can be summed up in our approach to content marketing and SEO.
Create kick-ass content, then show it to the right people.
It works every time.
Follow along as we grow a $1,500,000 agency from scratch
Sign up for updates from our agency journal. We'll never send you spam or BS.