Wow.
It's been an entire year since we first launched Optimist and set out to build a million-dollar agency.
We aren't quite there yet, but I'll be damned if we didn't have a great run in 2017.
Back in December 2016, this thing was mostly a pipe dream. We had a bunch of ideas about what would work and what wouldn't. Some of those ideas probably turned out to be wrong. But it sure seems like a lot has gone right. It feels like we're building the agency of the future.
After sorting through some growing pains through the middle of the year, we dug in and evaluated our processes. We found ways to improve our deal flow, identify prospects, and streamline onboarding.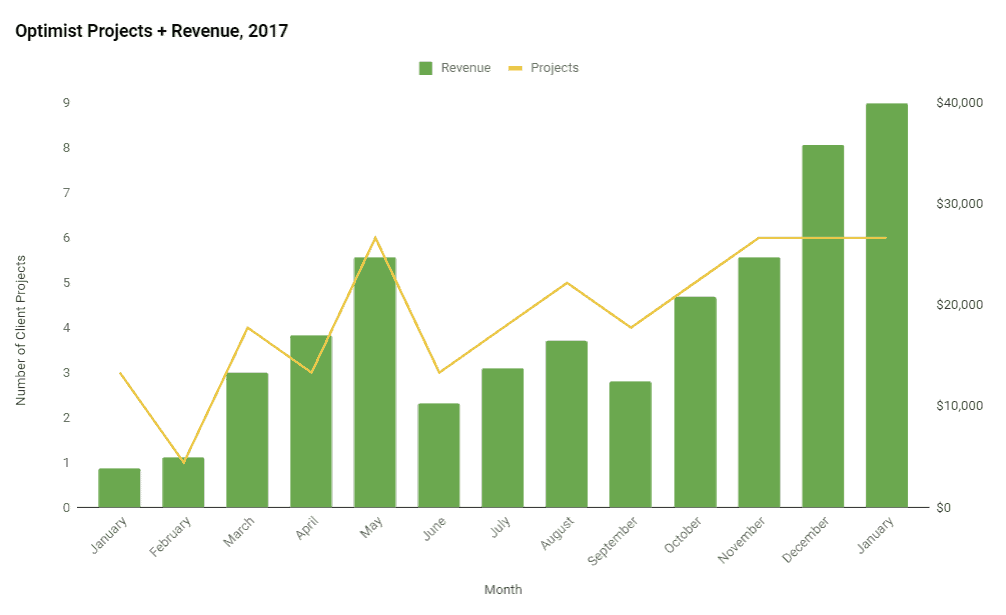 As of January 1, 2018, we have an annual run rate of just under half a million dollars.
It's been a hell of a ride—exciting, rewarding, and scary at times.
Of course I have to give ultimate props to our team. They accomplished incredible things in 2017. Their work has driven awesome results for our clients and propelled us forward.
It's worth mentioning that our clients have also been phenomenal.
We've been incredibly lucky to attract great clients who have been a real pleasure to work with. Many agencies struggle to keep clients happy or grow frustrated with clients that are needy or demanding. We haven't had that problem.
Goal progress for 2017
Part of starting a business is learning to deal with change.
Businesses change. People change. Goals change. Everything changes.
That was certainly the case for us in 2017. As we learned and grew as a company, we also had to shift our processes, change our approach, and recalibrate our expectations. Things like mandatory trial projects undoubtedly slowed our revenue growth, but they were a necessary step to set us up for long-term success.
Here's how things shook out for our 2017 goals.
Goal #1: Sign 10 retainer clients, $100,000 monthly revenue
Progress: 6 retainer clients; $40,000 monthly revenue
Obviously, we did not reach this initial (and lofty) goal for 2017. But, as I explained above, I think that the lessons we learned this year put us in a much better position to meet and exceed this goal in 2018.
Goal #2: Publish 40 articles on Optimist website
Progress: 16/40 articles published
Early in the year, I mentioned that we would probably not be making this goal as we shifted our strategy to focus on publishing a lower number of more in-depth pieces.
Goal #3: Publish 24 guest posts/columns
Progress: 22/24 publishes
A few guest posts are still pending; quite a few ongoing contribution opportunities.
Goal #4: Book 4 in-person presentations or workshops
Progress: 1/4 booked
Pretty much knew that I wouldn't hit this goal. Most conferences and in-person events have a long lead time (sometimes as long as a year) for proposals. So, I've already begun pitching for 2018.
Goal #5: Host at least one joint webinar with strategic agency partners
Progress: Done!
I co-hosted a webinar with my friend Mark Hayes from the Rocketshp growth agency in December.
You can watch the replay of The Growth Blueprint anytime on their website!
Goal #6: Build a list of 5,000+ email subscribers
Progress: 1,500/5,000 subscribers
With our content slowdown, we also saw a slowdown in growth of our email list. As part of 2018, we have plans to get much more aggressive about list building through ongoing retargeting campaigns and an overhaul of our lead generation and marketing automation.
Goal #7: Donate $5,000 to charitable causes
Progress: $1,390/$5,000 donated
No excuses here. I didn't take the time to make the donations I wanted to for 2017 and by the time the end of the year rolled around and the tax bill came due, it seemed a bit risky from a cash flow perspective to try to make up for the entire year.
For 2018, I'm planning to boost this goal and make quarterly contributions.
Key lessons from 2017
Throughout this process, we've all learned a lot.
A big part of the first year of any business–especially a service business, I think–is really figuring things out. You can plan a lot and try really hard to dial in everything before you launch, but you're bound to run into some challenges and situations that you didn't expect.
Those are the things that teach you the most.
The key for us has been to be extremely transparent and honest both internally and externally. Identify our problems, call out when things don't work, and then collaborate on ways to improve.
From that, you can learn both what works and what doesn't work. You can continuously approve, remain agile, and not get stuck in the kind of slow-moving processes that tend to weight down an organization over time.
Here are our biggest takeaways from 2017.
Lesson #1: Inbound works
Look, we're a content marketing agency. Obviously, we believe in the idea of inbound marketing. But when you set out to build a new business, it can scary to rely entirely on this approach right from the outset. It feels a bit like you're just waiting around when you should be out there "doing something".
But, I can say without a doubt that inbound has worked for us.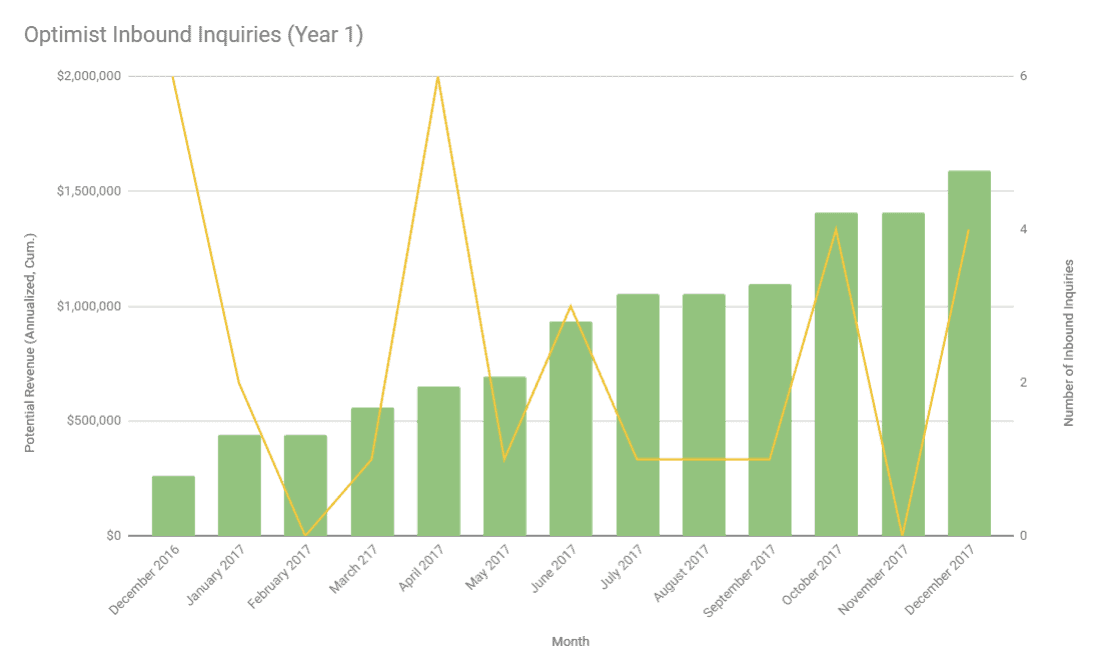 In our first year, we generated nearly 30 inbound inquiries and sales opportunities worth more than $1.5MM in annualized revenue. We did it with almost no outbound prospecting. (I tried some early on; it didn't go well).
But, most importantly, each person that entered our sales pipeline was already sold on working with us.
They found our website and our content and already decided that they were interested in hiring us. This is such a huge time saver and it makes the entire process easier and less stressful. It's not a sales pitch, it's just a conversation.
That's how we've grown our agency from the outset and that's how we plan to continue to grow in 2018.
No growth hacks, no sales gimmicks, no bullshit.
We focused on doing what we do best–and it delivered.
Lesson #2: Client fit > Everything else
Per the point about inbound leads self-qualifying, we learned early in this process that agency-client fit is probably the most important thing in any relationship.
For one, there are all kinds of different expectations about content marketing and SEO. If the client doesn't see eye to eye with the way that we do things, it can make for a bumpy partnership. So we instituted mandatory trial projects for all new clients. It helped us filter out clients that weren't a fit or seemed to be too high-maintenance for our team.
Secondly, if I'm put in the position of having to hard-sell someone on buying our services, then I'm probably in the wrong room.
Knowing myself and knowing that my expertise is not sales, we very deliberately structured our agency and our flow to focus on inbound leads.
Lesson #3: Everyone has unique working styles; use it as a strength
One of the founding principals behind Optimist was the idea of having a flexible, agile team comprising a bunch of full-time, professional freelancers. The idea was to give everyone a seat at the table and the autonomy they need to do their best work.
In practice, that looks a bit different for each person.
Some people like to work 9-5, M-F. Others like to work at nights and weekends. Some of our team likes their work in a big batch; others like to work on stuff at their own pace over the course of a week.
Now, a lot of companies spend tons of time and energy fighting these differences and trying to whip everyone into conformity. And, admittedly, it can be difficult to try to juggle a bunch of different schedules and work styles.
But, we've found that finding ways to work those differences in and using them as a strength has been the best way to handle it. Rather than fighting an uphill battle, let gravity do the work. Figure out what works for people and then do what you can to play to their strengths and downplay their weaknesses.
We've learned tricks all along the way–how to harness each person's schedule and work style to help them do their best and help us continue to deliver.
Lesson #4: Each client is unique, too
Along those same lines, a huge part of any service business is understanding your clients and their individual needs. Luckily, we really only sell one "thing". So, for the most part, our day-to-day work stays about the same. But communication and management style can vary wildly.
We work with busy startup founders who are wearing 23 different hats already–they want a regular update with bottom-line numbers. On the other hand, we work with content folks who love to talk shop and trade jokes and ideas with the team.
Each of these is unique. If we give them all the exact same experience, then only a small portion will be happy and everyone else will feel like we aren't delivering what they want and expect.
We try to be as accommodating as possible. We try to read and understand each client's needs and wants–then deliver the kind of experience that makes the most sense for them.
At the end of the day, you aren't just selling time or content or ads or whatever. You're selling yourself. You're building a relationship that's nearly as important as (or maybe even more important than) the work itself.
Learn your team, learn your clients, and learn how to put everyone in the best position to succeed.
Lesson #5: MRRREAM (Monthly Recurring Revenue Rules Everything Around Me)
Last–but certainly not least–we learned the power of the monthly retainer.
Our goal from the outset was to work on a retainer basis and build the business this way. But, 2017 just affirmed that idea.
You likely noticed in our monthly income report that we had a lot of ups and downs over the first half of the year. It was frustrating. Not only do you want to see your revenue grow in a consistent way, but having unpredictable income makes it nearly impossible to plan for the future.
For us, this instability was often caused by project work.
We had a number of opportunities that were not a source of long-term, ongoing revenue. They were one-off projects that gave us a temporary boost to the books. Since we were a young, hungry company, we took on a lot of that work early on. This was the wrong choice.
It created instability and unpredictability in terms of both work and income. It put us a fundamentally different path from the one we set out to follow.
That will change in 2018. No more project work.
The only one-off projects will be the mandatory pilots at the start of every new engagement. But, we won't be picking up anything else unless it will lead to steady, consistent revenue.
Our agency goals for 2018
This has been a hell of a year.
Lots of amazing progress. Tons of learning. A few mistakes. But, all in all, I think we are poised to really roll into 2018 with a vengeance. I know that, personally, I feel a renewed sense of urgency and I'm excited to take on new challenges in the year year.
So, for 2018, we'll be pumping up our goals.
Goal #1: $1.5MM annual run rate
Knowing that we haven't reached our initial goal of $1 million, it may seem nuts to raise the bar for 2018. But I don't think so.
First of all—we've learned a ton. Many of the early missteps and process problems have been discovered and resolved. Now we're smarter and more efficient. We can focus on driving sales opportunities and not on figuring out the sales and proposal process from scratch.
Second of all, we already have more traction going into 2018 than we did coming into 2017.
As of the time of publishing this, we have at least 4 opportunities in our sales pipeline and a clear plan to overhaul our lead generation strategy and built up a solid flow of new ones in the coming months.
Goal #2: Publish at least 20 posts on the Optimist website
This one's pretty straightforward. We have an editorial calendar planned out for most of the year and I'd like to have a consistent flow of new content on the site every 1-2 weeks.
Goal #3: Publish at least 25 guest posts
Now that we have contributor access to many websites, this should be no problem.
Goal #4: Publish 2 ebooks/white papers
We've offered content upgrades as our main lead generation tactic, but this year, I'd like to roll out at least two proper ebooks, guides, or white papers.
Goal #5: Present at 5 events/conferences
Bumping up my goal from last year. Since I have more lead time this time around, I'm hoping we make better progress.
Goal #6: Host at least 3 webinars
I had a blast presenting at the webinar with Mark from Rocketshp. This year, I'd love to do more of them.
Goal #7: Launch an online course
Here's something new for 2018.
I want to launch an online course on content marketing strategy. This will mean compiling and writing everything I know about how to build a killer content marketing strategy—then putting it together into something awesome and valuable.
Stay tuned as I figure out exactly what this looks like.
Goal #8: Donate $10,000
I fell short of my goal for 2017. Cash flow was a bit less predictable than I hoped for most of the year. Again, we begin 2018 on much more stable ground—with a stable of clients, predictable revenue, and a pipeline for growth.
As such, I think we should have no problem committing to donate more this year than last.
As part of this process, I'd like to make quarterly contributions of $2,500. That will help me stay on track.
All in all, I couldn't be more excited for what's to come in 2018.
Through the ups and downs over the last year, it has undoubtedly been the best year of my life. I feel like we've built an amazing team and an incredible vision for the future of agencies.
If you're building an agency, a service-based business, or any kind of company, feel free to share your goals and lessons in the comments. I'd love to learn from you.
Here's to an amazing year.
✌
Top photo © Simon Cory
Follow along as we grow a $1,000,000 $1,500,000 agency from scratch
Sign up for updates from our agency journal. We'll never send you spam or BS.