This post is part of the agency journal–the section of the site where we share a fully transparent look behind the scenes of Optimist as we grow a new kind of agency from scratch.
If you have questions, always feel free to leave them in the comments.
---
Optimist has now been a thing for three months.
I can't decide if it seems like a decade or a week, but either way, each day has been a new adventure. I've already learned a ton and I think our team has felt both the ups and downs of starting something new.
We're starting to settle into a rhythm for our client work and also figure out a cadence for our own promotion. There's a long way to go, but we're making progress. So, it felt like the right time to make a post about the innerworkings of our agency and share a bit about what we're building.
Trying to build the future
Since this is the first in this series, I want to start by taking a step back to introduce the idea behind Optimist and what we want to do and how we are hoping to do it.
Optimist is an agency for the 21st century.
We're focused entirely on providing full-service content marketing (from strategy/management to creative, promotion, and distribution). But we're doing it without a full-time staff.
Instead, we operate as a collective of remote freelancers, each bringing their unique skills and talents to the team and giving us everything we need to meet the needs of our clients.
Benefits
Of course, not having a full-time staff also means that it costs less for us (me) to start up. There's less overhead and risk.
But, that's not the only reason I've chosen this model.
It just makes sense in the modern world
Everyone feels more like peers versus a traditional hierarchy
We aren't confined geographically or limited by salary
Our team is agile–able to be reconfigured based on client needs
Challenges
This kind of agency also presents its own challenges. We need greater buy-in from each of the team members–they have to feel invested in what we're doing and have a reason to care and remain committed to our work.
I believe that the way to accomplish this is not through strict deadlines or forced quotas, but by giving each member of Optimist a seat at the table to decide our direction and to have ownership over the work that we do.
This means that members are able to choose the work that's meaningful and exciting for them, and also have a financial stake in our success.
We're building an agency on the premise of collective good–for us and for our clients.
Our first 3 months, by the numbers
We officially launched Optimist about November 28. So, for the sake of simplicity, I'm going to say we've been around for three months. (Close enough, right?)
In that time, we've accomplished a lot. But, as most business owners, I never feel like I've done quite enough. Either way, let's start with a recap of what we've seen happen so far in these first 90 days of existence:
5 posts published
8 guest posts published
756 email subscribers
10 inbound sales leads
70 outbound sales emails
1 outbound sales lead
3 paying clients
By the numbers, I feel pretty good about what we've accomplished. But, I know we need to do more to get to where we want to be.
Our current position
First of all, the good news is that we generated 10 inbound sales leads in our first 90 days plus interest from one outbound pitch–that's 11 total leads in 3 months.
This is huge.
Honestly, I didn't expect such a big response this early. (And when I say an inbound sales lead, I'm talking about literally receiving an email from someone saying, "I'd like to hire you.")
Not all of the inbound leads were a great fit for us. In fact, I turned down or referred most of them to another partner. But that's fine. We still landed 3 paying clients and 2 more that are currently at a proposal stage and could be signed by the end of March.
It's worth noting that not all of our current clients are our "ideal" client. We've been asked to do some project and trial work, building into a relationship. This work is nice and generates revenue, but it's not our ideal scenario, which is a retainer client for ongoing work.
Either way, we are on track to possibly have 5 paying clients by the end of March, which would be a monstrous start.
We have pricing stated right on our homepage. So having a prospect email us looking for services means they see tremendous value in what we have to offer. They're not just looking for a bargain.
On the flip side of that, we have not done a great job in every area.
I think that the most obvious place where we've been slow to execute is on our own content. We've hobbled together 5 posts, but we haven't fully executed our own content marketing strategy as well as we would for a client. This is almost entirely my fault, as I haven't utilized the team or prioritized content as part of my own schedule.
I've flirted with outbound prospecting and other marketing and sales channels to try to help boost our visibility in the short term. But, I've found that content and inbound leads seem to work best for us.
Over the next few months, I want to dedicate more of my time and resources to our own content, guest posts, and other activity to generate inbound sales.
Clients and sales
So far, almost all of our work and inquiries have come from inbound sales leads.
Compared to the 10 inquiries we've received directly, we were only able to generate 1 lead through outbound sales pitches to targeted groups (specifically startup companies that had raised funding).
Inbound leads
Of our total of 10 inbound sales leads, 5 of them have been a good fit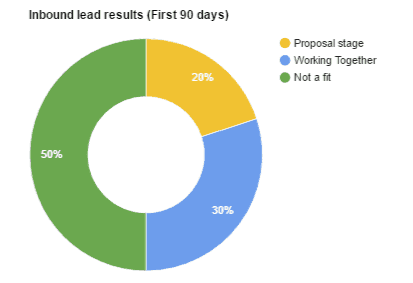 This is obviously good news.
First, we have been able to generate inbound interest. And, secondly, we've been able to qualify almost 50% of those inquiries as being a good fit.
Outbound sales
I think our first 90 days has taught us that inbound sales opportunities will ultimately be better and more lucrative and that outbound selling is not an efficient use of time and energy. (Or, maybe I just suck at it.)
Throughout the first few months, I put together a few targeted lists of prospects based on specific criteria:
Growth-stage companies
At least $1.5mm in funding
Interesting/exciting business
Clear path to growth through content marketing/SEO
I pursued a number of obvious strategies like targeting companies soon after they announced a Series A or contacting companies with full-time job listings for related positions.
The response sucked.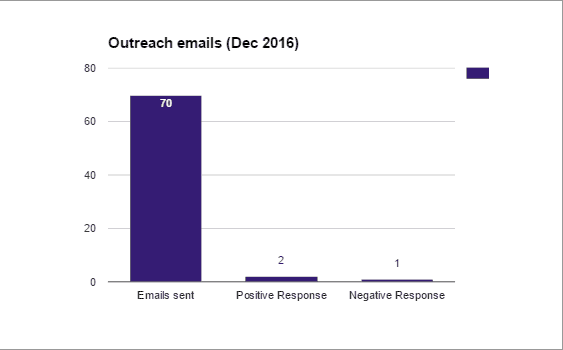 All told, I sent over 70 emails and got 3 responses. One was an opportunity, but it as spurred by a connection that I had inside the company (did not lead to business), one was a polite "no thanks", and one led to a call (the client is interested, but not ready to buy).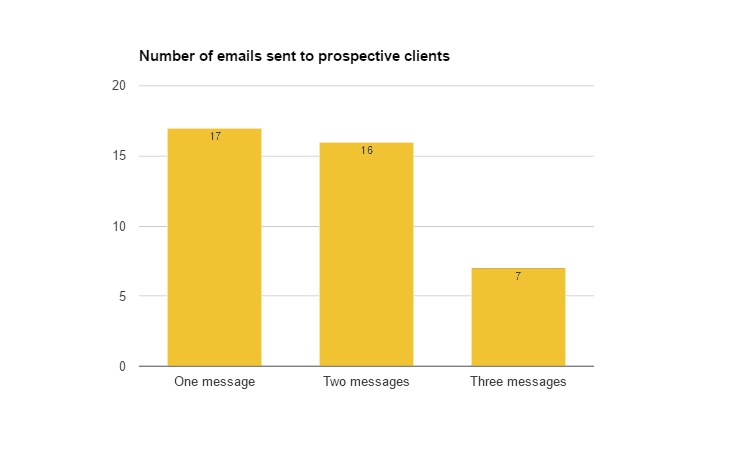 I didn't just fire off one email, either. In most cases, I tried multiple times to contact people–and sometimes attempted to contact multiple people within the same company. The responses that I did get (all three of them) came after just one message.
For the time being, I am going to cease outbound sales efforts and focus on the activity that will help us continue to generate inbound leads.
Sales and revenue
To date, we've generated nearly $20,000 in revenue.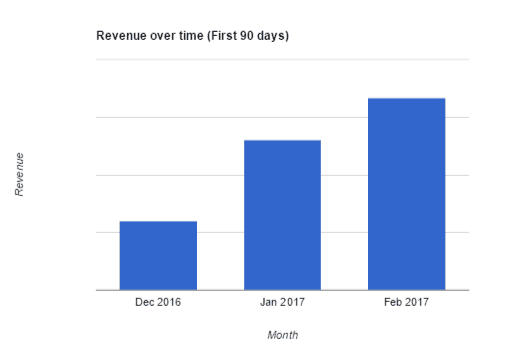 In the future, I am planning to share specific data on revenue and cash flow, but because the sample size is so small at the moment (with 3 paying clients), I'll just show relative growth for the sake of anonymity of our clients.
People and operations
Part of getting up and running in the past few months was finding the right talent to populate our team.
We are in a pretty interesting place, because we have ambitions to scale our available work pretty dramatically, but we only have a few clients right now.
So, we've solved this by essentially compiling a "roster" of freelancers. There's no committment involved with being on our roster but everyone is added to a Slack group where we're able to discuss new opportunities and get to know each other. Then, when we have the right work available, we can assemble a team for that client and get started almost immediately.
As of today, our roster contains:
2 content strategists/managers
3 writers/editors
2 designers
2 marketing admins
We're looking to add some additional help over the next few months as we start to ramp up operations.
From an operations perspective, we have a pretty simple tech stack:
Trello – Project/editorial management
Google Sheets – Editorial planning
Slack – Team communication
We can already see that there are limitations and we are planning to soon start experimenting with task and project management software. I'll probably write a separate post on our findings there and how we build a system that works for us.
From a content marketing perspective, we're using Ahrefs and Moz as our primary tools for keyword, content, and outreach data.
Year 1 goal: $1,000,000
The main goal for Optimist in 2017 is simple (but not easy): Build a $1,000,000 agency.
For us, that means signing 10 retainer clients to $10,000 per month contracts. That would give us $100,000 MRR and a $1.2 million run rate.
10 clients * $10,000/mo = $1.2 million run rate
This certainly seems a bit ambitious, but I think it's very feasible if we maintain and build on the momentum that we've generated in the first few months. Even if we hold steady at the same number inbound sales leads for the rest of the year–about 3 per month–then we would only need a 28% close rate to reach our goal.  And that's without considering the work we'll be doing to increase the number of inquiries that we receive.
My full list of goals for the year looks like this:
Sign 10 retainer clients, estimated $100,000 MRR
Publish 40 articles on Optimist
Publish 24 guest posts/columns
Book 4 in-person presentations or workshops
Host at least one joint webinar with strategic agency partners
Build a list of 5,000+ email subscribers
Donate $5,000 to charitable causes
I'll be publishing regular updates to the agency journal, so subscribe below to follow along as we make the journey to $1,000,000.
Follow along as we grow a $1,000,000 agency from scratch
Sign up for updates from our agency journal. We'll never send you spam or BS.