When it comes to building a startup, growth is king.
Close second? Recurring revenue.
Especially in the world of SaaS companies, having a steady stream of monthly and annual revenue is the hallmark of success.
So, imagine building a business and scaling it to $50MM ARR. Then, imagine that you accomplished that in under 5 years.
Seems insane, right?
And, to be sure, it's not an easy feat–only a few startups have ever achieved this kind of incredible growth and success.
But Intercom is one is of them.
And a huge part of that growth has been their strategic use of content marketing and SEO, which has driven traffic, built brand awareness, and fed their marketing and sales funnel.
For this article, I'm going to tear down Intercom's content marketing efforts and reveal the key strategies that they've used to grow and scale at such a phenomenal rate.
We'll look at the overall types of content and tactics that have worked for Intercom and then reverse engineer real-world examples to see how those same tactics can be used by other startups to fuel growth.
This should be fun.
Intercom's Growth by the Numbers
When we talk about startup growth, there are a lot of amazing examples out there. Many companies have built huge, successful businesses seemingly overnight (especially with a nice infusion of venture capital).
But, there are different levels of growth.
There's great growth. Then, there's holy shit growth.
Intercom is–without a doubt–a case study in holy shit growth.
They've grown from $0 to $50MM in annual revenue in just 4 years; of that, $49MM came in just the last 3. They're on track to become the second-fastest SaaS company to reach the $100MM mark. Only Slack has grown faster.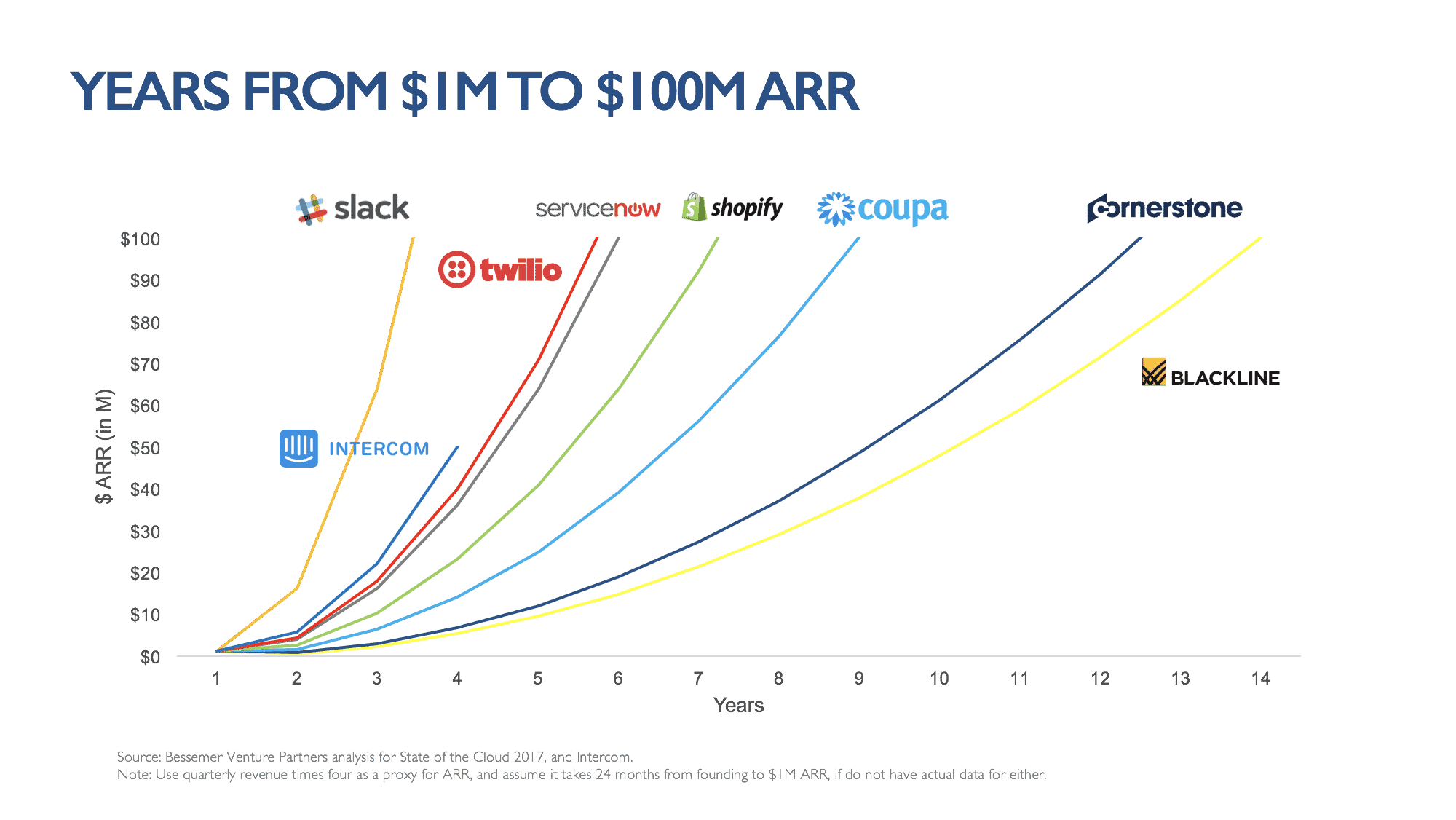 Possibly even more interesting is that Intercom's growth has come in the face of fierce competition. Their product–although lauded as a true market leader–is not entirely novel.
At the same time Intercom has gobbled up some 17,000 paying customers, companies like ZenDesk, Groove, HelpScout, and many others have lurked around the edges, trying to siphon off customers and market share.
But, Intercom has proven not only to be a worthy competitor. They've dominated.
Of course, their success has come from a number of factors. (Having the best product is likely tops.) But some portion of that success stems from their marketing and growth strategy. In this case, Intercom has masterfully used a combination of SEO, content marketing, and paid acquisition to fuel enormous growth and market domination.
In this tear down, we're going to focus on the organic growth–the content and SEO–and its role in building and growing a sustainable funnel of new customers.
We'll learn the key strategies that they've used to amass a big footprint and then use their content to attract prospects and push them through the marketing funnel at an incredible pace.
How Intercom Has Grown with Content and SEO
It's really no secret that content and SEO have been central to Intercom's growth.
In fact, in the early years, Intercom's co-founder, Des Traynor, popped into a thread on HackerNews to share their progress. He mentioned how content had been their leading growth strategy.

And, if we track their growth over the years since, it's clear that Intercom has been growing their search and content visibility.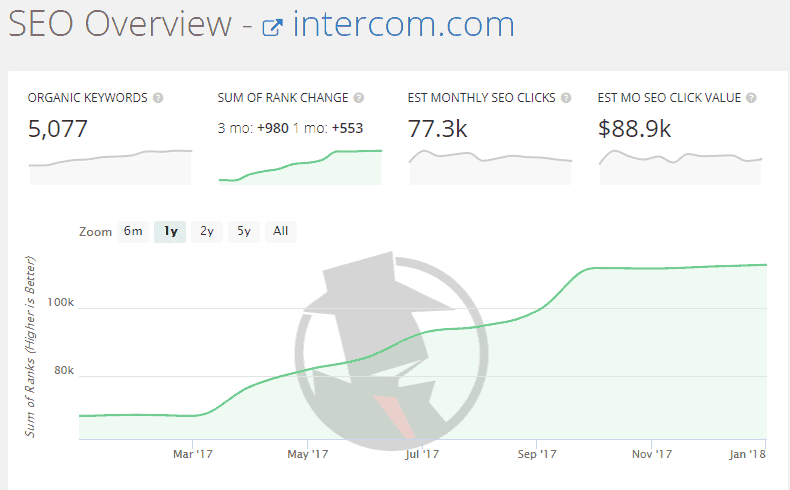 As outside observers, we don't have exact data on their traffic over the years. But we can use various tools to estimate how they've grown and which channels have fueled that growth.
But more importantly, we can look at the content that has been most successful for Intercom and use that to learn the key strategies that Intercom has used to build a $50MM ARR company.
KEY STRATEGY #1
Targeted, Evergreen Content
The key to building a sustainable and growing pipeline of inbound leads and customers? Evergreen content.
The role of evergreen content is to fill the top of the marketing funnel. By targeting specific, persona-driven keywords, these guides and articles often serve as the first touchpoint between a prospective buyer and your brand.
This is the bedrock of an inbound marketing strategy where you want to attract targeted traffic to your website and then convert them into customers or clients.
In the case of Intercom, they have targeted some medium- to high-volume keywords that are relevant to their target personas. Here are some of the top keywords that Intercom currently ranks for and the content that appears in the search results: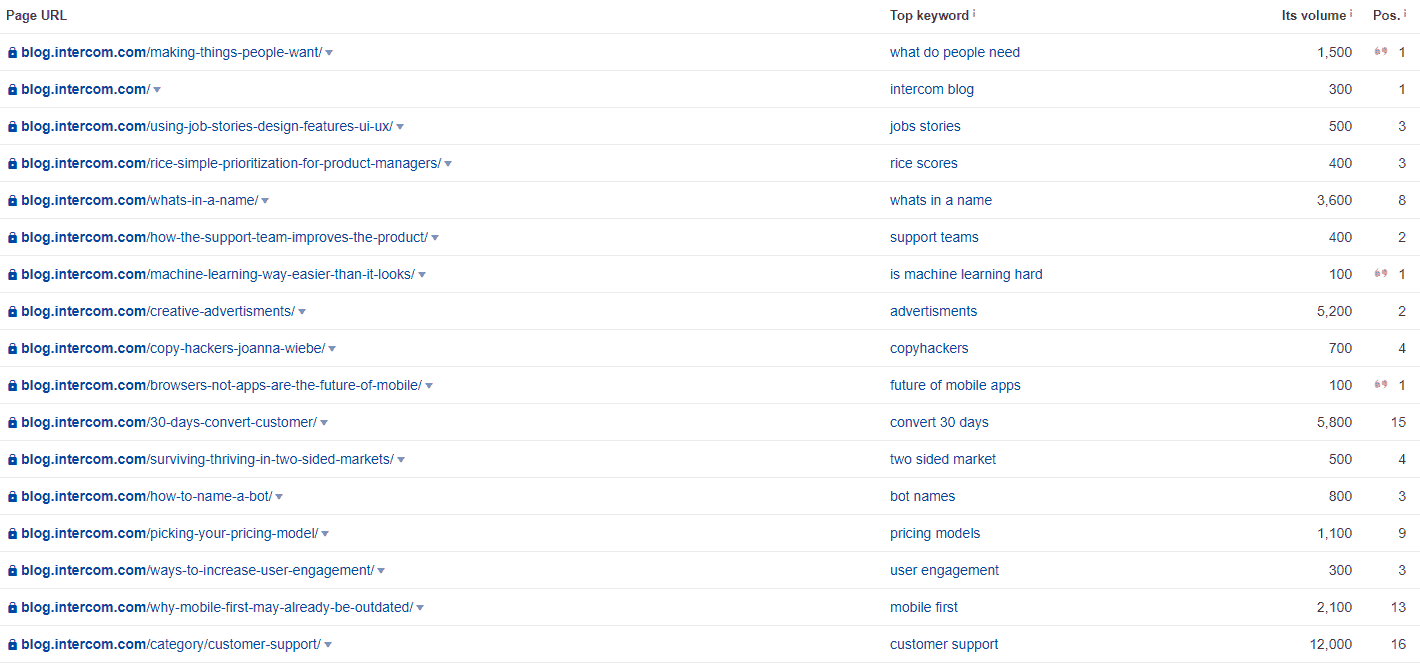 The way this works is pretty simple. By targeting these keywords, Intercom has built a solid stream of inbound traffic to each of these articles.
And because the keywords and content are targeted at the key buyer personas for the Intercom product (e.g., people interested in "user engagement", "pricing models", and "customer support"), the visitors flowing to these pages is almost certainly prospective customers—even if they aren't ready to buy right this second.
As a pillar of their overall content marketing strategy, Intercom has likely conducted thorough keyword research to identify and target the most relevant terms for their audience(s).
I'm not going to get into the full keyword research process here, but Intercom has written about how they use the Jobs to Be Done (JTBD) framework to help them understand and identify their audiences and their needs.
You can also check out our guide to creating insightful user personas, which is the process that we use to define the Roles, Goals, and Worries for our target buyers. This leads us toward specific content topics and keyword ideas.
Driving conversions from evergreen content
One main point of confusion for a lot of people is that they expect it to immediately drive new users or customers with the right blog post. They expect people to come to their site, read one article, and then immediately sign up or buy whatever they're selling.
In reality, a very low percentage of your traffic will convert into a customer/user with only one touch.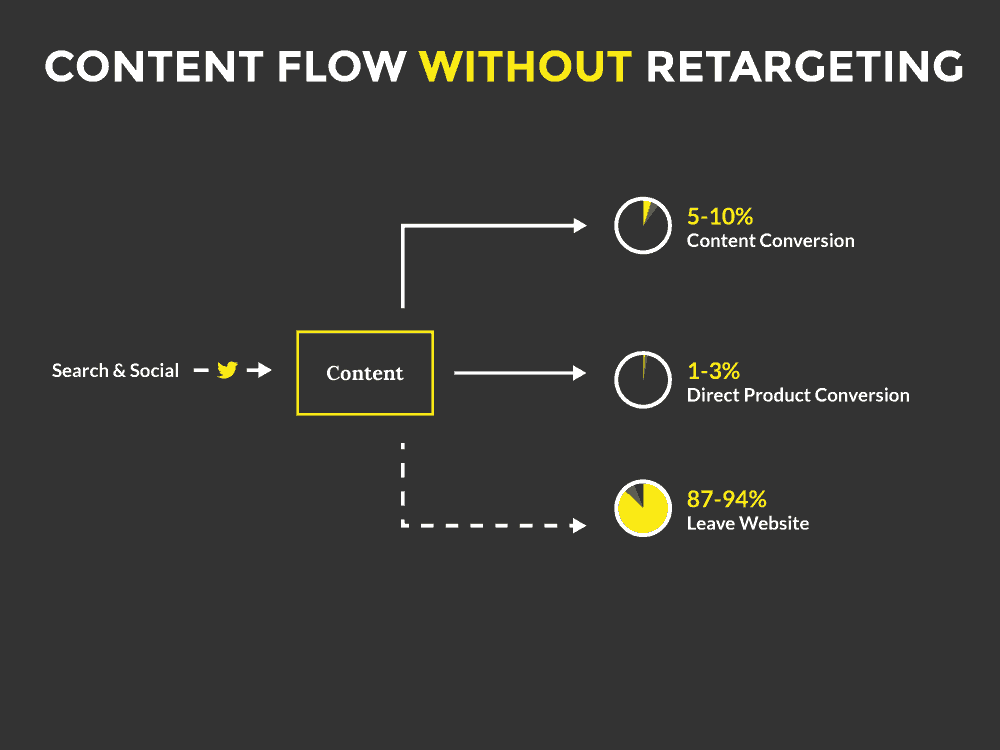 Especially when we're talking about evergreen content, which is often excellent for filling the top of the funnel but may not directly convert into sales for the product or service. It can be difficult, unnatural, or just plain unrealistic to expect those visitors to jump from reading your post right to whipping out their credit cards.
But you can still get tons of value from this traffic.
Intercom uses "Next Steps" prompts, content upgrade offers, and a newsletter to convert a portion of their traffic into prospects in their marketing funnel.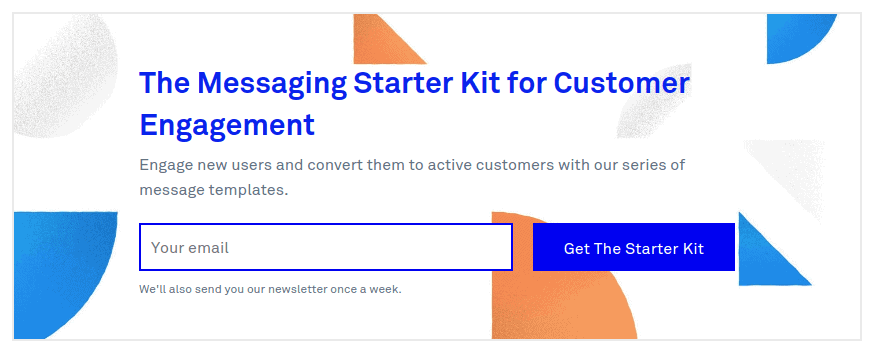 By using these offers to keep visitors engaged and capture email addresses, they're able to grow their email list. This means they expand their content reach and they can nurture those prospects with targeted emails and content offers.
The key here is to focus both on the short-term impact of content marketing (traffic, conversions), but also think about the long-term effects of list-building and brand awareness.
In most cases, you can't build a successful growth strategy by only focusing on immediate product/revenue conversions and trying to force those conversions into your content will likely turn off your visitors and hobble your overall performance.
BONUS STRATEGY
Granular Retargeting
If you're like most marketers or founders reading the above section, you're probably thinking, "why the hell are 90% of my visitors just leaving–and how do I stop that?"
There are a number of tactics to try to increase your on-page engagement, visit depth, and dwell time. But a much more powerful strategy is to recoup those visitors by using smart, granular retargeting.
You likely already know the power of retargeting. It's an incredible way to recapture, re-engage, and build additional touches with your target audience. Strategically, it allows you to recoup all (or nearly all) of the traffic bounced from your website and may or may not ever come back again.
In theory, this allows you to grow the top of your funnel by 10-20x instantly.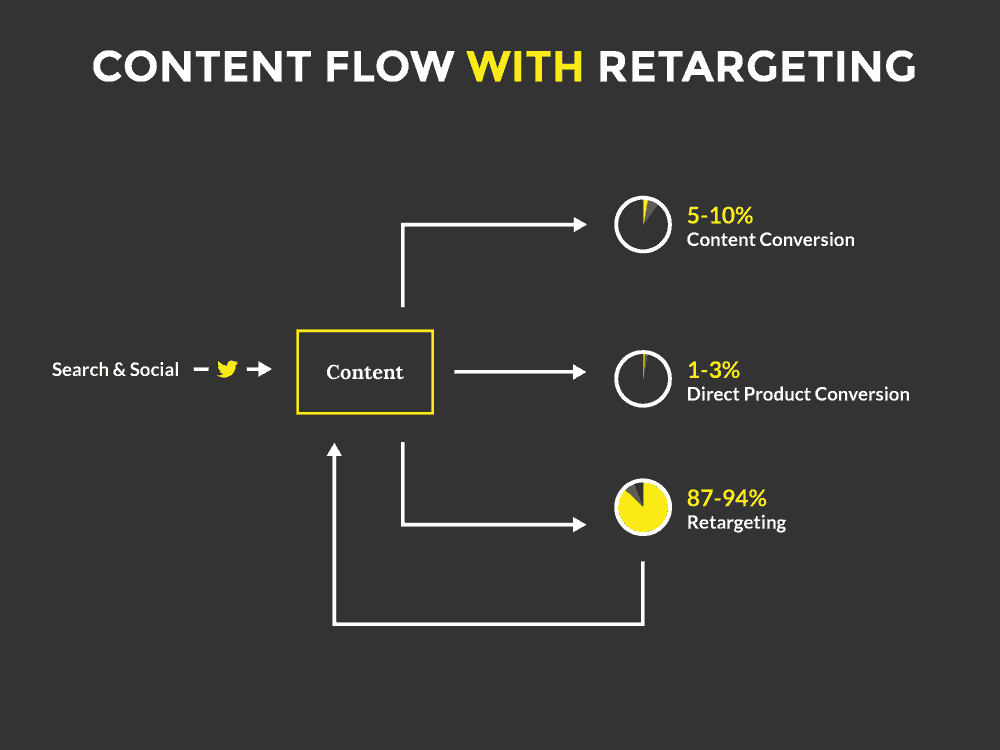 Intercom, of course, uses retargeting as a strategy for driving conversions. If you're reading the content on their site an then hop over to Facebook, you'll likely see an ad offering you a free trial of their software.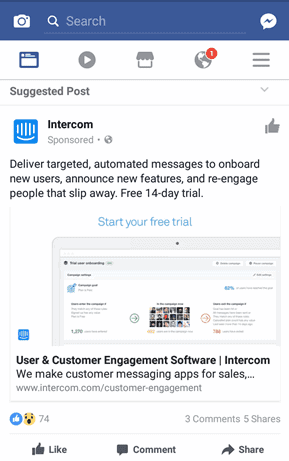 But, if you want to really drive value from your retargeting strategy, you can drill down and segment your audience to pair them with precise offers based on the content that they've viewed on their website.
For example, Intercom gets a lot of traffic to this post on customer support and this post on product marketing. Readers of both of these articles could be potential buyers, but they are likely have different motivations, goals, and interests.
So, why would you retarget both sets of readers with the same ads?
This is where you can get granular with your retargeting, to segment your audience based on the content and then push them into a funnel that's targeted and specific.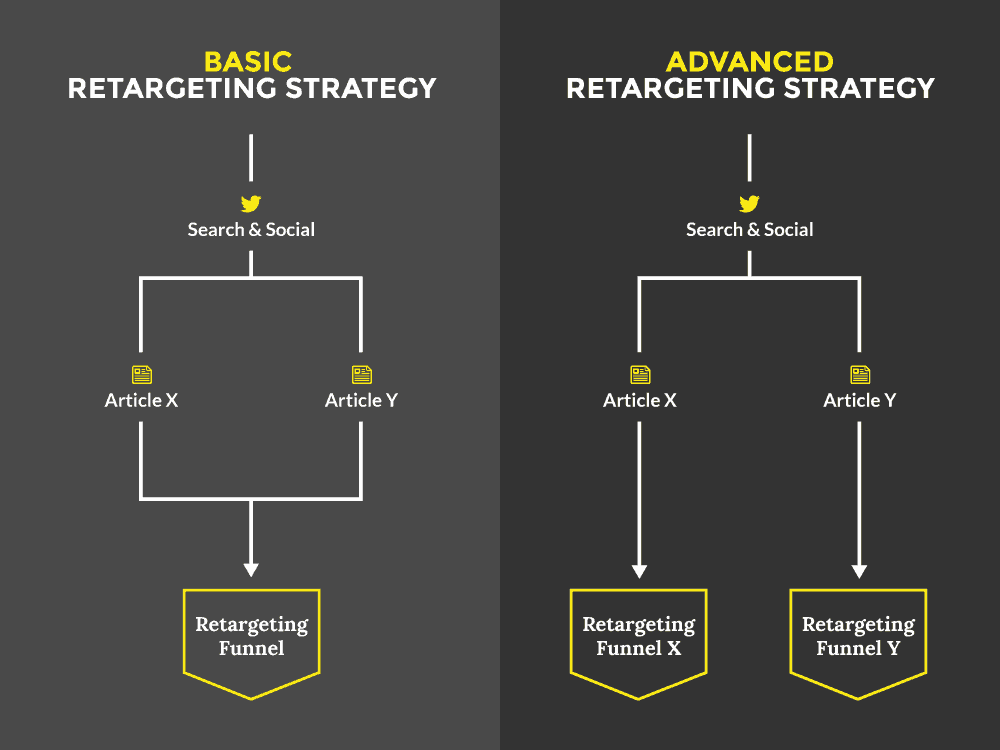 In addition to that, you can use a progressive retargeting strategy coupled with a targeted content sequence that will move each prospect through your marketing funnel and toward a buying decision.
I wrote about various content marketing frameworks last year, but in this case, it probably looks something like this B2B framework from the original post: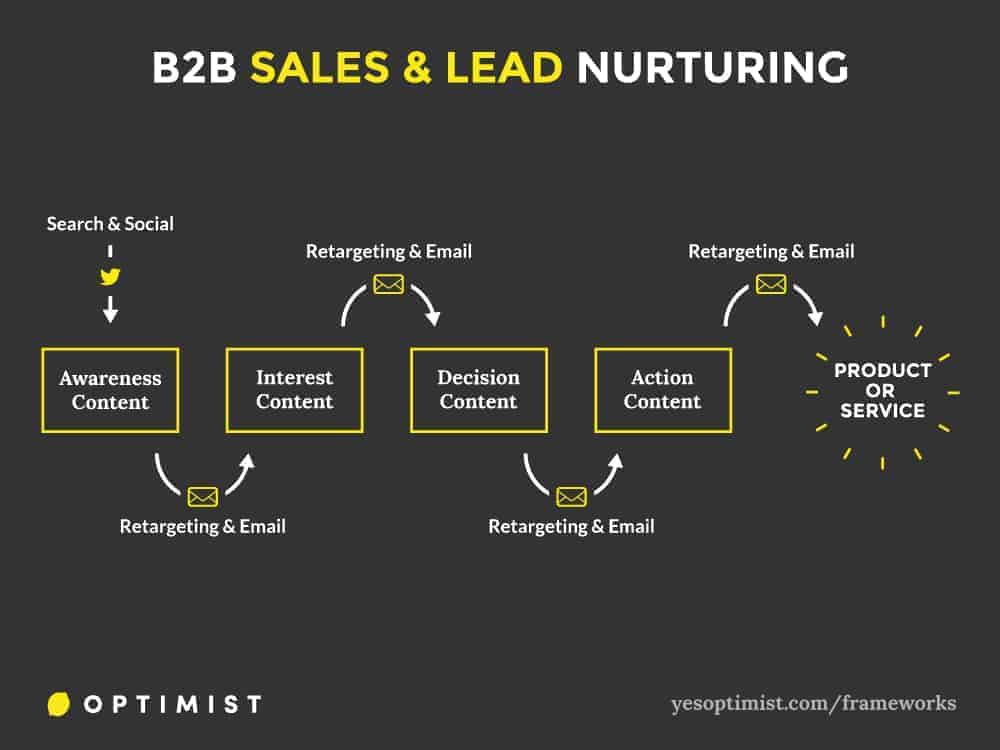 By combining both of these, you can create a hyper-targeted content funnel for each of your posts and then drive conversions through the funnel with incredible precision.
KEY STRATEGY #2
Building Links with Actionable Thought Leadership
One of the biggest fallacies about SEO is that if you simply put content out into the world and wait long enough, you'll eventually move up in the rankings for the keywords you actually care about.
I call this the "blog and pray" strategy. (I would not recommend it).
In reality, you need to build links to your website in order to start driving traffic to the evergreen content from strategy #1. Without inbound links and a strong domain authority, all of that evergreen content–no matter how good it is–will just flounder somewhere on page 5 or 6 of Google for whatever keywords you're trying to target.
There are a lot of different ways to earn links to your website. Many times, the content that is best for earning links is some kind of visual asset (infographic, data visualization, map, etc), a report, a study, or an interesting piece of data.
In Intercom's case, they have succeeded at building links with thought leadership.
They've picked up on interesting topics or emerging ideas within the field of customer support, startup growth, and design. Then, they use their blog to advance that idea in a new direction or solidify and refine it in a way that provides perspective and insight for others in the industry.
As the ideas grow, they have an interesting article that will organically pick up links from others writing on the same topics or trends.
Intercom isn't always the first one to the table, either. They seem to focus on emerging trends and putting their own spin on the topic.
As an example, here's a super-popular post from Intercom of the use of cards in modern design: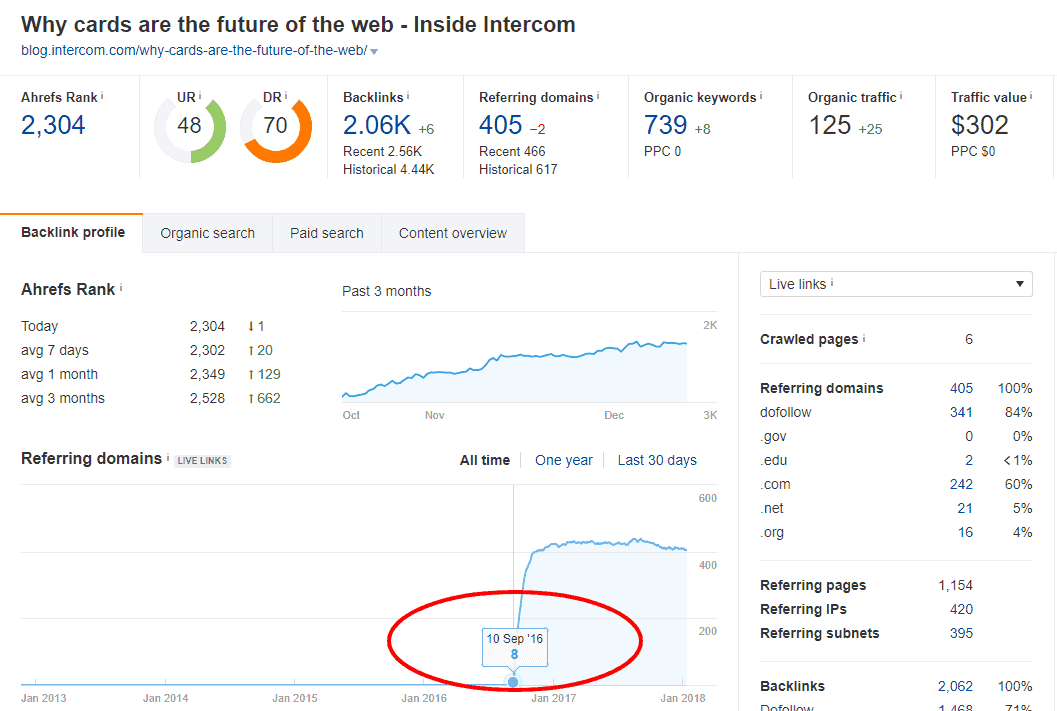 As you can see from the data, this post appears to have been published around September 10, 2016.
But, here's a very similar post from Nick Babich that was extremely popular on Medium in March of 2016–or, about 6 months earlier.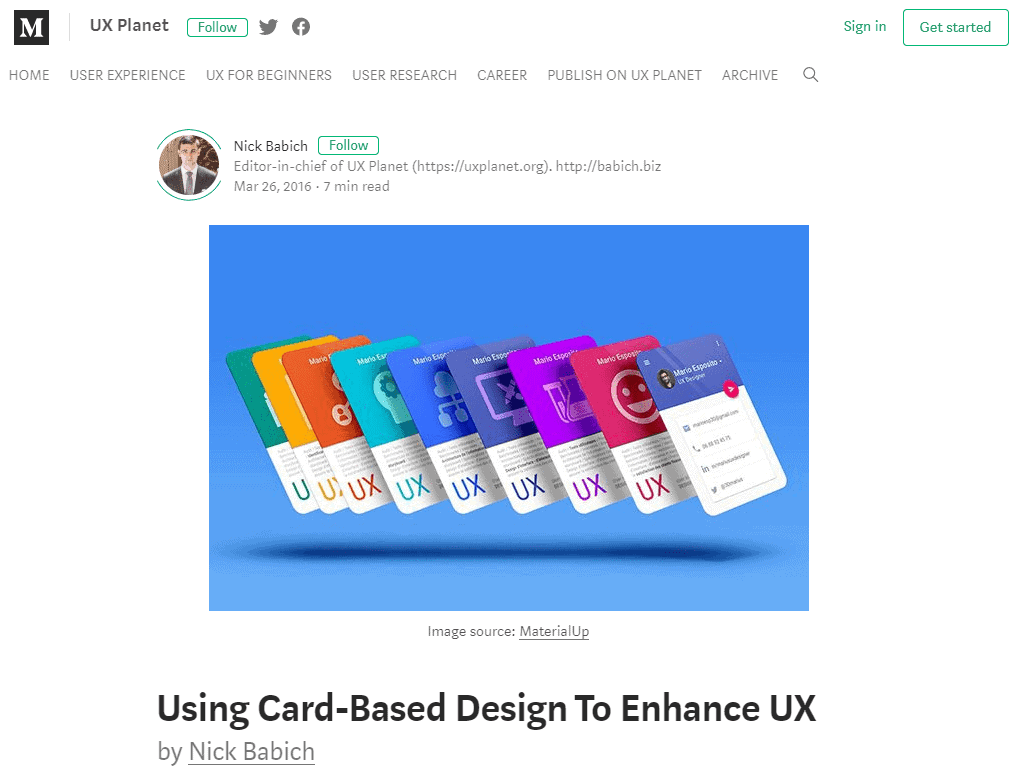 Now, I'm not pointing this out to say that Intercom is doing something wrong or bad by jumping on these topics. I think it's a brilliant strategy and a good use of time and energy; rather than scrambling for "new" ideas, they're simply moving things forward. And they usually add their own thoughts or insights to the topic at hand.
It's a smart strategy because it works–and because Intercom seems to have created a system and process for identifying emerging trends and jumping onto them early. Part of that probably comes from their own team staying engaged, but they likely also keep an eye on what topics are getting the most discussion or engagement within their target communities.
KEY STRATEGY #3
Steal What Works (Or Start a Fight)
Links and keywords are great for building a long-term, sustainable growth strategy.
But, what about right now, damnit?
Most comprehensive content marketing strategies have both a long-term and a short-term component. Intercom is really no different.
Their thought-leadership content plays a huge role in growing links and long-term growth through SEO. But, much of that same content is also hugely popular on social media or community websites, meaning it drives a lot of short-term traffic to the site.
The interesting thing about Intercom's approach to this kind of content is that they love to find proven topics or ideas and put their own spin on them.
As we explored above, Intercom has a penchant for latching onto ideas just as they are starting to gain traction.
Similarly, they also seem to dig deep into their target communities and find topics that have already proven to be successful and then provide a fresh or contradictory take on that topic.
If we look at HackerNews–which is fertile ground for a product designed to help other companies grow and enhance their product–we can find several examples of popular topics that Intercom later recycled as of their own content marketing strategy.
Several years ago, Alaister Low wrote an important piece about why people choose to quit their jobs. That article gained a ton of traction in the startup/tech universe.

Guess what is Intercom's most-shared piece of content of all time?
If you said, "an extremely similar, updated article on this same topic," then you're right.

Again, I don't think there's anything wrong with this approach (at least how Intercom has executed it). Even though the central thesis may be the same–and, hell, the headline is nearly identical–the post itself is not plagiarized. In fact, it builds upon the initial theory and adds recent data to back up the idea.
My verdict? Fair play. Bravo.
This solves one of the fundamental problems that many marketers have, which is trying to figure out which topics will resonate with their target audience and which will flop. That process is usually a lot of trial and error. But, in the case of Intercom, they've cut out a lot of the experimentation and learned to simply "steal" what works (they don't really "steal" per se, they just use proven topics.)
To apply a similar strategy, you can use the search function on sites like:
Reddit
HackerNews
LinkedIn groups
Growth Hackers
See which content, topics, and themes are getting the most attention. Then, find ways to put an interesting spin on that idea or advance it in a new direction.
Rather than trying to come up with ideas from scratch for every post, sometimes it pays to see what's already working and then springboard off of that idea.
Lastly, another related approach that Intercom sometimes uses is to be intentionally contrarian with their articles.
Case in point: Growth Hacking is Bullshit.
Whoa. What an explosive topic!
(I happen to agree, btw)
But, clearly, Intercom isn't shy about expressing their opinion on this topic. They deliberately chose a blunt article title and threw it out there–no f*cks given.
They likely ruffled some feathers. But anyone in marketing/communications knows that a little controversy can actually be a good thing in the right context. In the case of content marketing, if you can state a strong opinion loudly, you can send a ripple. Yes, you'll have to deal with people who want to argue with your stance. But, you'll also galvanize support among those who agree with you.
Extra-extra bonus points if your stated opinion also ties into the worldview of the product you're selling (e.g., there are no quick hacks–it takes a product like Intercom to help you uncover opportunities to grow and improve.)
BONUS STRATEGY
Use Outside Channels to Distribute Content
Part of any smart content marketing strategy is a plan for how to promote and/or distribute the content that's on your site. Otherwise, if you're just writing for the same readers over and over again, it can be pretty difficult to grow.
Intercom has made beautiful use of Medium as a platform to republish and distribute their content; meaning they get to take the same article that worked already with their audience and get even more mileage out of it by putting it in front of new readers.
Here's a post that Intercom published on saying no to customers:

And that same post made the rounds on Medium, picking up extra traction and additional reach.

More bang for your buck, and with little to no extra effort.
There are some guidelines and best practices here, which keep you safe from any kind of duplicate content issues. But, as a general rule, Google has gotten much smarter about understanding when content is simply being republished and not penalizing people for it. (Medium also has a specific option for importing WordPress content into Medium with the appropriate canonical tags.)
So, in this case, if you have a piece of content that is getting some attention or traction with a certain audience, you can help to amplify that success further by pushing it out to an entirely new audience on another platform.
Not only can you republish it on a branded Medium channel, but there are also Medium-specific publications that have an established audience. So, you can tap into those opportunities or look for other sites that might syndicate your article to put it in front of new readers.
Takeaways: Applying Intercom's Strategies
By taking a deep dive on Intercom's approach to content, we've uncovered most of the major strategies that they've used to drive traffic and build their sales pipeline. This had led them to run rate of over $50 million–and still growing.
The key here is not to just deconstruct their content, but to uncover some takeaways that can be applied to your own content marketing.
So, what have we learned?
Here are the key takeaways from this tear down of Intercom's hugely successful content marketing strategy:
Use in-depth evergreen content to fill the top of the funnel
Target keywords based on a persona-driven approach like Jobs to Be Done (or our Roles, Goals, Worries process)
Drive conversions with well-placed calls to action; use content upgrades/offers when product CTAs don't make sense
Expand your funnel with strategic, granular retargeting for blog readers; build a custom funnel from key evergreen articles
Use thought leadership or some other strategy to build links
Identify emerging trends and participate in the discussion to help establish yourself as an early thought leader
Use popular content from relevant communities to drive ideas; don't worry about reinventing the wheel every time
Be contrarian or expressing a strong opinion on a controversial topic can help galvanize supporters and drive huge amount of discussion and engagement
Content distribution through third-party platforms can help accelerate growth and reach on a massive scale
If we can learn anything from Intercom's success, it's that smart planning and strategy are really the bedrock of content marketing that drives growth. While they create great content, no doubt, it's the smart use of strategic opportunities that has allowed them to achieve such incredible results.
Content marketing is a game of strategy. And "blog and pray" just won't cut it.
Hire a Team of Content & Growth Experts



The Optimist team is built to scale–and help companies scale, too. Full-service content marketing and SEO, proven growth frameworks, and decades of experience.

Get more kick-ass content from us
Subscribe to our email list and get regular updates.
No spam or BS. Just great, insightful articles.