Content marketing is a journey.
While many startups (and even some agencies) take a "spray and pray" approach to blogging, the truth is that good content marketing requires careful planning, strategic thinking, and plenty of patience. Content isn't created overnight, nor do the results of your content marketing efforts become apparent in just a few days or weeks (or even months, sometimes).
Put simply: Content marketing is a long term strategy that will pay dividends that compound and grow over time — but getting to the destination is a lot easier when you follow the right roadmap. That's why having the right experts advising your content strategy is so important — and why hiring a SaaS content marketing agency is a tough, yet crucial, first step in the journey.
Choosing the right agency partner can be a challenge, but the effort is worth the payoff. If you're looking for the perfect SaaS content marketing agency to get eyes on your website and signups for your software, these tips can help you select the perfect partner who will help you meet (and exceed) your content goals.
What is SaaS Content Marketing?
"Content marketing" is a pretty broad term. But generally speaking, it refers to marketing strategies built around creating and distributing valuable and relevant content to a specific audience with the end goal of driving members of that audience toward a specific action.
For software-as-a-service (SaaS) companies, that specific action is often creating an account or signing up for a subscription. The action should drive strategic, long-term, profit-generating goals for your company.
Content marketing can take a lot of forms, including blog posts, ebooks, and even videos and podcasts. Written content is often search engine optimized to maximize organic traffic coming from potential customers who are searching for keywords that are topical and relevant to your business or product (this is also called "inbound marketing"). Content marketing can also include distribution via newsletters, social media, and strategic linkbuilding.
Benefits of SaaS Content Marketing
SaaS content marketing (and content marketing more generally) comes with a few key benefits.
Regular Content Creation and Promotion
A good content marketing strategy should mean you have valuable, relevant content going up consistently. This means building a library of content that should be useful to the target audience for your SaaS product — and that lives on your website for as long as you need it.
Strategic, Long-Term Marketing with Compounding Returns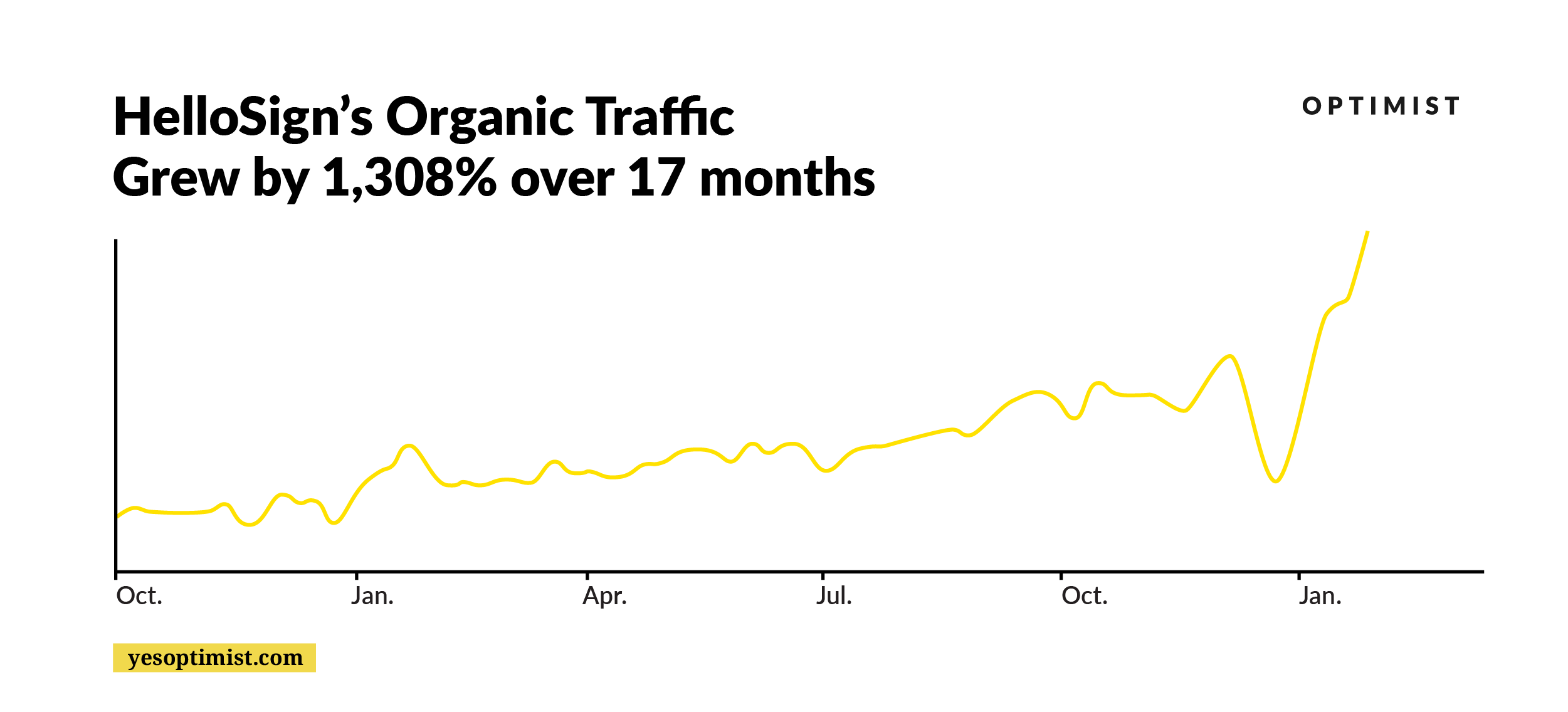 Arguably the biggest benefit to content marketing is that, when done well, it's a long-term strategy that will continue to produce results indefinitely. Once you've created a library of content that ranks and converts, it will continue to deliver organic traffic and conversions in the future without much more effort on your part. While content will likely need to be refreshed periodically to continue to perform at optimum levels, your upfront investment in content marketing is more likely to deliver long-term growth than other marketing channels; for example, social media, which stops generating returns as soon as you stop investing in it.
Why Hire a SaaS Content Marketing Agency?
So why might you want to hire a SaaS content marketing agency rather than handling content marketing in-house? Here are a few common reasons an agency partner might be the right fit for your content marketing needs.
Specific Expertise
A SaaS content marketing agency should have relevant experience and expert input — for content marketing in general, marketing SaaS products, and industry trends and best practices. They'll be able to offer expert input, drawing on specific experience that you and others at your company may not have.
Cost Reduction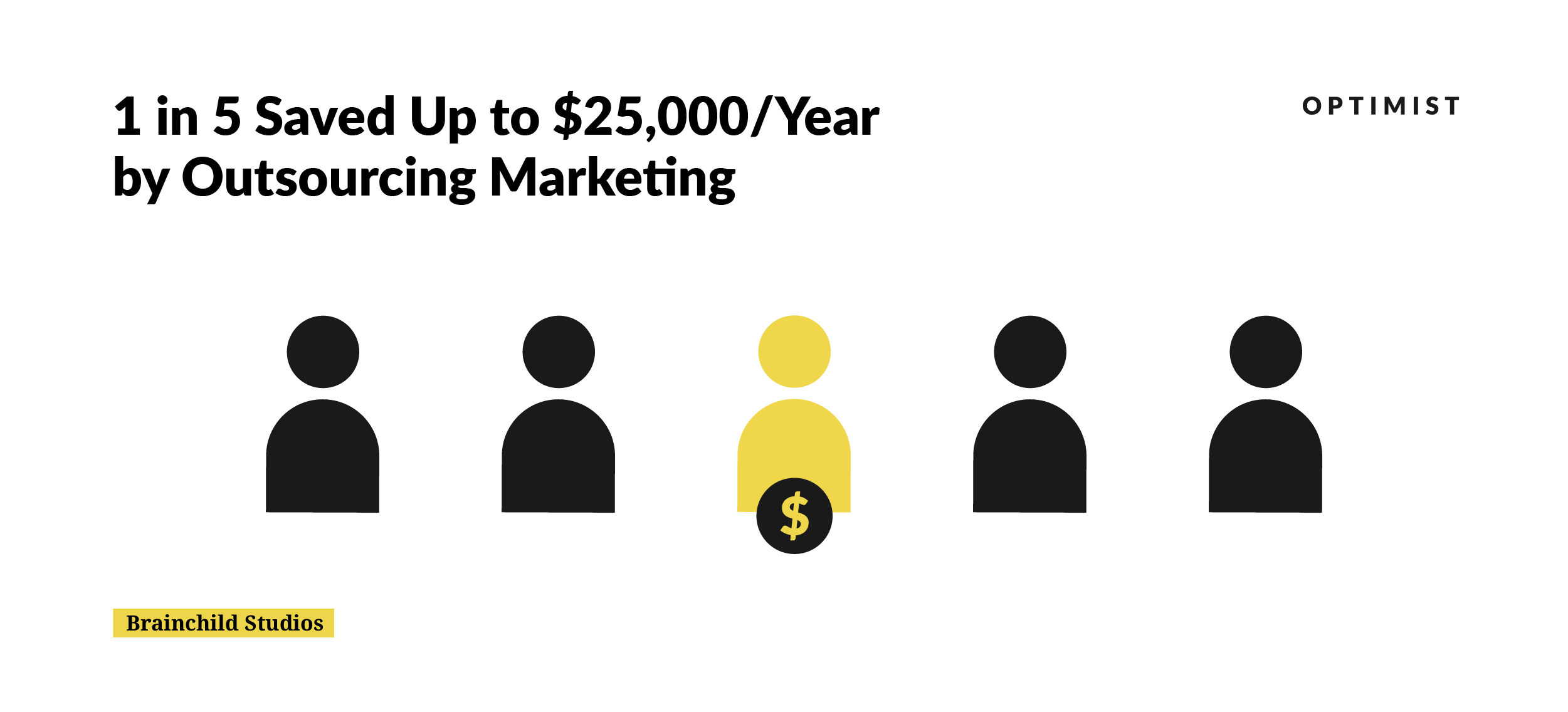 Sometimes, it's more affordable to outsource work than to do it in-house. That may be the case for your content marketing efforts, depending on the size of your company. In fact, a customer survey by marketing company Brainchild Studios found that one in five respondents saved up to $25,000 per year by outsourcing all or part of their marketing.
A SaaS content marketing agency can provide a whole team of strategists, writers, designers, and more — for a retainer that makes sense for your needs and is more affordable than building your own infrastructure and hiring for all those roles internally.
Content Consistency
Many startups build up their content libraries by having many people within their organization contribute. But this can result in content that isn't consistent in terms of voice, branding, style, or even quality. Hiring a skilled team of content marketing professionals via an agency helps ensure that you'll get consistent content that all accurately reflects your company's brand — and helps build better brand awareness through that consistency.
Quick to Start Up
If you need to start creating content right away, you don't want to spend time hiring and training a team and building internal processes. A SaaS content marketing agency will already have those parts covered, so they can hit the ground running when it comes to creating content for SaaS companies.
Choosing the Right SaaS Content Marketing Agency
There are thousands of marketing companies that offer services to SaaS brands. How do you choose the right one?
This will depend on exactly what you need from your marketing team — content marketing services can run the gamut from simple content production to full service agency engagements that include strategic planning, writing, design, distribution, promotion, linkbuilding, and more.
When evaluating a SaaS content marketing agency, look for one that offers the level of service your company needs, and then use these criteria to help determine if they'll be the right fit for you.
Subject Matter Expertise
One of the most important factors to consider when choosing a content marketing agency is whether they have the correct subject matter expertise — both in marketing and in subjects related to your SaaS business.
Look at how the company markets itself, especially through content. Do they show strong mastery of different types of content, strategies, and distribution channels?
Then, look at the company's experience in your industry or niche. Consider whether their writers are jacks of all trades, or specialized. Consider how long they've been in the content marketing game. All these factors can help determine whether a content marketing agency has the subject matter expertise required to achieve your goals.
Previous Work
The next factor to consider is the agency's previous work. Consider the brands they've worked with before. Are they similar to yours, in industry or strategy?
Ask for testimonials and case studies that show the results the agency has been able to achieve for past clients. And ask for samples of their best content. Any B2B SaaS marketing agency should be able to show you high-quality content that they've produced as an example of what they can do for you and your brand.
SEO Skills
Next up is the agency's skills and expertise in search engine optimization, or SEO. They should have a proven track record of targeting keywords and creating content that ranks for them, resulting in both traffic and conversions for their clients.
But keep in mind that content is written for humans — not just robots. A great agency will have writers who can craftily strike that balance, creating content that appeals to Google's algorithms while also providing value to human readers.
Transparency and Trustworthiness
And finally, you want to consider whether the agency in question is transparent and trustworthy. Look for an agency that works openly with you on pricing, scope of work, and other details. They should be able to communicate exactly what they provide, and what they expect from you, both in terms of payment and involvement.
Ideally, your relationship with a SaaS content marketing agency should be a mutually beneficial partnership. Look for agencies that approach their client relationships with openness and honesty.
Red Flags When Hiring a SaaS Content Marketing Agency
Does that SaaS content marketing agency actually know what they're doing? Maybe not.
Marketing firm Thoma Thoma surveyed 1,000 marketers about their own efforts, and found that most of them admit they don't actually know what they're doing. Only 9 percent strongly agreed that their marketing strategies were working. Only 40 percent — less than half — thought their company had effective marketing.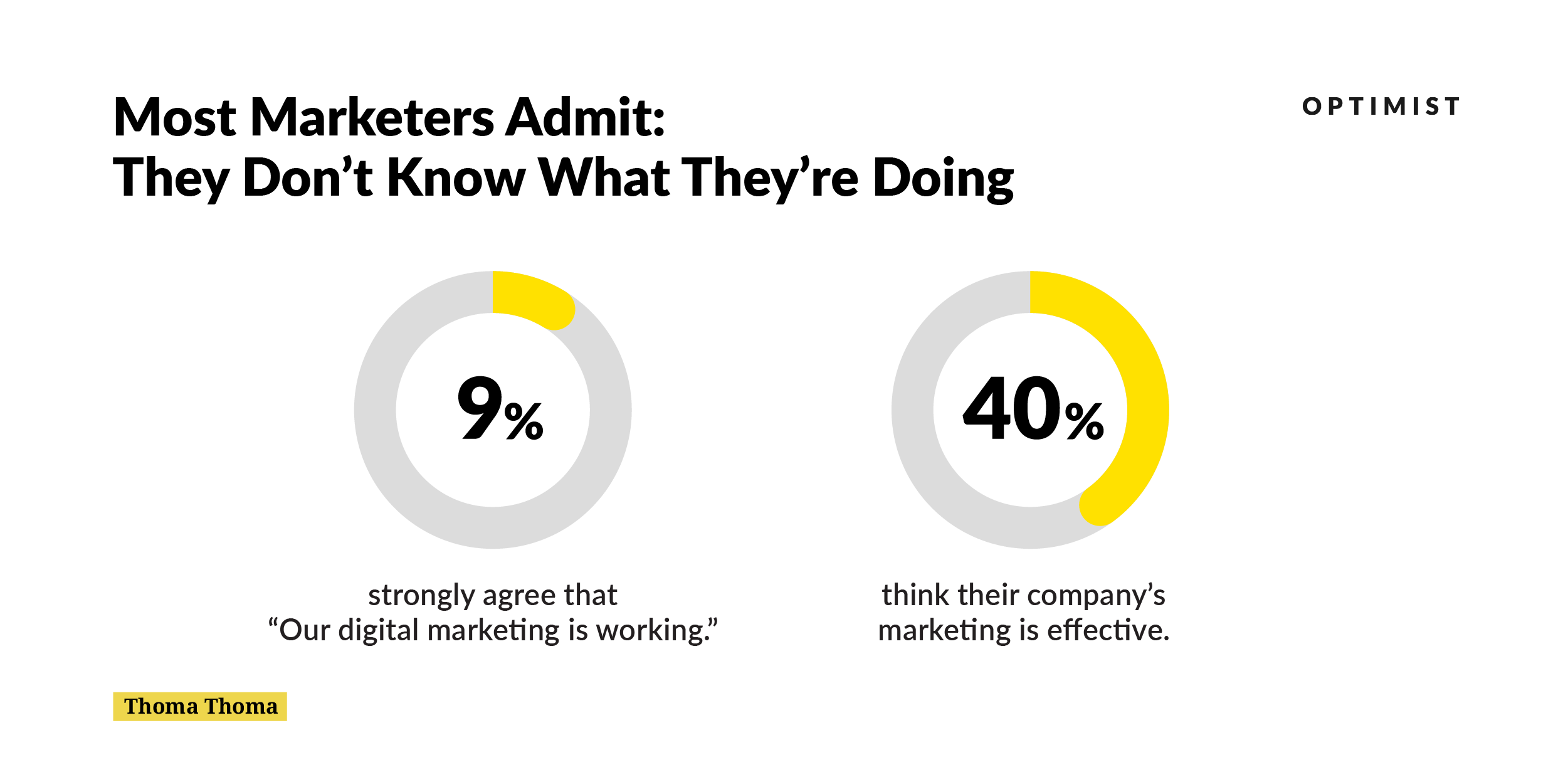 When considering digital marketing agencies, there are a few red flags to keep an eye out for. Any of these should disqualify an agency as one you might want to work with.
Unethical marketing tactics, including plagiarism, inaccurate or misleading content, pay-to-play content, subcontracting to content mills, or any other ethical issues.
Organizational or systemic issues, like unclear communication, ambiguous standards, project management problems, or any other issue that makes you question the quality of the agency's work or your involvement in it.
Lack of SEO understanding. Not all content marketing will include SEO, but any content marketing agency worth working with should understand the basics of creating content that ranks.
Setting SaaS Content Marketing Goals
Part of hiring a content marketing or SEO agency is setting goals for what you want the agency to help you achieve.
Different types of content will come with different goals, and SaaS brands may have different marketing benchmarks than other types of businesses.
You should work with your chosen content marketing agency to set the right targets for your industry and business goals, but be prepared to discuss a few different aspects of goal setting: customer personas, metrics, and KPIs.
Creating Customer Personas
Before creating any type of marketing strategy, you need to start here: Creating a buyer persona.
Knowing and understanding your ideal customer, their needs, and their pain points can increase the effectiveness of your website by up to 500%, according to one study — and the same goes for any marketing efforts you undertake.
Creating personas can be tricky, and it requires some time investment up front to do enough research to have a comprehensive understanding of who you should be targeting with your marketing efforts. But putting in the time early on ensures that when your marketing firm does start creating content, they know who to create it for, and will get it in front of valuable potential customers.
Choosing the Right Marketing Metrics and KPIs
You won't know if you're winning unless you keep score. Tracking metrics and KPIs for your marketing campaigns tells you what's working — and, just as important, what isn't (and requires pivoting to a new strategy or direction).
There are tons of metrics you can track (from customer acquisition cost and churn to conversion rates and organic traffic). Make sure the agency you're working with is tracking metrics — and that they can tell you the "why" for each number they use to measure your success.
Creating a Content Marketing Strategy
If you already have a content marketing strategy, you may just need a content writer, not an agency.
One of the big benefits of working with a SaaS content marketing agency is that they'll help you create and execute a strategic marketing plan — that is, they're not just creating content at random; they're crafting pieces that fit into an overarching strategy that's designed to help your business meet its growth goals.
When you work with an agency to build your strategy, there are a few different considerations, like the ones below.
Keyword Research and Topic Planning
One of the key benefits of content marketing is that it creates content that potential customers can find by searching for relevant topics or solutions related to your product.
But they won't find your content unless it's optimized for the right keywords. Your marketing agency should perform extensive and ongoing keyword research that helps identify the most valuable and relevant keywords to target with your content, then use the keywords to inform topic planning and editorial calendar creation.
This is what sets content marketing apart from just creating content. When you work with a content marketing agency, each piece of content they create should have a strategic goal based on research and planning.
Types of Content
Content marketing encompasses all the types of content a business might create, including:
Email marketing
White papers
Ebooks
Blog posts
Infographics
Videos
Case studies
Social media, including influencer marketing
Different SaaS content marketing agencies specialize in creating different types of content, so look for an agency that can create the content you want, or that makes the most sense for your business type and target audience.
Why SaaS Companies Hire Optimist
Hiring a marketing agency can be scary.
You don't have an infinite marketing budget. Choosing an agency to bet on is made even more nerve wracking by the fact that many of them will promise you the world.
But how many can actually deliver?
By using the tips (and the red flags) from this article, you should be able to narrow down the field, focusing your search on marketing agencies that won't overpromise, underdeliver, or bullshit you for the sake of a sale.
If you are:
Looking for long-term, sustainable growth for your business;
Willing to invest in your content marketing strategy for the long term;
Want a full-stack content marketing partner who will own everything from the research and strategy to the content creation;
Then Optimist might be the SaaS content marketing agency you've been looking for.
Optimist approaches SaaS content marketing a little differently than most agencies. We don't just focus on content creation — we use a proven strategy that drives predictable, sustainable growth for product-led SaaS brands.
We start every engagement by getting to know you, your business, and your industry. We assess your needs and goals, determine the right mix of content assets to create, and then we measure results, learn from them, and continually adjust. Sure, we create kick-ass content. But more than that — we create a strategy that both drives and is driven by that content.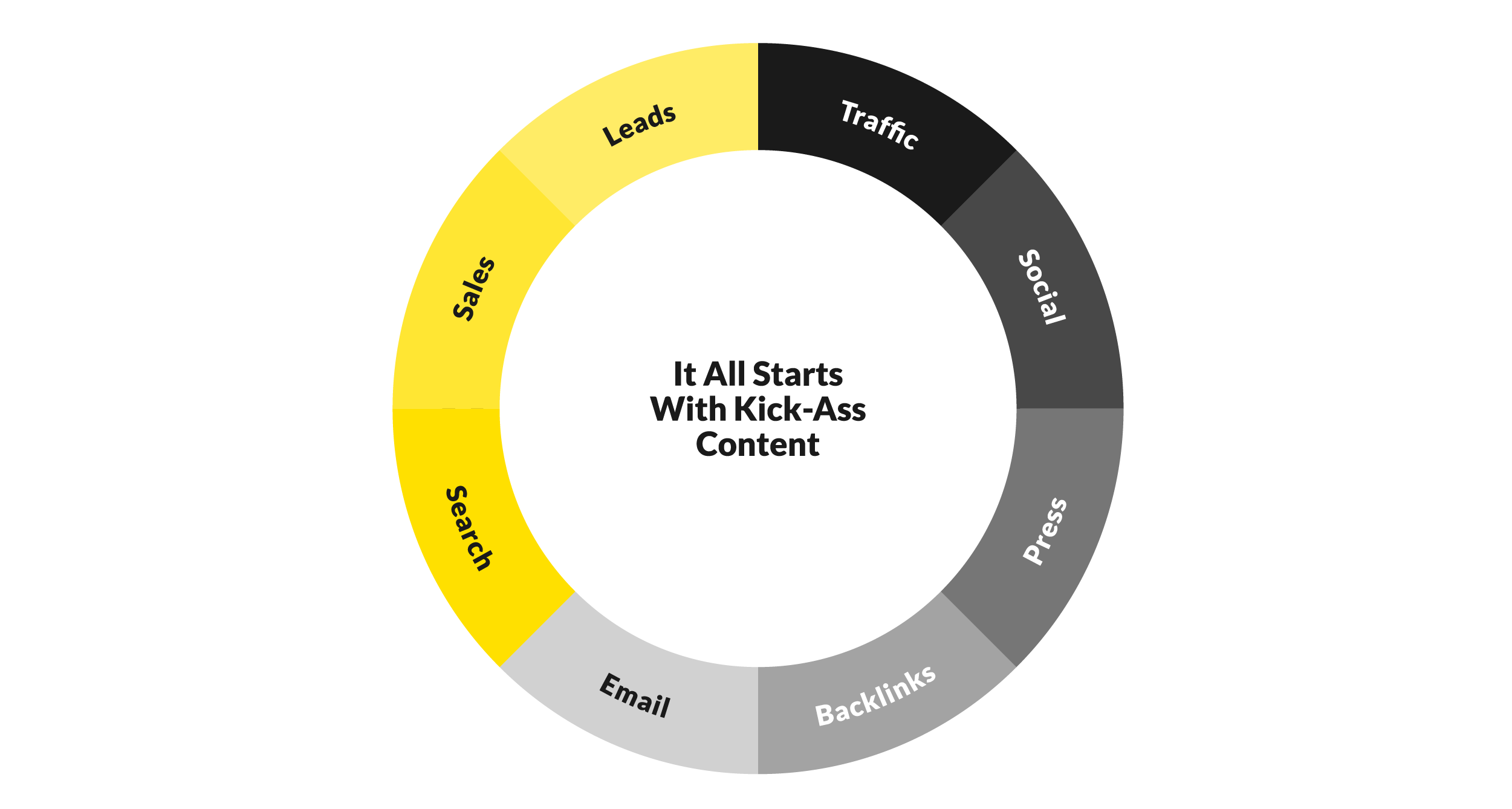 At Optimist, content is just the beginning. The real magic happens when we find ways to maximize the value of every piece of content we create. Everything works within the larger strategy to achieve your goals, because your business's success is our success.